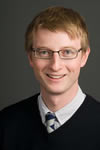 Welcome! I am an associate professor in the Department of Political Science at Northwestern University. My research and teaching interests mainly lie in the study of international political economy. I am the author of The Currency of Confidence: How Economic Beliefs Shape the IMF's Relationship with Its Borrowers (Cornell University Press, 2017), and in other recent research projects I've studied (among other things) how uncertainty shapes financial market governance, the link between IMF program participation and countries' measurable levels of democracy, the cultures of international organizations like the IMF, and the factors that influence developing countries' openness to capital inflows and outflows.
My most recent work follows two tracks. First, I'm looking at the origins of mass public attitudes toward two international economic issues that are rarely investigated at the level of the average individual - the use of capital controls to insulate national financial systems and the choice to settle legal disputes with foreign bondholders. A second new project explores the divergent trajectories of international legalization in the trade and monetary realms. I am on the steering committee for the Global Capitalism and Law Research Group housed at Northwestern's Buffett Institute for Global Studies.
I completed my undergraduate degree in political science at Carleton College and I received my PhD from Cornell University's Government Department. Follow the links below for more information about my research, teaching, and accomplishments.