Thur., 2:10-4pm
311 Fayerweather


Daniel Immerwahr
dsi5@columbia.edu
Office Hours:
Tues: 2:10-4m
616 Fayerweather

Course syllabus



History G8914: International Development in History, Spring 2012, Columbia University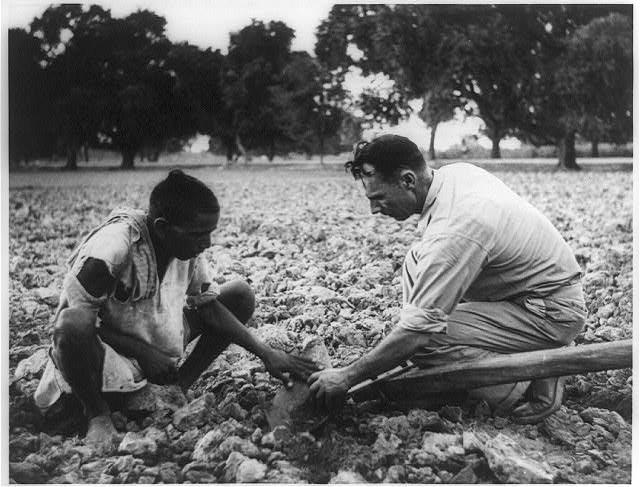 Unnamed agricultural laborer and Ford Foundation worker Horace Holmes in Etawah, India, as photographed by Life, 1951

Schedule of readings, assignments, and events
Any reading for which a link is not provided is available at Book Culture on 112th and at Butler Reserves. All events will take place in the 2nd Floor Common Room of the Heyman Center for the Humanities. For more details see the course syllabus.
January 19: Introduction

January 26: Overview

Frederick Cooper, "Writing the History of Development,"

Journal of Modern European History

8 (2010): 5–23.
Nick Cullather, "Development? It's History,"

Diplomatic History

24 (2000): 641–653
Beniamin Knutsson, "The Intellectual History of Development: Towards a Widening Potential Repertoire,"

Perspectives

13 (2009): 1–47. CourseWorks
Nick Cullather,

The Hungry World: America's Cold War Battle against Poverty in Asia

(Cambridge, Mass.: Harvard University Press, 2010)
EVENT: Thursday, January 26, 6:15pm, 2nd Floor Common Room, Heyman Center

Nick Cullather speaking on
The Hungry World
, Anders Stephanson to comment.

February 2: Dissent

Wolfgang Sachs,

The Development Dictionary: A Guide to Knowledge as Power

(1992), introduction.

James Ferguson,

The Anti-Politics Machine: "Development," Depoliticization, and Bureaucratic Power in Lesotho

(1994), chaps. 1–2, 9, epilogue
Arturo Escobar, "The Problematization of Poverty," in

Encountering Development: The Making and Unmaking of the Third World

(1995). CourseWorks
Martin Wolf,

Why Globalization Works

(2004), preface, chapters 5 and 9.
February 9: Domestic Developments
Stephen Kotkin,

Magnetic Mountain: Stalinism as a Civilization

(1995), introduction, part I
James C. Scott,

Seeing Like a State: How Certain Schemes to Improve the Human Condition Have Failed

(1998), introduction, chaps. 1, 5–6
David Ekbladh,

The Great American Mission: Modernization and the Construction of an American World Order

(2009), introduction, chaps. 1–3
February 16: The Imperial Foundation
Partha Chatterjee,

The Nation and Its Fragments: Colonial and Postcolonial Histories

(1993), chap. 10. CourseWorks
Gyan Prakash,

Another Reason: Science and the Imagination of Modern India

(1999), chap. 6. CourseWorks
Timothy Mitchell,

Rule of Experts: Egypt, Techno-Politics, Modernity

(2002), introduction, chaps 1–3, 7–9
EVENT:
Friday, February 17th, 10:00am-4:30pm, Heyman Center, 2nd floor common room.
"Development Policies in a Bipolar World," two panels about development during the Cold War, featuring David Engerman, Joseph Hodge, Daniel Immerwahr, Amy Offner, George Rosen, and Bradley Simpson, Heyman Center for the Humanities. Commentators to include Michael Latham.

February 23: Industry Promotion and Development as Modernization
Ha-Joon Chang, "Kicking Away the Ladder: Infant Industry Promotion in Historical Perspective,"

Oxford Development Studies

31 (2003): 21–32. CourseWorks
David C. Engerman, Nils Gilman, Mark H. Haefele, and Michael E. Latham, eds.,

Staging Growth: Modernization, Development, and the Global Cold War

(2003), chapters by Latham, Adas, Gilman, and Engerman.
Michael Latham,

The Right Kind of Revolution

(2011)
March 1: The International System and Dependence
Andre Gunder Frank, "The Development of Underdevelopment,"

Monthly Review

, September 1966, 17-31. CourseWorks
Immanuel Wallerstein, "The Rise and Future Demise of the World Capitalist System: Concepts for Comparative Analysis,"

Comparative Studies in Society and History

16 (1974): 387–415.
Cristóbal Kay, "Reflections on the Latin American Contribution to Development Theory,"

Development and Change

(1991): 31–68.
Thomas Pogge, "Achieving Democracy,"

Ethics & International Affairs

15 (2001): 3-23
Frederick Cooper,

Africa since 1940: The Past of the Present

(2002), chaps. 3–5.
March 8: Economists Reflect
Albert O. Hirschman, "The Rise and Decline of Development Economics," in

Essays on Trespassing: Economics to Politics and Beyond

(1981). CourseWorks
Paul Krugman, "The Fall and Rise of Development Economics," informal paper, 1994. CourseWorks
William Easterly,

The Elusive Quest for Growth: Economists' Adventures and Misadventures in the Tropics

(2001)

By this day, you are expected to have handed in at least one of your two assignments.
SPRING BREAK: Like you mean it, people.
EVENT: Wednesday, March 21, 4:00pm-6:00pm, 2nd Floor Common Room, Heyman Center
Workshop on Development and Empire with David Engerman, Julian Go, Fred Cooper, and Odd Arne Westad

March 22: Demography

April 5: Humanitarianism and Human Rights in the Age of Development
Peter Singer, "Famine, Affluence, and Morality,"

Philosophy and Public Affairs

1 (1972): 229–243
Samuel Moyn,

The Last Utopia: Human Rights in History

(2010)
Daniel Sargent, "Oasis in the Desert?: America's Human Rights Rediscovery," forthcoming. CourseWorks
April 12: Rolling back the State
April 19: Counterhegemonic Development
April 26: Globalization, NGOs, and Social Movements
Monday, April 30 is the final day on which I will be accepting assignments. Both assignments should be handed in by Monday at 4pm.