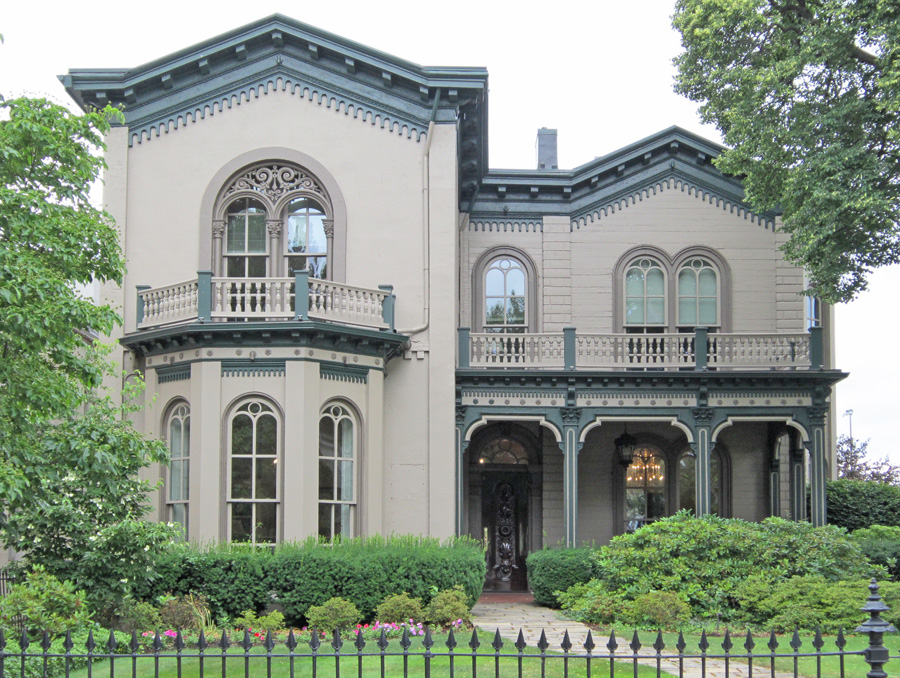 ER01 – Italianate
This beautifully restored Italianate house is now the offices for a prosperous law firm, according to the mailman that I happened to catch just as he was coming out of the building. It is located on West Sixth Street, as are all the other houses in this photo collection. They lie within just a few blocks of each other, which is certain proof that this was the High Society section of Erie during the Victorian era.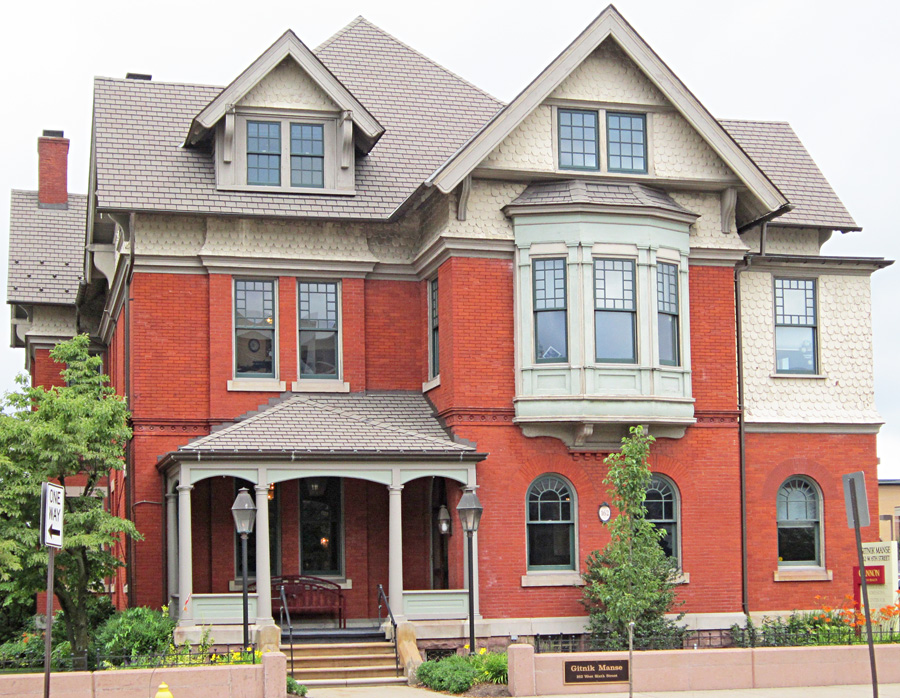 ER02 – Queen Anne
This nicely preserved brick Queen Anne is now the undergraduate admissions office for Gannon University. It is next door to ER03. I presume the interior has been hashed into office space, but you cannot hope that every old Victorian will be turned into a museum-quality showpiece. Sometimes, repurposing is necessary if the house is to survive at all.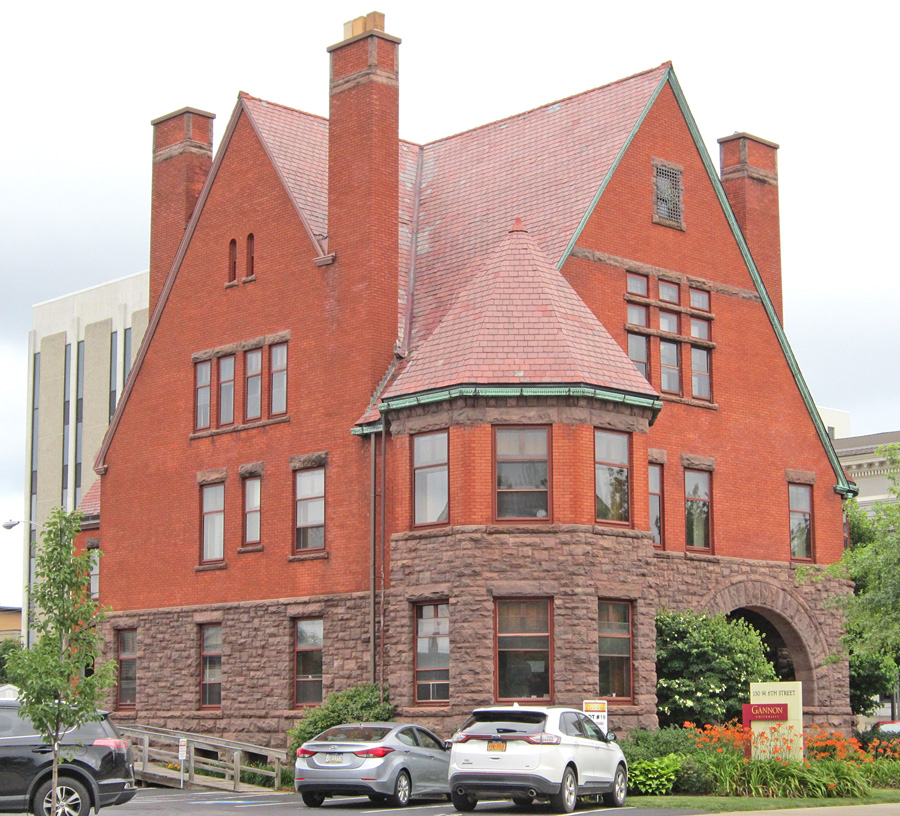 ER03 – Romanesque
This relatively modest building (by the standards of Romanesque Revival architecture) is now the cashier's office for Gannon University. It is next door to ER02, and as with that house, the inevitable mish-mashing of the interior is the price that must be paid if West Sixth Street is to retain its character.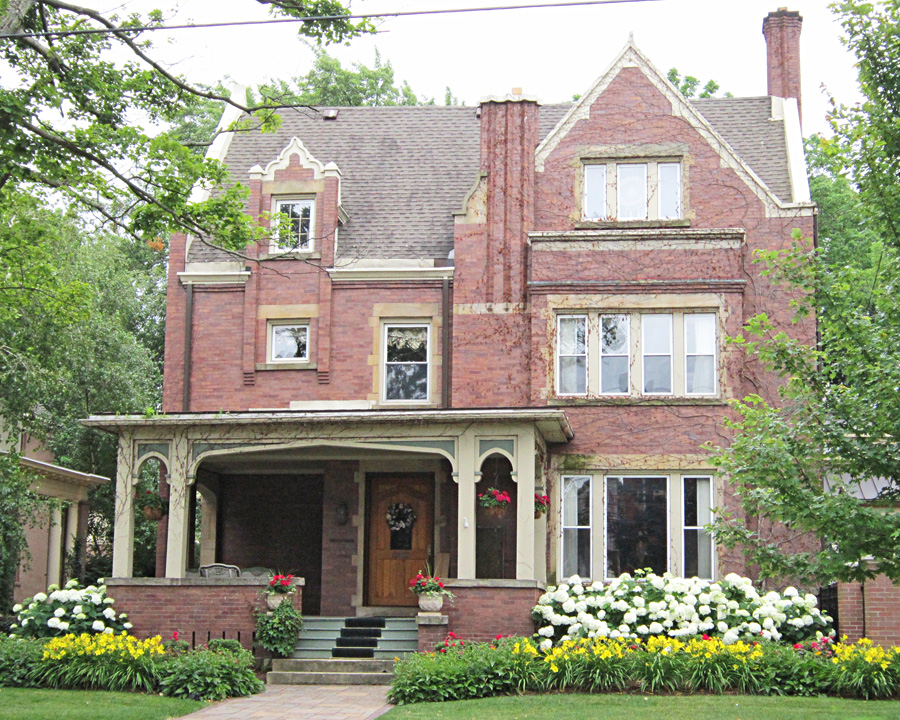 ER04 – Chateauesque
So far as I could tell, this house is still a private home. It has far more character than anything you are going to find in a modern development, however up-scale, yet it is small enough that the cost of maintaining it ought to be competitive with your usual McMansion. So, it has survived.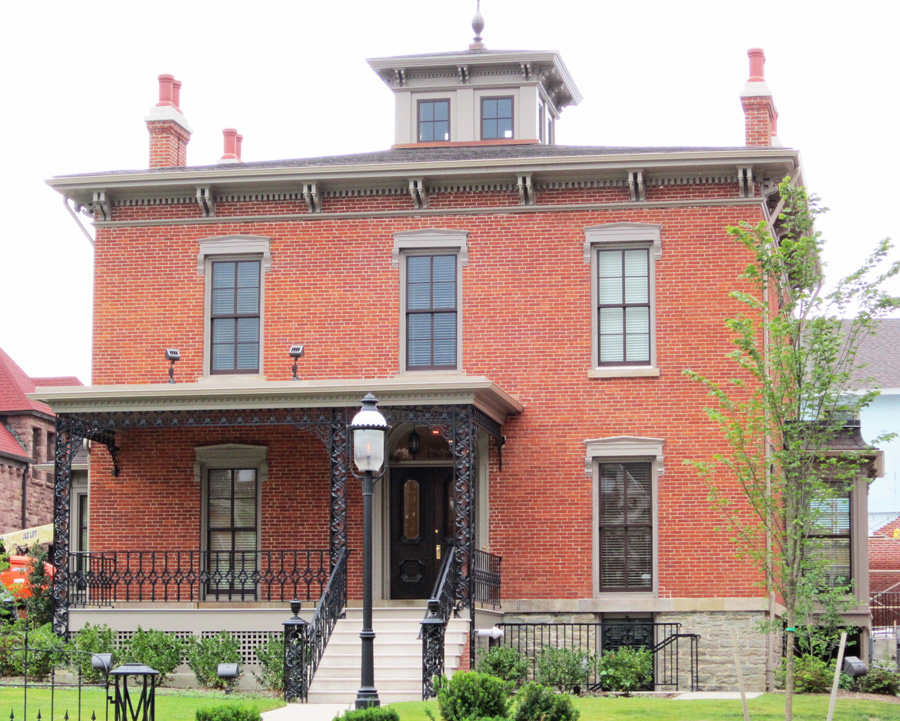 ER05 – Tuscan
When you say "Tuscan Italianate", this house is exactly what you mean. The building body for a Tuscan is normally a simple rectangular Italianate, perhaps with a bay window or a porch, perhaps not, and is always crowned by a central belvedere, usually square. (Belvedere is taken from the Italian for "beautiful view", because the only purpose of the belvedere is to provide a spot from which to view the landscape.) I believe this building is known as the Wood-Morrison house. I do not know its history, but today it is the education center of the Erie County Historical Society.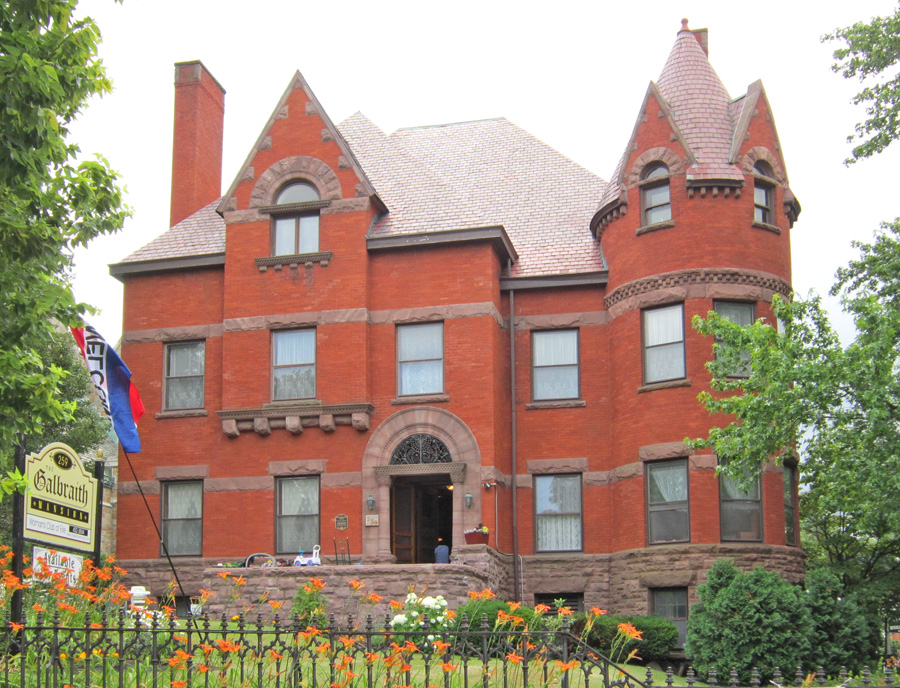 ER06 – Romanesque
This house was built for Davenport Galbraith, a Vice President of the Erie Trust Company, in 1892. Galbraith died in 1914, but his wife continued to live in the house until 1921, when she sold the house to the Woman's Club of Erie (of which she was a member). The Woman's Club still owns the property, and uses it as their main meeting space.


ER07 – Romanesque
This house is the Watson-Curtze Mansion, perhaps better known today as the Hagen History Center, since it is owned and operated by the Erie County Historical Society as a museum of local history. Harrison Watson was a businessman who built an empire based on tar paper and asbestos. He manufactured a wide variety of roofing materials, boiler linings, steam pipe insulation, and so on, and in addition to his main factory in Erie, he also had factories in New York, Chicago, and Nashville. In 1891 he built by far the most expensive mansion in Erie, opulently outfitted with five(!) bathrooms, twelve fireplaces, and an ornate elevator. I mention the bathrooms because I have toured any number of similar-sized Victorian mansions from this period which have only one or perhaps two bathrooms. 1891 is late enough that large houses were expected to have running water, yet early enough that most folks still thought that having any kind of interior bathroom (rather than an outhouse) was luxury enough.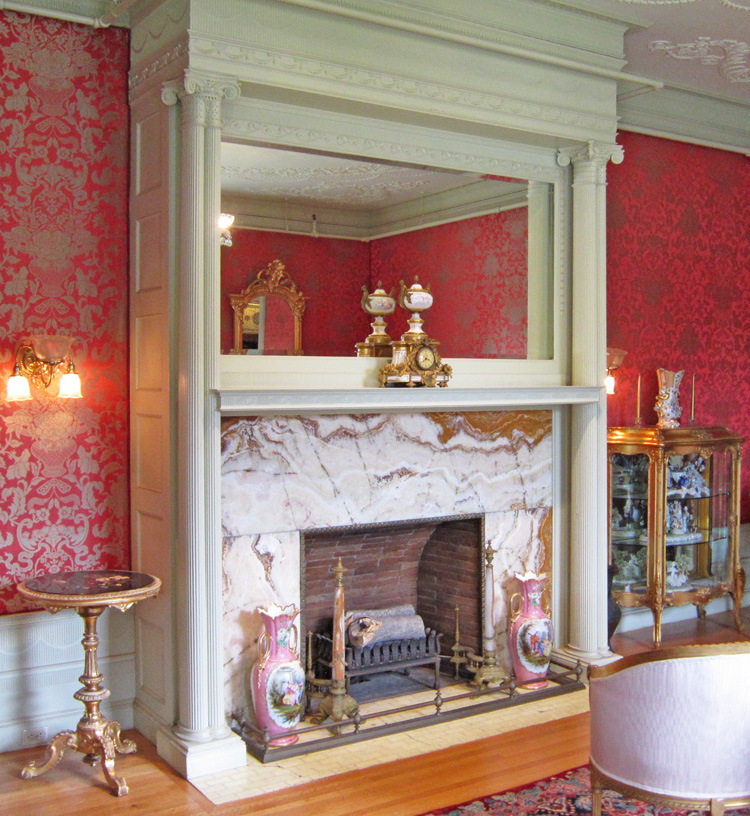 ER07a – Fireplace
I noted the twelve fireplaces in the Watson-Curtze Mansion because it is clear that they weren't really built to provide heat – they are in fact architectural statements. The house has coal-fired central heat (although it worked by convection only, as forced-air heating using electric fans had not yet been developed), and one cannot help but notice that the fire boxes in each fireplace are practically an after-thought. Take a good look at the tiny logs in the fire box at right, then look at the huge floor-to-ceiling surround made of imported marble, elaborately detailed wood, and a giant mirror. Watson built this fireplace primarily for beauty and to show everyone that he had the money to build it, not for the puny amount of heat it could produce. Most of the other fireplaces in the mansion fit into the same category. I show a couple more below.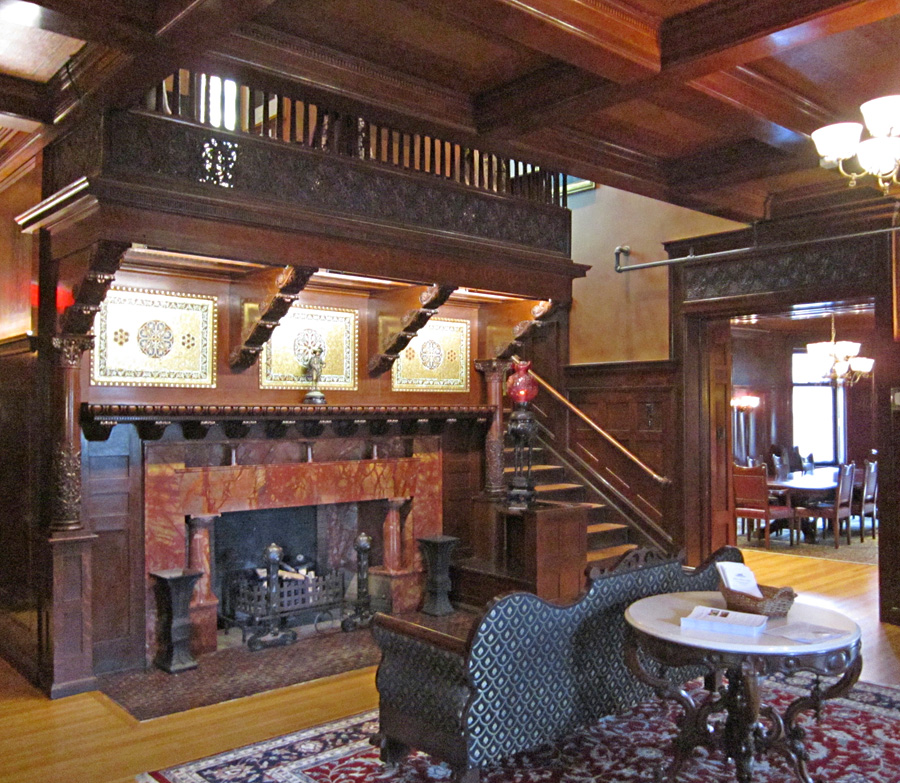 ER07b – Fireplace
This fireplace is essentially the centerpiece of the mansion. The formal main staircase winds over the fireplace and has a large landing and gallery actually supported by the four massive brackets of the fireplace. The reception hall has a stunning coffered ceiling and beautiful woodwork everywhere, which is only hinted at in this photo. Like the interiors of many Victorians, the ground-floor rooms receive little sunlight and are surprisingly dark. Flash photography is prohibited inside the mansion, naturally, so I had to take this photo in very low light and hope for the best. It gives you a reasonable hint of the dark-wood opulence of this room, but only a hint. Note again the tiny fire box, as compared to the hulking mass of the surround.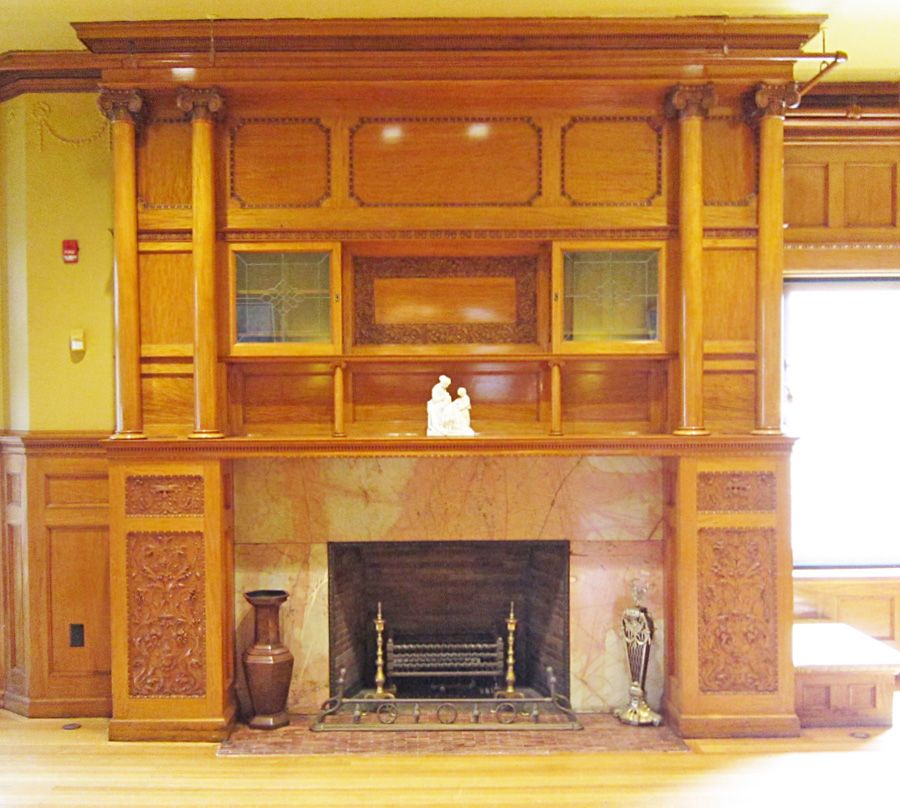 ER07c – Fireplace
Every fireplace in the Watson-Curtze Mansion is finished in a different style. For this fireplace in the library, the tiny fire box is surrounded by carved and inlaid wood featuring a beautiful and (for a Victorian) fairly unusual natural finish

In case you are wondering, the "Curtze" part of the mansion's title comes from the second family which lived here. Harrison Watson died in 1904, but his wife lived in the mansion until 1923, when it was sold to Fredrick Curtze. When he died in 1941, his family donated the mansion to the city so that it could be used as a museum.

The tar paper and asbestos factories that made Erie rich are long, long gone, of course. Asbestos is outlawed today, and giant chemical corporations selling products like polyethylene-fiber house wrap have completely blown tar paper into the dust-bin of history. Erie also had other prosperous Victorian factories, manufacturing solid cast-iron items such as pot-bellied stoves and waffle irons, but those too are long gone. The unfortunate reality is that Erie, like so many "rust-belt" cities, has never been able to attract new industry in sufficient quantity to replace its turn-of-the-century glory, and we are fortunate that even the few houses shown here still live on amidst the decay.