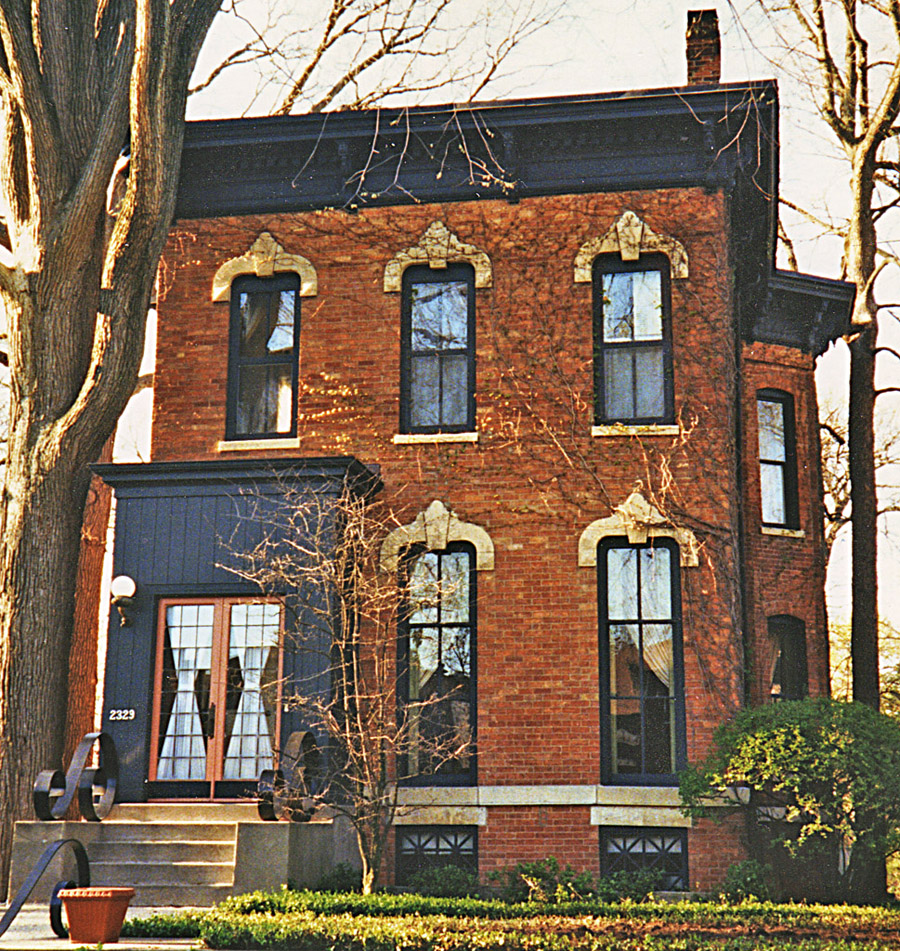 EV01 – Italianate
I live about three blocks from this classic brick Italianate. The entrance foyer and concrete steps, which mark where the original front porch used to be, look pretty out-of-place architecturally, but I think this is the fault of previous owners. The current owners have essentially turned them into a bay window. The cornice is in excellent condition (albeit hard to see in this photo), I just wish it wasn't painted such a uniform black. But these are quibbles. The brickwork and the stone window decoration are in beautiful condition, and architecturally, this house stands out against the rather pedestrian suburban fare on the rest of its street like a diamond in a coal bin.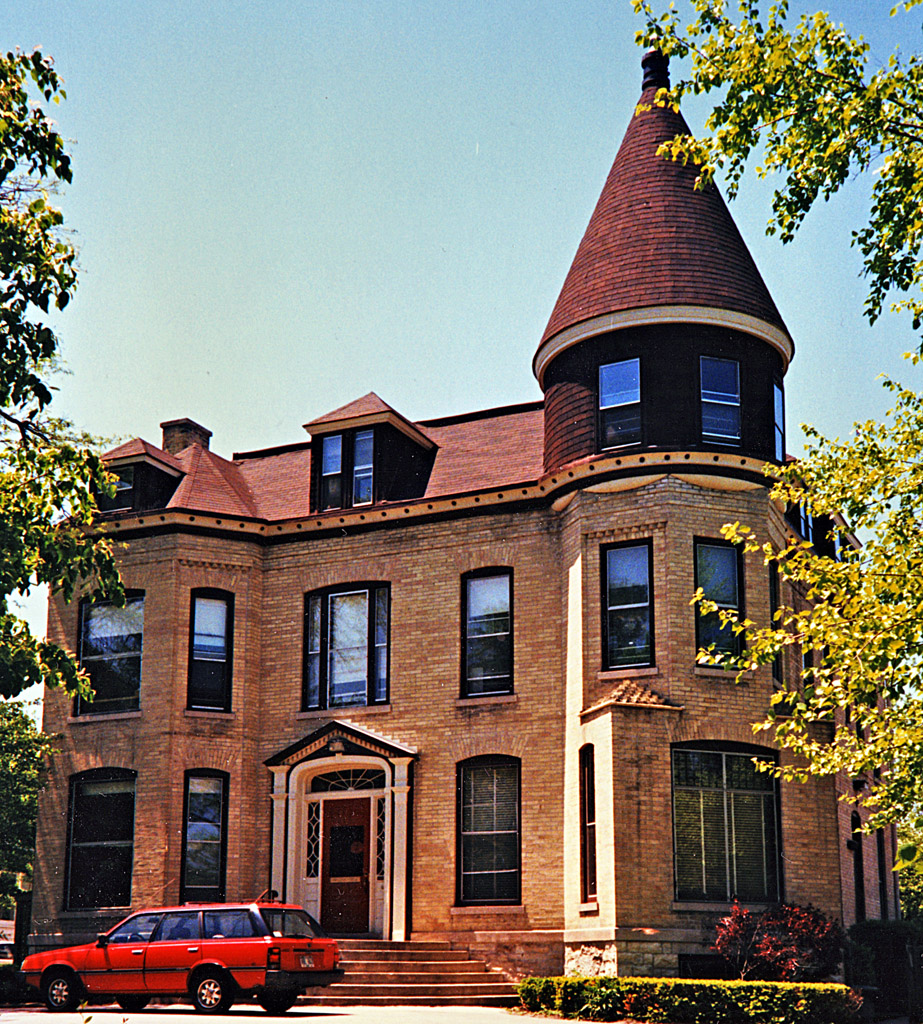 EV02 – Queen Anne
This large yellow-brick Queen Anne is now a day-care center. It "anchors" the far north end of Asbury Street, a section of Evanston which has many surviving Victorian mansions, including houses EV17, EV21, EV24, and EV30 in this gallery.


EV03 – Italianate Cottage
This small house has most of the classic features of the Italianate style: beautiful cornice bracketing, arched windows, elaborate three-sided window bays, and narrow porches. (Note that the side porch is purely decorative: it has no door or steps!) The only departures from the typical Italianate are the peaked Gothic-style roof, and the use of two windows across the front facade rather than three. I am informed by people who live in this neighborhood that the house used to be a rather plain folk Victorian until the current owners added all the Italianate gingerbread. So, OK. It's a semi-reproduction rather than the real thing – but it's a good semi-reproduction. A tip of the hat to its owners, past and present.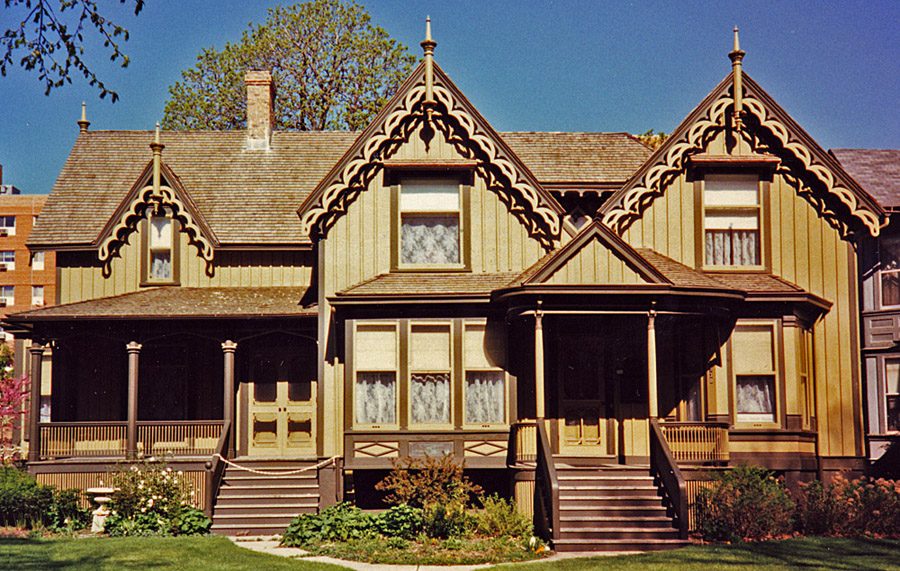 EV04 – Gothic Revival
This is the Frances Willard House, an Evanston landmark and a National Historic Preservation Site. The house was built in 1865 by the father of reformer Frances Elizabeth Caroline Willard (1839-1898), who founded the Women's Christian Temperance Union in 1874. Willard was an extremely well-known lecturer in her time, an early leader in the women's suffrage movement and in women's education, and she founded a college for women in Evanston that later merged with Northwestern University. (Her portrait, hanging in the hall with the portraits of all the past presidents of Northwestern, is the only one of a woman.) Her house is still owned by the WCTU, which is no doubt why the house still stands. The Willard house is now in the middle of a heavily commercialized district, and without the WCTU, it likely would have been razed years ago. The house itself is an excellent example of the Gothic Revival style. Notice the vertical siding, the drooping-leaf eave moldings, and the ecclesiastic finials. The drab-olive and brown paint scheme is historically accurate. The Frances Willard House is open to the public on the first Sunday of most months.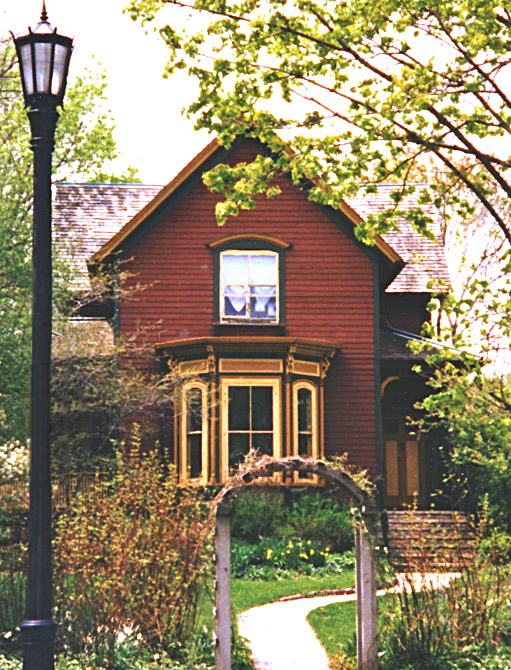 EV05 – Folk Victorian
This house is nicely painted in historically correct colors. It is a rather plain folk Victorian except for the extraordinary bay window, which is the primary reason I photographed it. The house is so hemmed in by trees and bushes that this view, taken from directly across the street, is literally all you can see of it. But the house goes well with all that greenery. The lush, bucolic look of this scene makes it hard to believe that you are looking at a house in the center of a crowded urban area.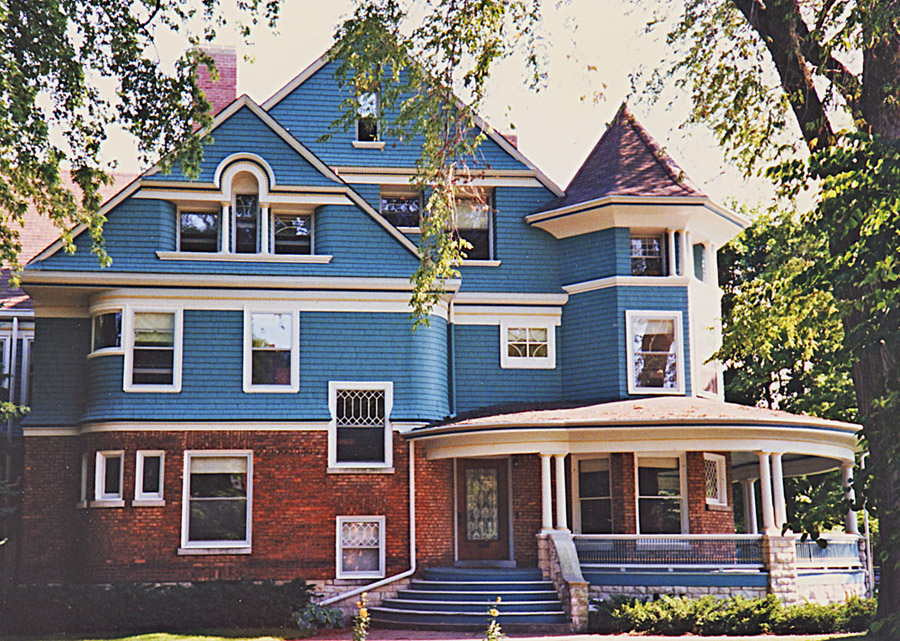 EV06 – Queen Anne
This house falls into the category of what is called "free classic Queen Anne". Notice that the normal Queen Anne elements are all there: the complicated roof line, the hodge-podge placement and sizes of the windows, the change in surface texture from brick to shingles as you go up, etc. But in addition there is a certain classic feel to the house, provided by the smooth Doric columns on the porch and around the tower windows, and by the relative lack of decorative clutter. The decorative treatment at the upper left (the massive third-floor eave with the Palladian windows deeply set behind an arched overhang, braced by classic columns) must have been a favorite motif for some turn-of-the-century Evanston architect, because there are a lot of Queen Annes in Evanston which have it.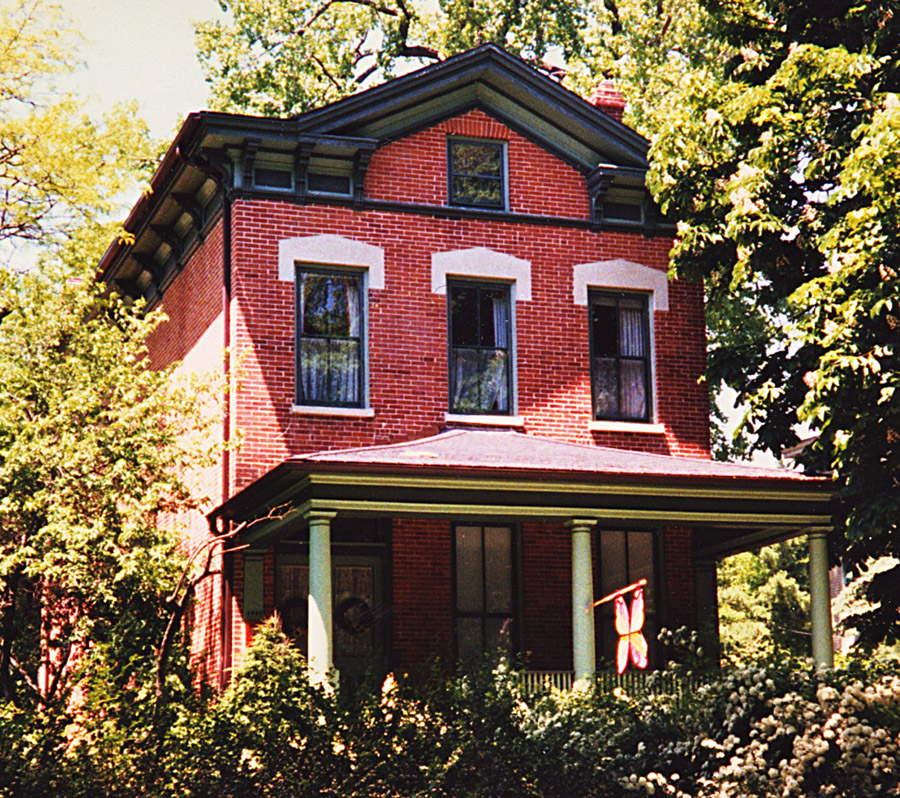 EV07 – Italianate
This fabulously preserved, classic Italianate house is one of a pair (see house EV08) of brick Italianate houses which set on a hill overlooking Ridge Avenue in Evanston. They make quite a spectacular sight. Both houses are narrow but very long, with two full stories plus third-floor attic rooms – reflecting the days when lots along fashionable avenues in Victorian America were sold by the amount of linear frontage on the street, thus encouraging buildings that were narrow and long.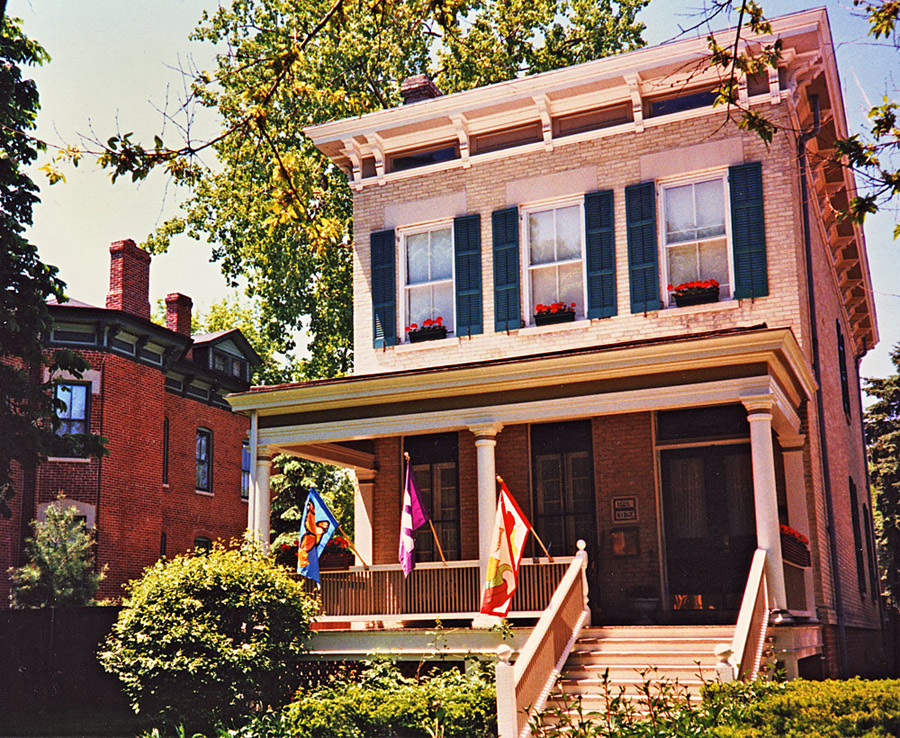 EV08 – Italianate
This glistening brick Italianate is next door to an even more authentically restored Italianate, the side of which can be seen at the left (see house EV07). Both houses set on a hill overlooking Ridge Avenue, so called because it runs along a ridge which happens to divide the upper Midwest into two water tables. Rain falling on the west side of the Avenue runs into the Mississippi and on to the Gulf of Mexico, whereas rain falling on the east side runs into Lake Michigan and on up the St. Lawrence seaway.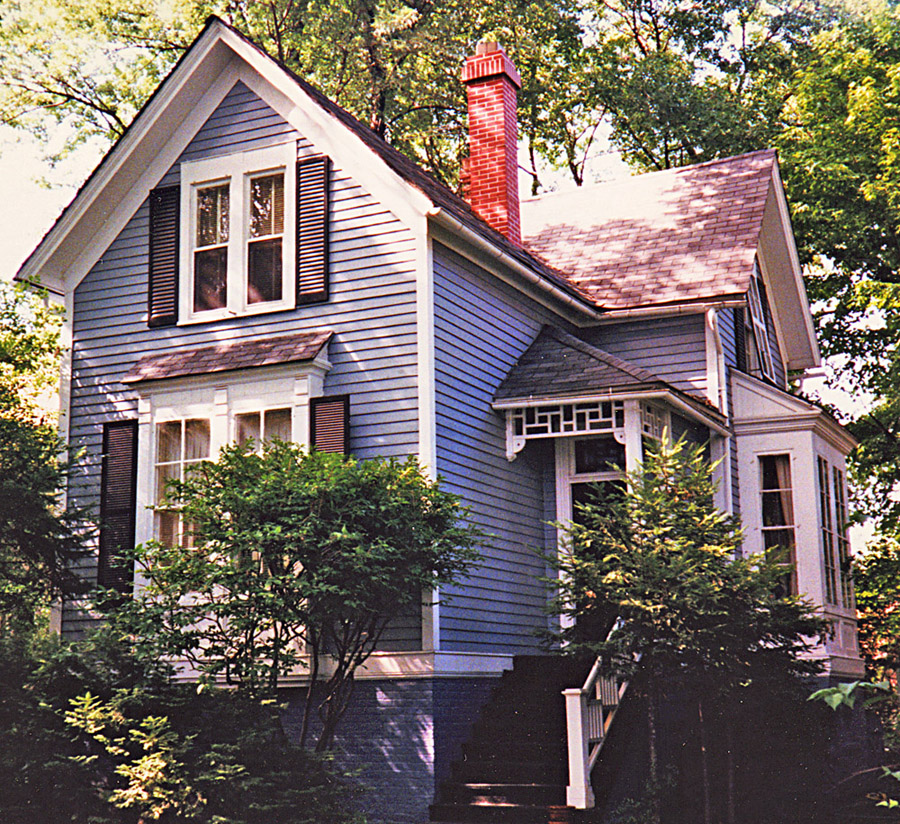 EV09 – Folk Victorian
This little Folk Victorian is located about a block from where I live. It may not be the most splashy house in town, but it looks comfortable and it's in the neighborhood, so here's a photo of it.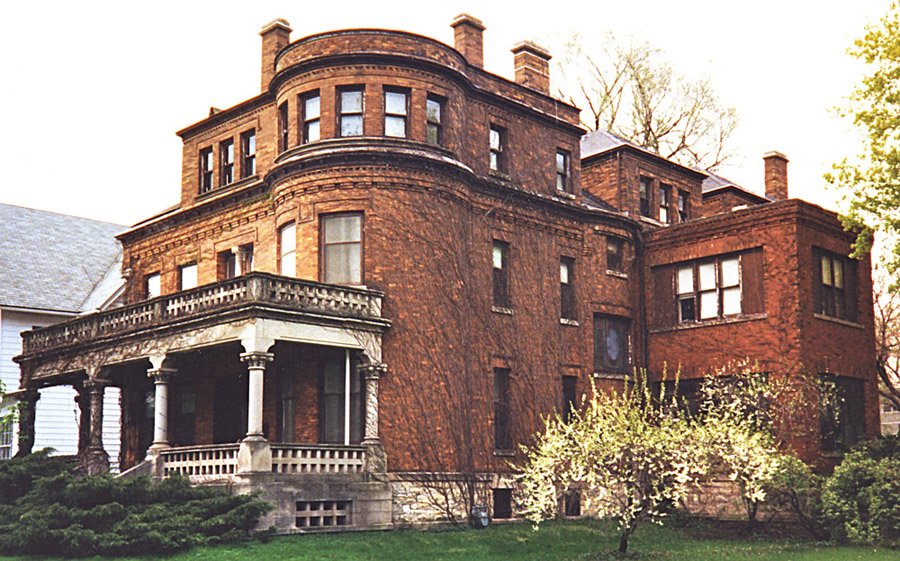 EV10 – Eclectic Victorian
This is my idea of a Victorian house! Massive, brooding, almost fortress-like: add in the masses of vines clinging to it, and the picture is complete. There are no hanging pots of bright flowers or lavender-and-pink paint schemes to spoil this one. The house itself is an architectural mish-mash. It doesn't have the large rough-cut stones or heavy rounded arches which best characterize the Romanesque Revival style. Except for its size, it is not what I would call Chateauesque: it resembles a French chateau about as much as a Doberman Pincer resembles a toy poodle. "Monumental" is probably the best adjective for it. One thing is certain: you don't find houses like this sitting on every street corner, not even in towns renowned for their Victorian houses. This particular monument was built by a member of the Armour meat-packing dynasty, although I am not sure which one.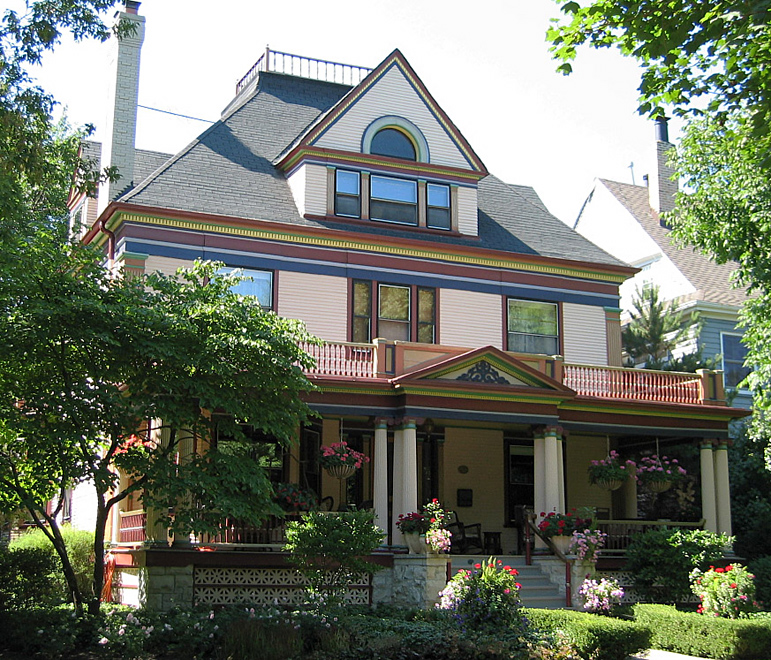 EV11 – Colonial Revival
I probably walked past this house a dozen times without giving it a second glance, because to my tastes it was just another boring, all-white, Colonial Revival box. Then some new owners took possession, and shazam! Color erupted! I cannot imagine that the house ever looked like this when it was new, because the Edwardians just weren't into color – which is rather sad. You can see for yourself what they missed.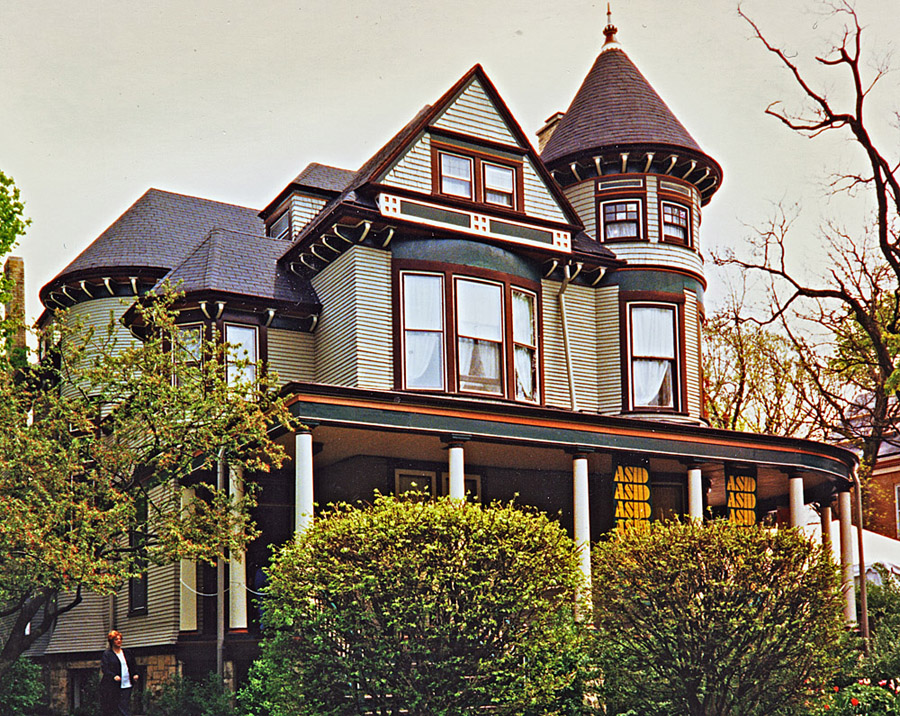 EV12 – Queen Anne
The decorator who restored this Queen Anne was throwing an open house on the day I happened by. (Note the ASID banner hanging from the porch – American Society of Interior Decorators.) I did not go inside. My interest in Victorian houses lies primarily in their exteriors, not their interiors. The exterior of this quintessential Queen Anne is beautifully done, and represents about as much of a Painted Lady as you are going to find on the rather stodgy North Shore of Chicago...but I had to take this photo of it while lying on the ground and slanting the camera between the branches of a tree, because this was the only clear view I could get. If you can call it "clear" – note that a lot of the house is still obscured by the two huge bushes directly in front of the porch and the tree to one side.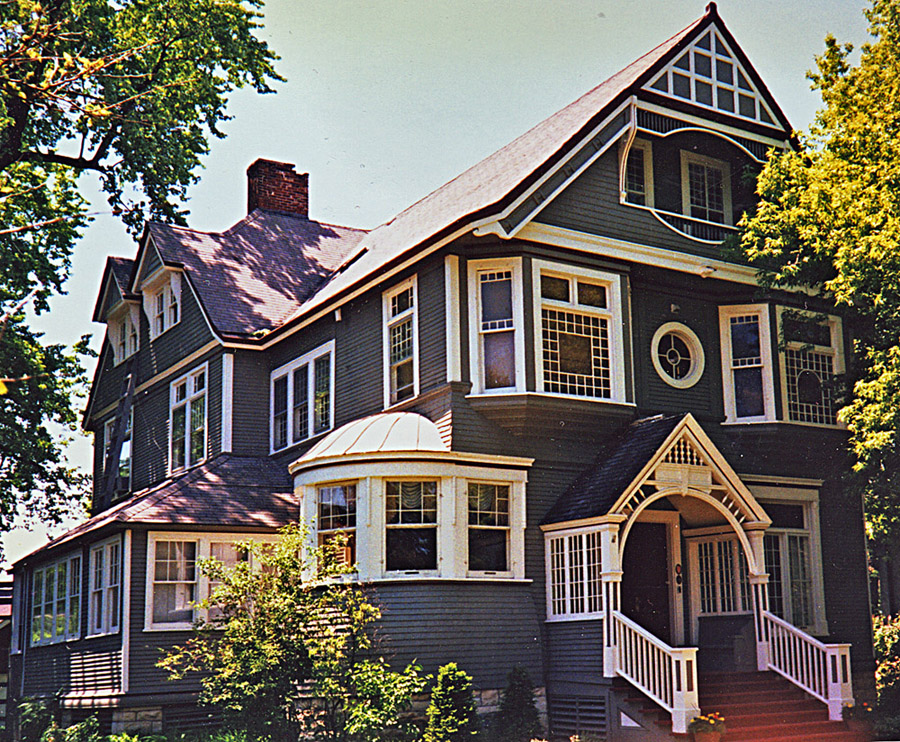 EV13 – Stick Style
This rambling, turn-of-the-century Queen Anne/Stick Style house is so huge, I don't know quite what to make of it. Possibly it was originally a double house or even apartments. Perhaps the first owner simply had a large family. Whatever the case, I think ten people could live in this house and still have separate bedrooms.


EV14 – Victorians
These houses form an interesting pair. The one on the left is actually rather small, but it looks bigger than it is due to the interesting dome-topped tower. The house on the right is Queen Anne in terms of its overall massing, but it is covered with stucco rather than the more usual multi-textured siding. The house appears to have been built in the early 20th century, so it is hard to say whether it was originally covered with stucco, or was stuccoed later.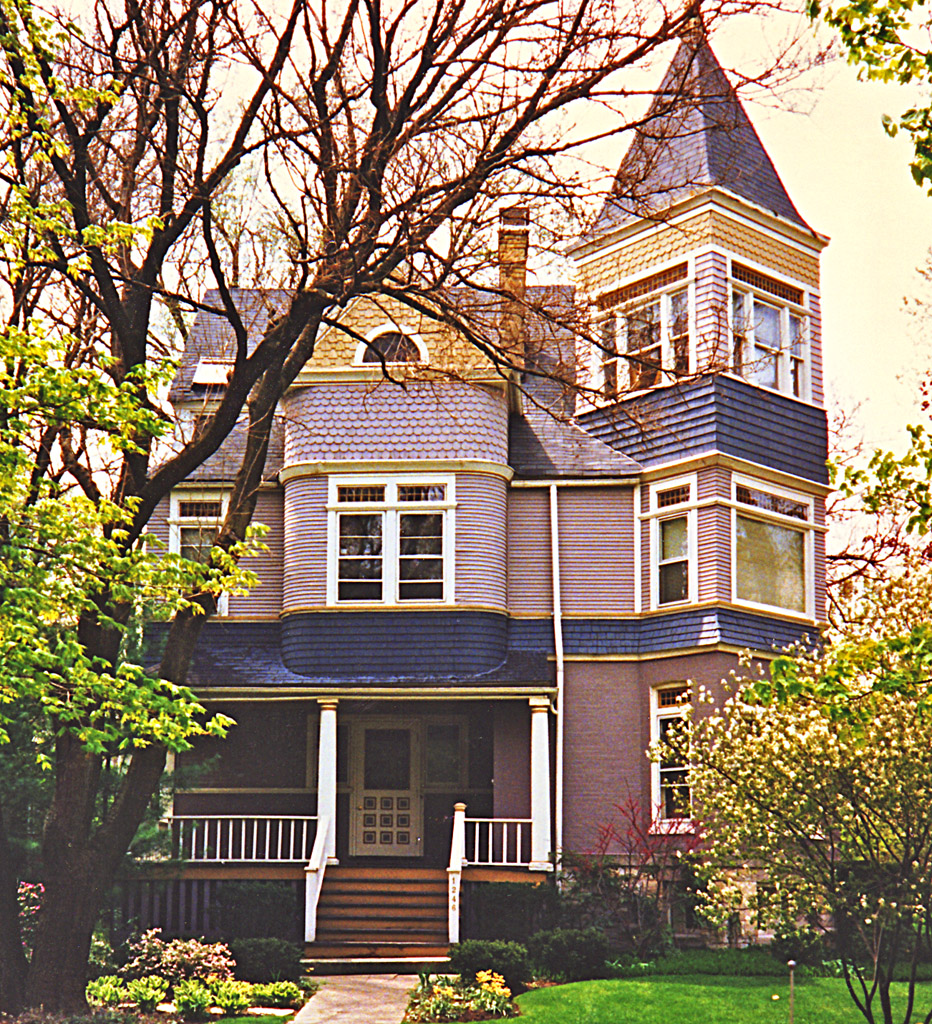 EV15 – Queen Anne
This house is beautifully restored (the varying colors and textures of the siding are especially well-done), and it is considerably larger than it looks in this photo. But you can't get a good photo of it from its longer side due to (of course) too many trees and bushes.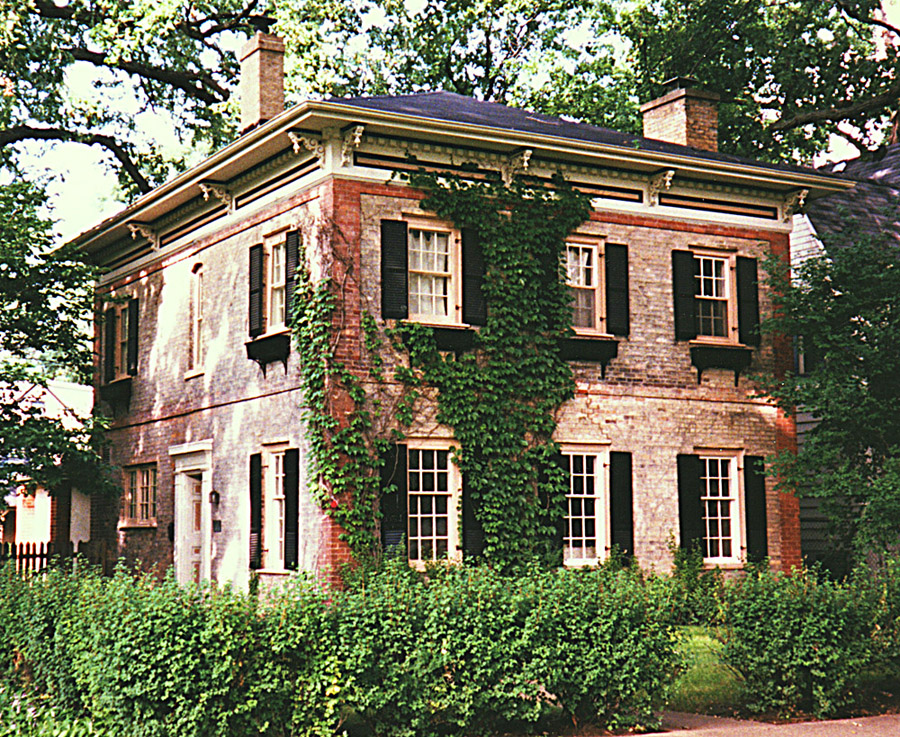 EV16 – Italianate
This classic brick Italianate was built in 1871. It is located about two blocks from where I live, which is to say, far from central Evanston. That would have put it on a farm in 1871, but I am told that originally it was situated on fashionable Asbury Street and then moved to its present location in the late 1920's. The house was put on the market a few years back, and I unabashedly took advantage of the open house to have a look inside – and alas. Except for the floors, it would appear that they completely gutted the interior when they moved it. It has been completely stripped of any Victorian decoration. The unsympathetic 1920's-era cabinets and doors are a real disappointment.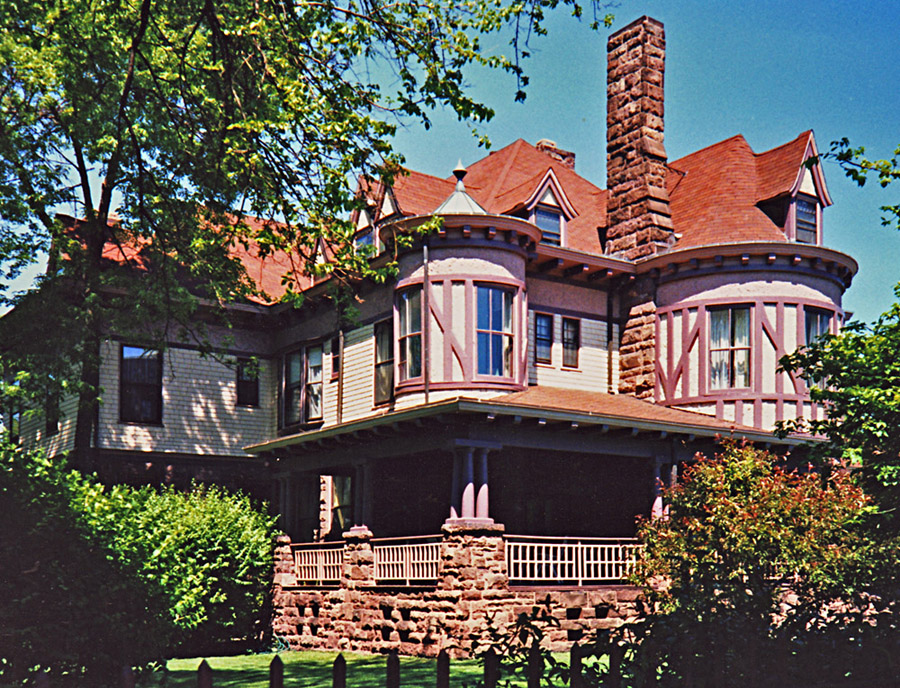 EV17 – Queen Anne
This is another of the storied mansions along Asbury Street. This house was originally built for the H. D. Cable family, and was featured in a full-page color illustration in the architectural section of Scientific American in June of 1894.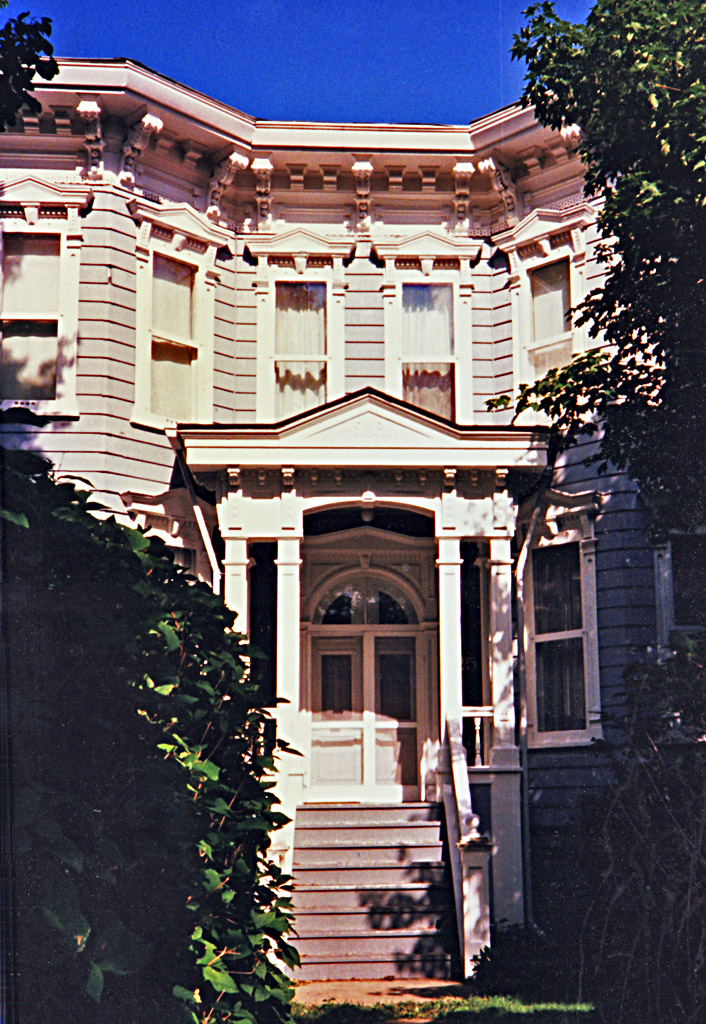 EV18 – Italianate
Here is another house that is almost impossible to photograph, due to the surrounding walls of trees. But this shot straight up the front sidewalk is enough to show the extraordinary condition of the window surrounds, the porch, and the cornice. The symmetric double-bay arrangement is unusual for Evanston, and reminds me of the more flashy Italianates that one sees in San Francisco.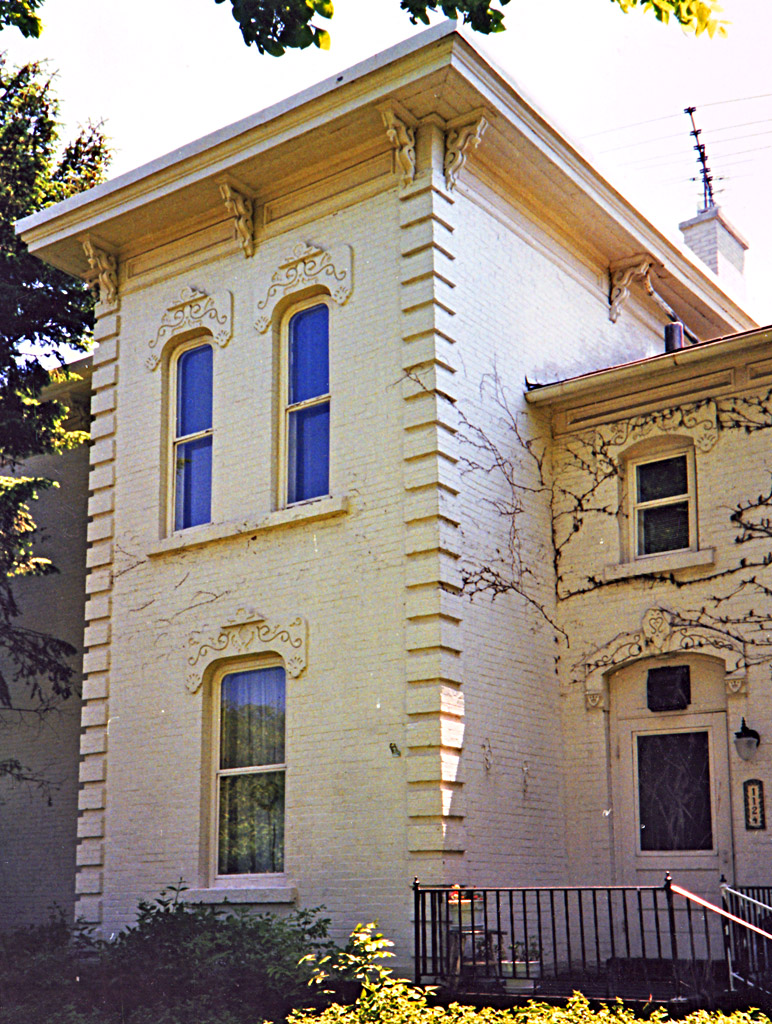 EV19 – Italianate
Another Italianate, this one in brick with corner quoins and very elaborate window arches. This is a view from the backside of the house.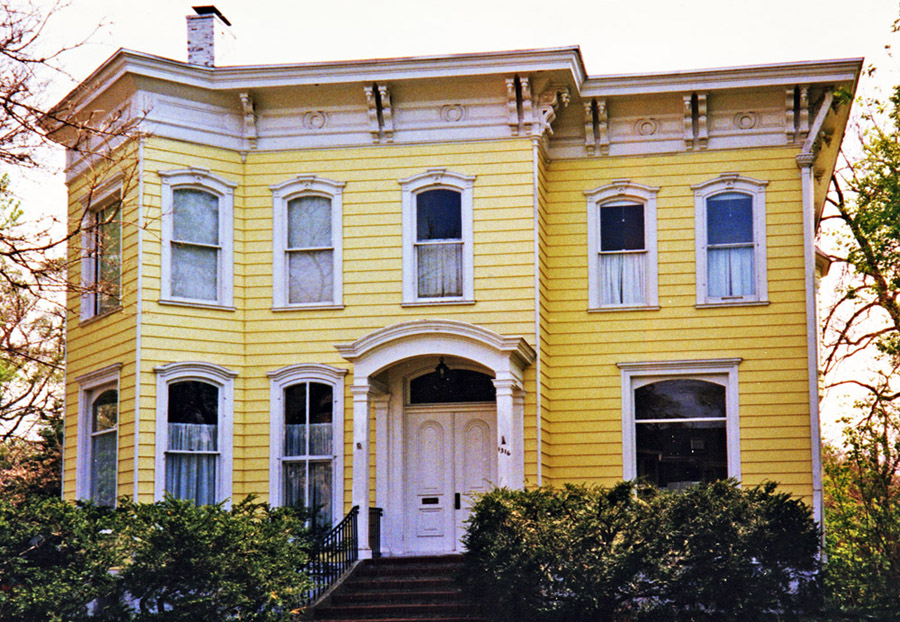 EV20 – Italianate
This home is an excellent example of the quirky eccentricity one loves about Victorian houses. It is mostly Italianate, with its heavy cornice bracketing, flat roof, and tall, narrow windows with their arched tops and elaborate surrounds. But it is also very unsymmetric. One can only wonder whether the house was built this way, or later became that way from additions. The external woodwork on the house is in remarkable condition, which may mean that it has been reproduced.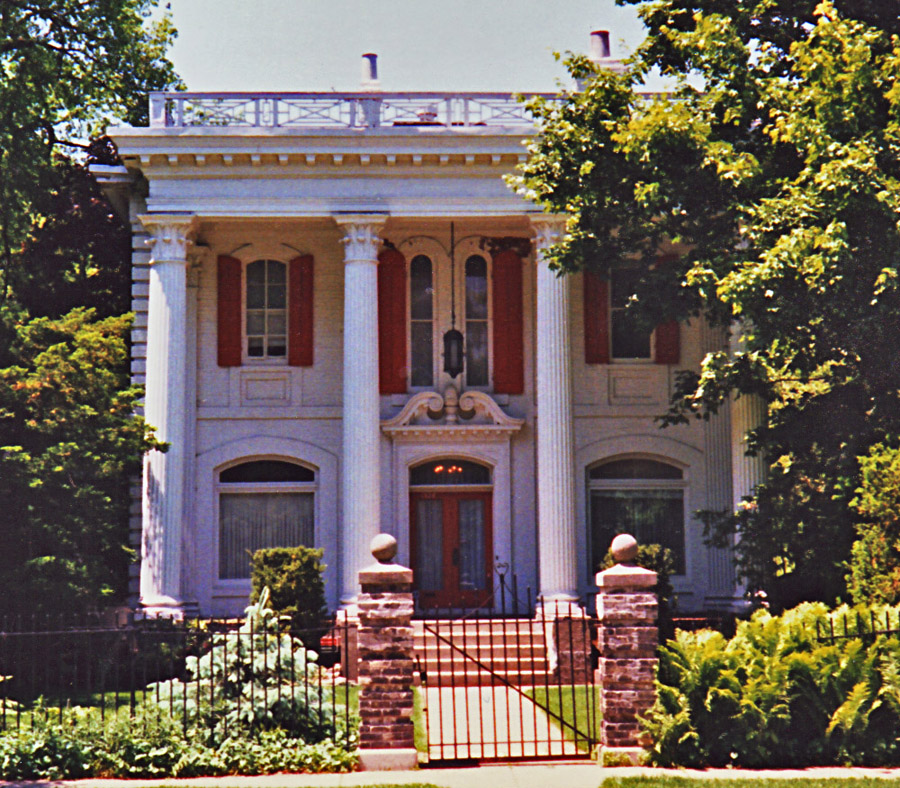 EV21 – Greek Revival
I am not normally much excited by "Gone With The Wind" houses, otherwise known as Greek Revival. But this particular one has an unusually romantic look as it sets back among the trees, and I suppose my gallery should contain one example of the genre. The North Shore of Chicago is where the money lives, and it is chock-a-block with all kinds of tastelessly monumental ersatz Greek temples that are much larger than this one. But none of those can touch this one for pedigree, which I would guess dates to the Civil War or before, judging from the brickwork.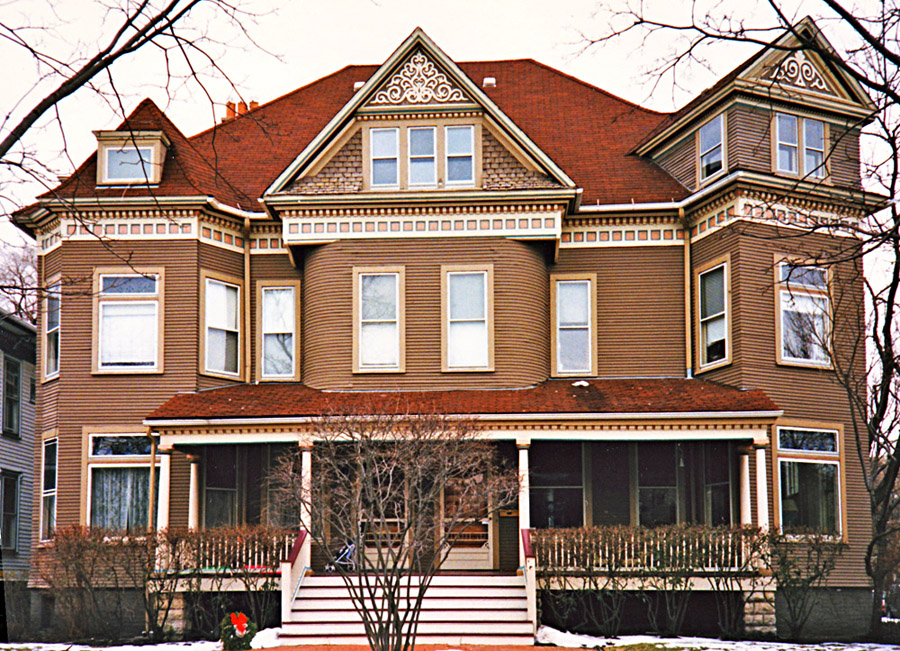 EV22 – Queen Anne
This is a fine example of a Victorian double house. Long before anyone had heard of condominiums, the Victorians were building massive houses that were actually two houses side-by-side: they provided the owners with an imposing home at a prestigious address for half the cost.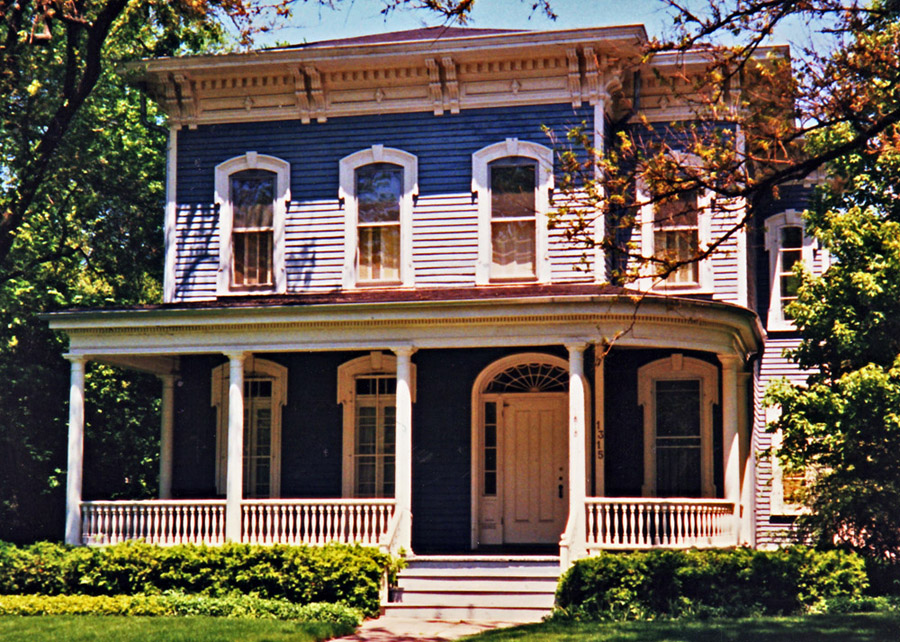 EV23 – Italianate
Yet another nice Italianate, this one built in wood and with a porch that goes so well with the house, it may even be original.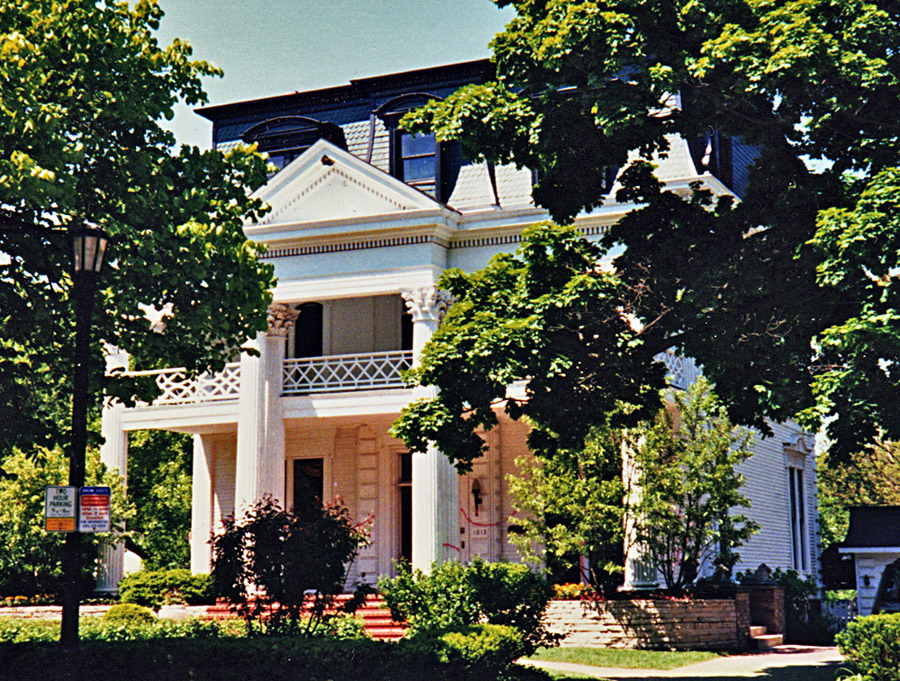 EV24 – Second Empire
This house must be seen to be believed. It is an enormous Second Empire, three full stories tall and topped off by one of the most massive mansard roofs I have ever seen. It also has a huge, incongruous, two-story-high Greek-revival double-porch. The combination is so pretentious it could scare small animals. Which means I had to have it in my gallery, of course. (Naturally, it is so heavily surrounded by trees that this view was the best I could manage.) It is clear that the porch was added well after the main part of the house was built. One can only suppose that a 1920's businessman possessed of much money and negligible taste decided to make his old-fashioned Second Empire house look just as ostentatious as any other phony-Roman temple in town by slapping on the one thing they had and he didn't: a monstrous portico. For an even sadder example of a house mangled by an inappropriate portico, check out the Ravenswood House.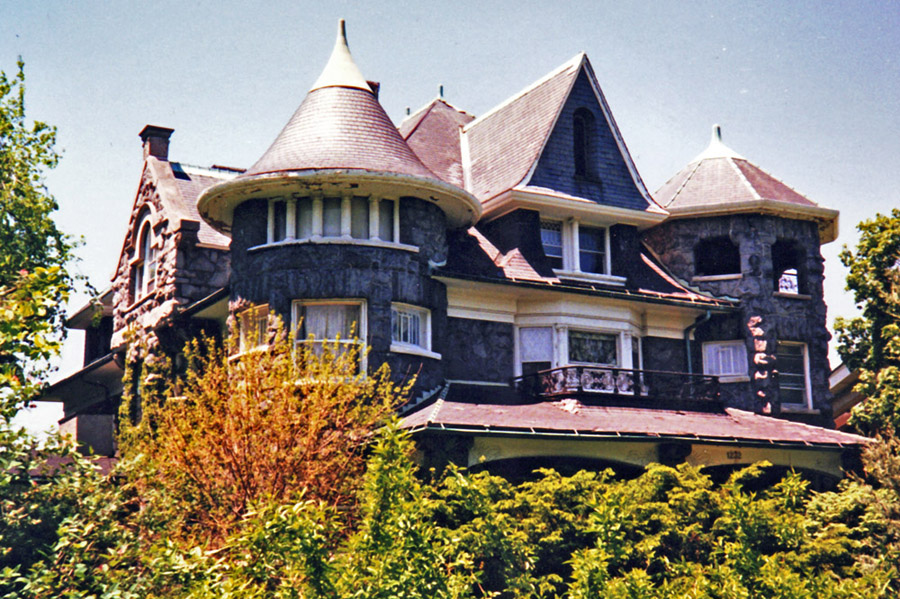 EV25 – Queen Anne
This Victorian castle is rendered in massive, bleak-looking, grey stone. It sets on a slight hill, and is so blocked by bushes and briars that I took this photo by standing on the trunk of my car. Its roof line looms against the sky like something from a Victorian dime novel. You can almost hear the crackle of lightning and the screams of damsels in distress. If you look closely, you will see that the house was in rough shape when I shot it. There is a lot of rotted woodwork around the tops of both towers, and there is peeling paint and rusty ironwork everywhere. A "For Sale" sign had been standing in front of the house for a least a year, and it is not hard to understand why. In Evanston, something of this size would go for seven digits even if it needed repairs so badly that the cockroaches were deserting it in favor of someplace habitable. Add to that a horrendous renovation bill, and there aren't many who can afford a place like this. Happily, the "For Sale" sign finally came down, and the new owners have fixed the place up a bit.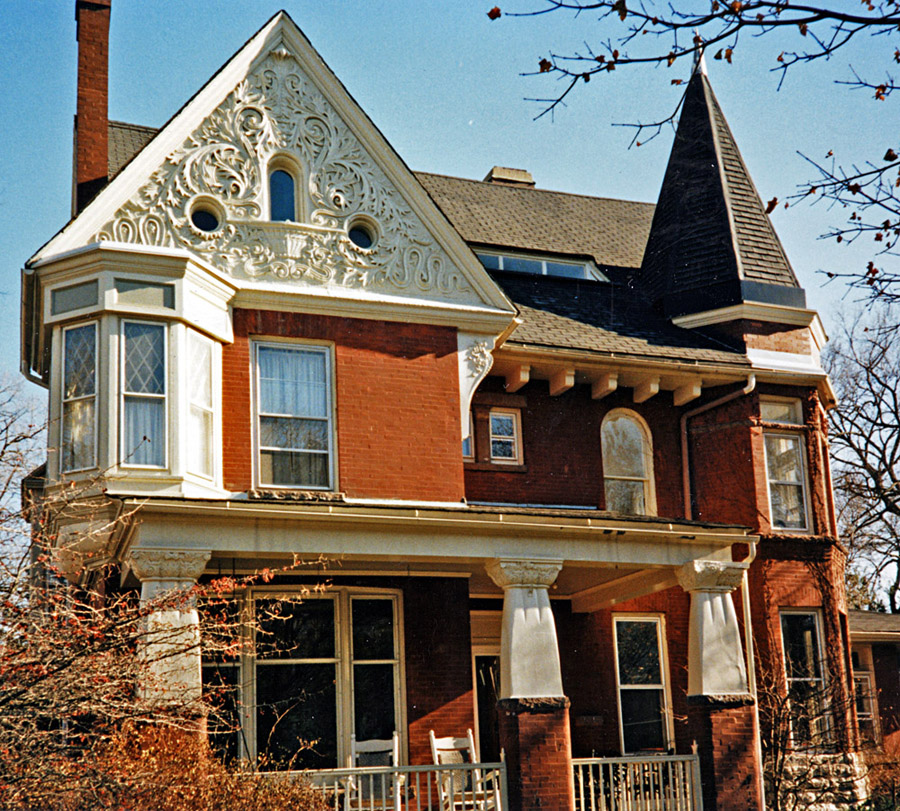 EV26 – Queen Anne
The photograph does not do this house justice. The spectacularly carved eave is the high point, of course, but the house also has a complex front facade, a large window oriel on the second floor, and an octagonal corner tower. This is the type of Victorian which makes you gawk in such amazement the first time you see it, that you just run right through that little 'ol stop sign there at the corner, yes you do. (Not to worry. The other guy saw me.) The house is much bigger than it looks here, as it is built long and narrow, like many Victorians. The house is now cut up into condominiums, which probably accounts for some of the cheaper touches such as the aluminum window frames. But it's still standing, and looking good.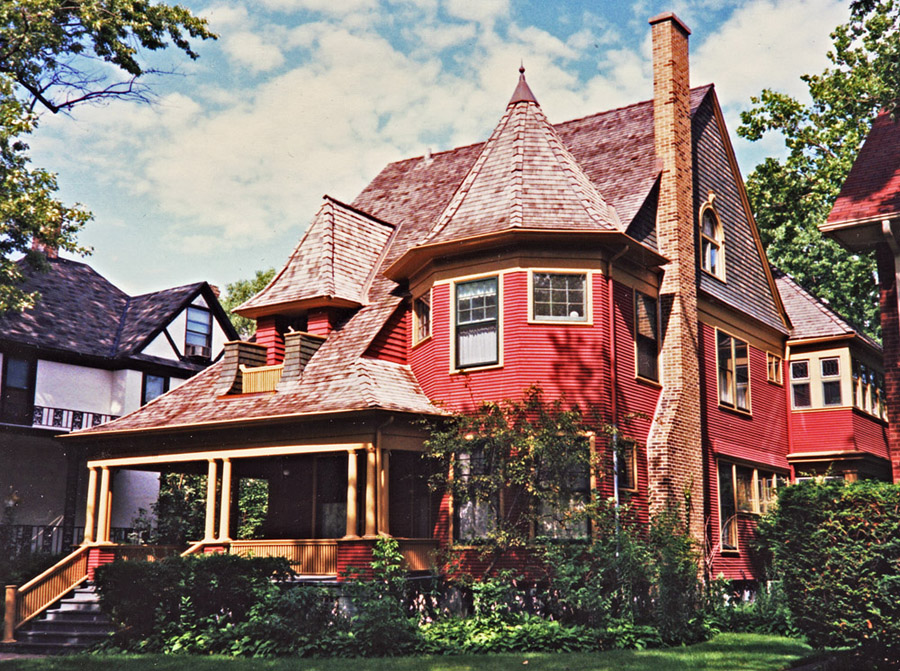 EV27 – Queen Anne
This house is a beautiful example of a late Queen Anne. As the 19th century drew to a close, the very extravagantly (sometimes almost bizarrely) elaborate Queen Anne houses of the 1880's began to give way to houses like this one, which maintained the mass and asymmetry of the classic Queen Anne but were not so cluttered. These in turn eventually gave way to the Colonial Revival styles of the turn of the century, and the radically rectilinear styles of the Prairie School.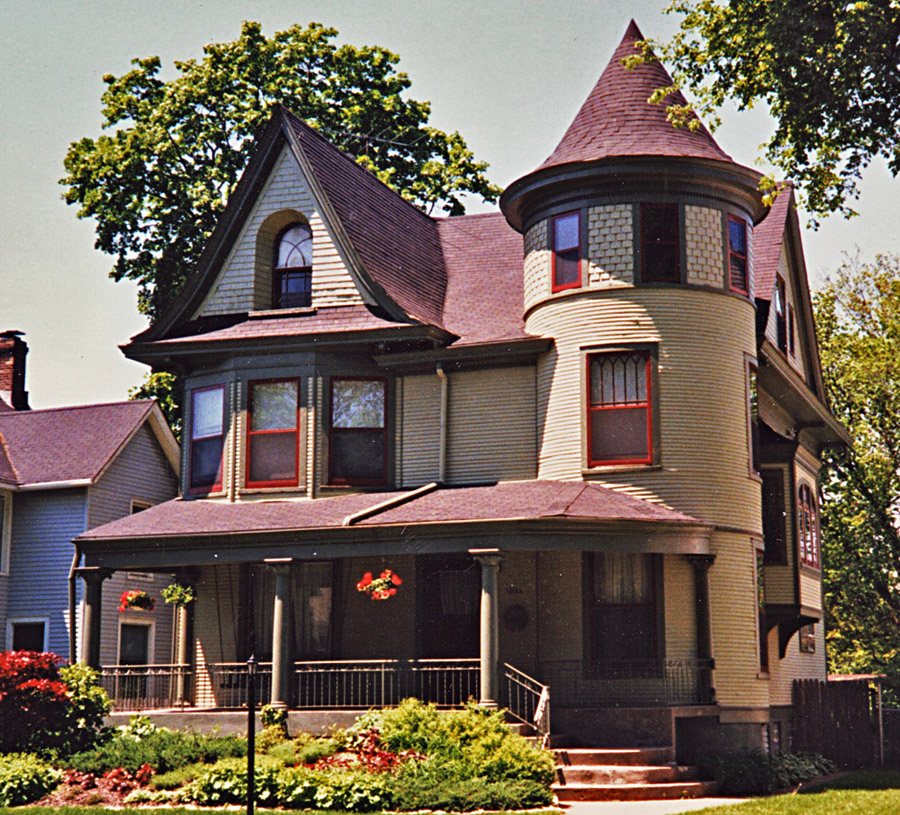 EV28 – Queen Anne
This house is a very fine example of a classic Queen Anne, a style which is surprisingly not very common in the Evanston area. There are many houses (such as the previous one in this gallery) which are very late Queen Annes, or Queen Anne hybrids, or semi-Queen Anne/historical pastiches of some sort, but your straight-forward mid-1880's Queen Anne is not nearly as common for some reason. I can only surmise that there was a local lull in the housing market around that time.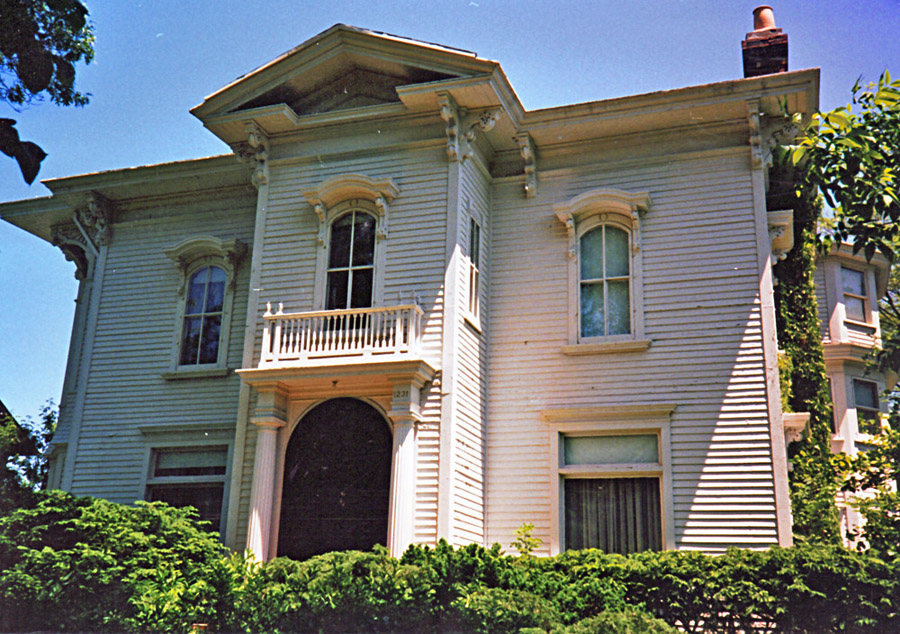 EV29 – Italianate
This is an exceptionally handsome Italianate even by the standards of Evanston, which has more than its fair share of handsome Italianates. This particular house deviates from the more-usual narrow front with three-window symmetry (see houses EV01, EV07, and EV08 in this gallery) by presenting a broad front with an off-set central part and a dramatic two-story window bay, just visible on the right in this view. I would normally rail against the all-white paint scheme, but the unusual formality of this house makes me hesitate in this case. I think a little color high-lighting could be quite spectacular, if done subtlely — but turning this house into a Painted Lady would be a travesty. It is far too formal for that.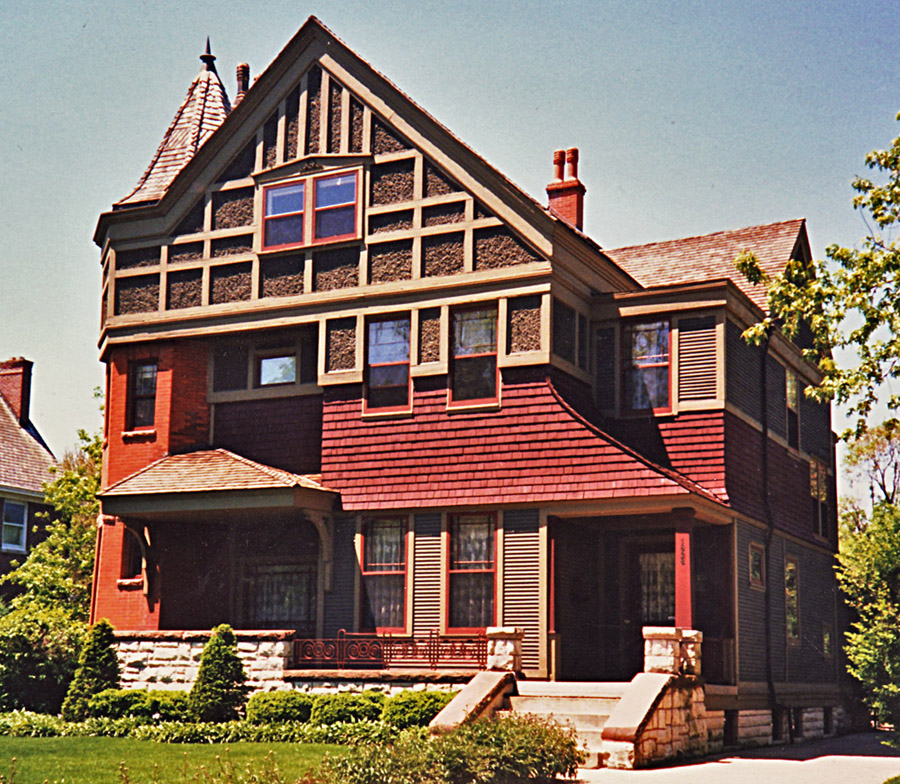 EV30 – Eclectic Victorian
I would call this late Victorian house a Tudor Style, because that seems to be the label closest to whatever style this house is, which is a sort of Stick - Shingle - Queen Anne hybrid. Whatever you call it, the house is in fabulous condition, and is very unusual. It is located along a stretch of Asbury Street which contains many Victorian mansions (houses EV02, EV17, EV21, and EV24 are close neighbors), but I consider this house to be the cream of the lot. It simply radiates the kind of architectural taste and high style that only a lot of Victorian money could buy.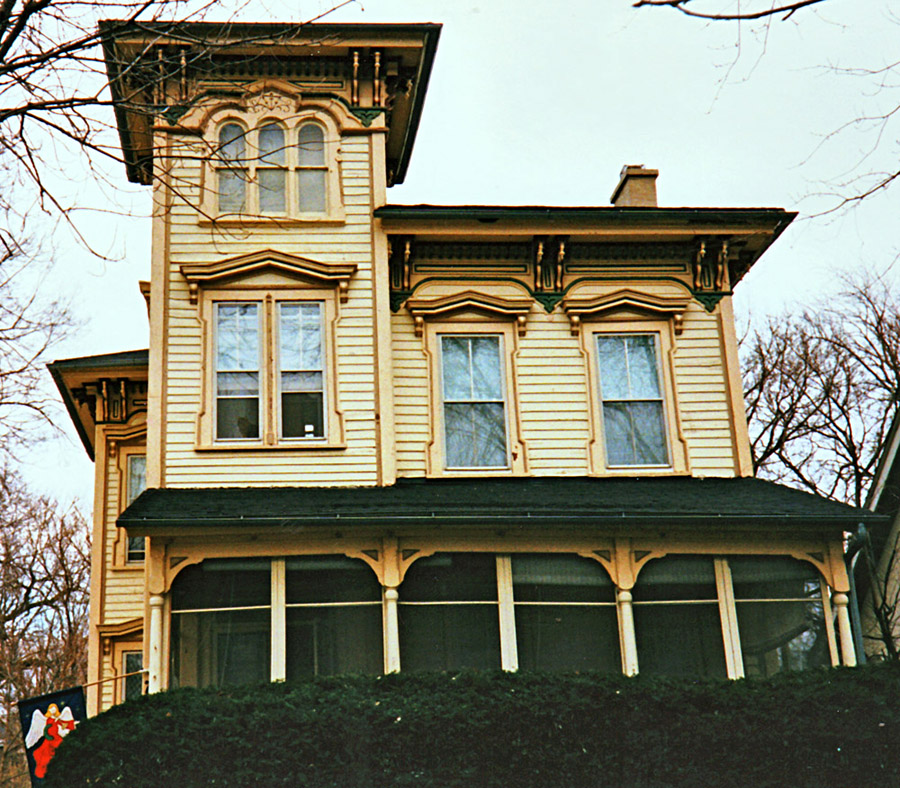 EV31 – Tuscan Italianate
If there is any house in the Evanston gallery which looks like it ought to be the setting for a Halloween horror movie, this is the one (not withstanding the Christmas holiday pennant of an angel by the door). The house itself is in gorgeous condition, and I particularly like the splendid way that the tower triple-window and cornice bracketing has been restored. The porch cannot possibly be original, but the screened-in space is probably quite welcome in the summer, so I'll give that a pass.


EV32 – Chateauesque
This is the Charles Dawes house, an Evanston landmark and now home to the Evanston Historical Society. The house was built in 1896 by Robert Sheppard, the Treasurer of Northwestern University, who evidently expected that he would soon come into money by becoming Northwestern's Chancellor. Sheppard bankrupted himself building the house, and even then the third floor was never finished. Alas, the expected promotion never materialized, and in 1909 Sheppard sold the house to Dawes. Dawes came from an old-money family that had been prominent in banking and politics since before the American Revolution. Charles continued the family tradition by serving in numerous capacities for the government during World War I, the results of which won him the 1925 Nobel Peace Prize for his work in organizing German reparation payments. Dawes ran for Vice President in 1924 with Calvin Coolidge and served until 1928. Herbert Hoover later appointed him Ambassador to England. Dawes' widow left the house to the Evanston Historical Society in 1957.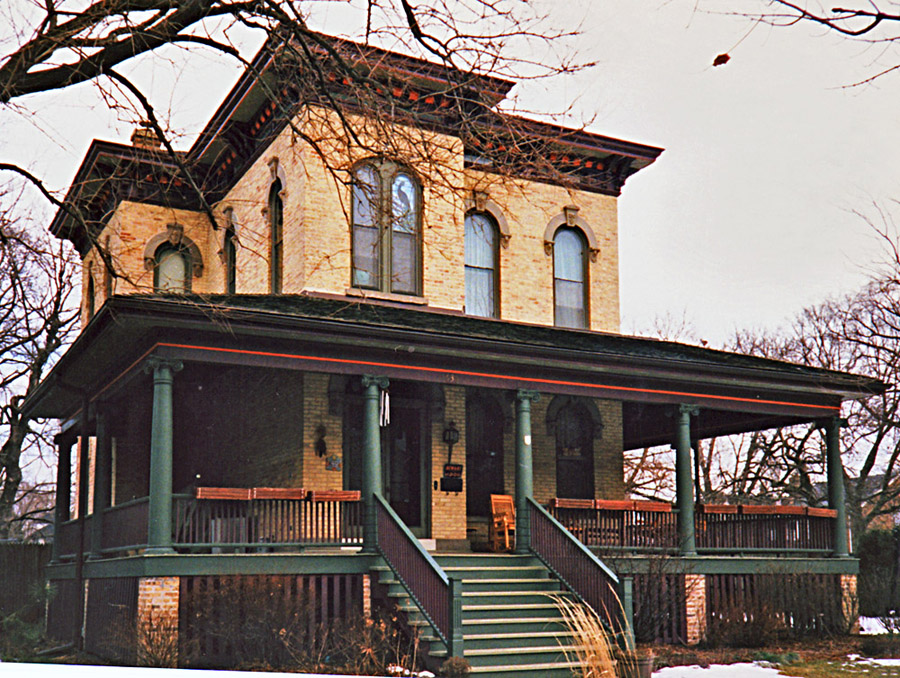 EV33 – Italianate
I think it is fair to say that this Italianate has been completely transformed by the stupendous, classical-columned, wrap-around porch that it now possesses. One doesn't have to browse this site for very long to realize that I'm not the biggest fan of added-on porches, but I have to admit, this porch makes what is actually a rather small house look and feel like a palatial mansion.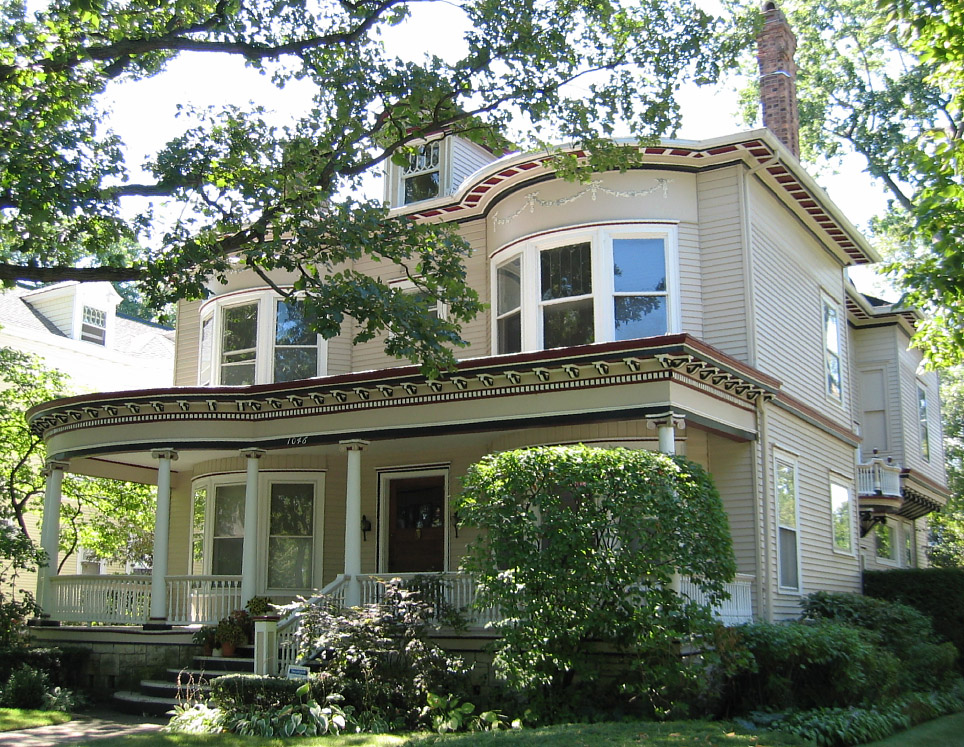 EV34 – Colonial Revival
There is some debate as to whether Colonial Revival houses are Victorian or not, and I think: it depends. If they have a stern, almost Federal-style facade, then no. If they have a more whimsical facade with classical, Federal, Greek revival, and Italianate features thrown in, then yes. This house qualifies as Victorian as far as I'm concerned.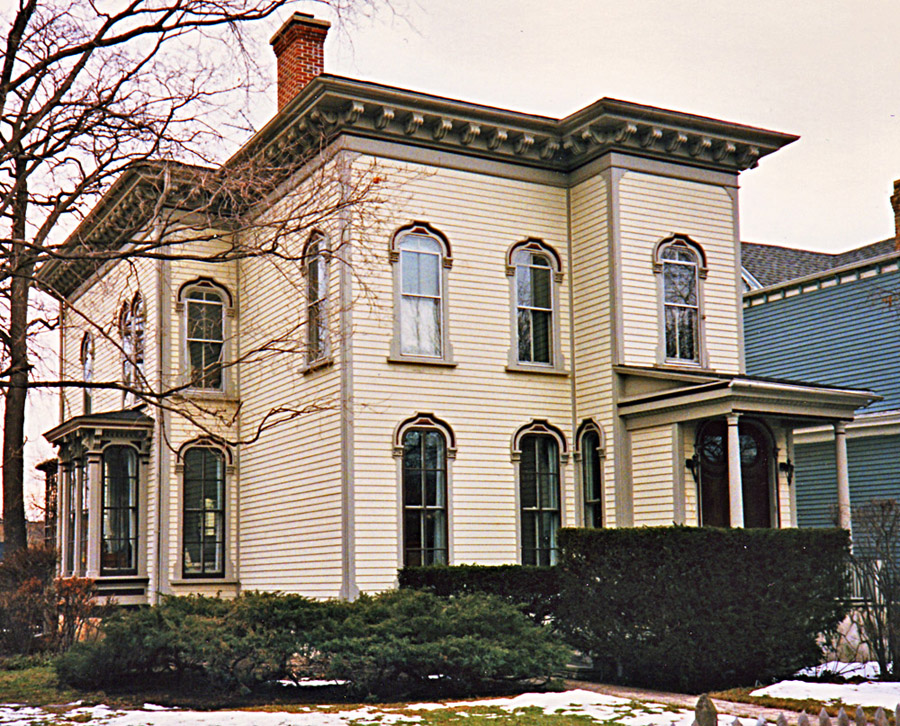 EV35 – Italianate
One more Italianate, impeccably restored, and featuring a porch of an appropriate size and style for a house of this period.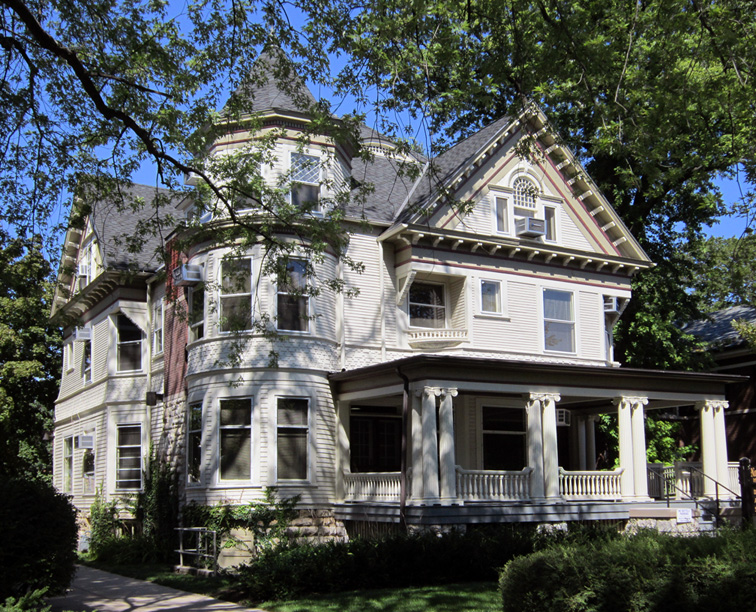 EV36 – Queen Anne
This house, and the next three in the gallery, are owned by Northwestern University and set along Sheridan Road. On the one hand, they aren't exactly the epitome of perfectly preserved Victorian houses (especially on the inside, where they have been turned into office space), but on the other hand, they are still standing, which certainly counts for a lot. This first house is probably the most striking of the four. It is now the African-American Studies building.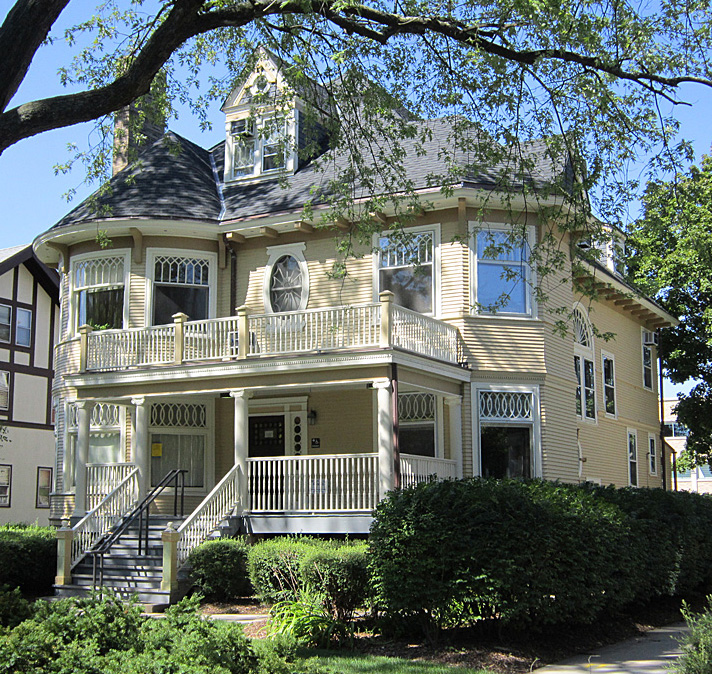 EV37 – Queen Anne
I am informed that all four of these Victorians were originally the homes of faculty at the University Given the price of real estate nowadays in Evanston, I think the faculty were paid a lot better in 1890 than they are now! It would be very difficult for a mere professor to own a house of such size and quality today.

The most striking feature of this house is the elaborate window treatments; notice especially the oval "spider web" window near the center of the photo. This house is now the Weinberg College of Arts & Sciences student advising center.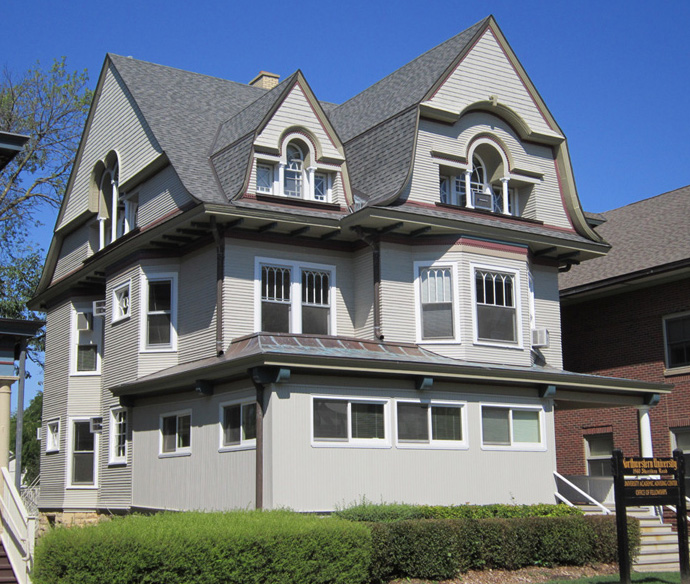 EV38 – Queen Anne
This house is now the University's Office of Fellowships. It was a boring uniform white for a long time, then about 10 years ago some painters suddenly showed up and poof! The house became a dove grey with white trim, and some nice stripes of teal and dark scarlet appeared. No paint can erase the ugly porch addition, but I was nonetheless impressed by the University's modest effort to keep the house looking Victorian.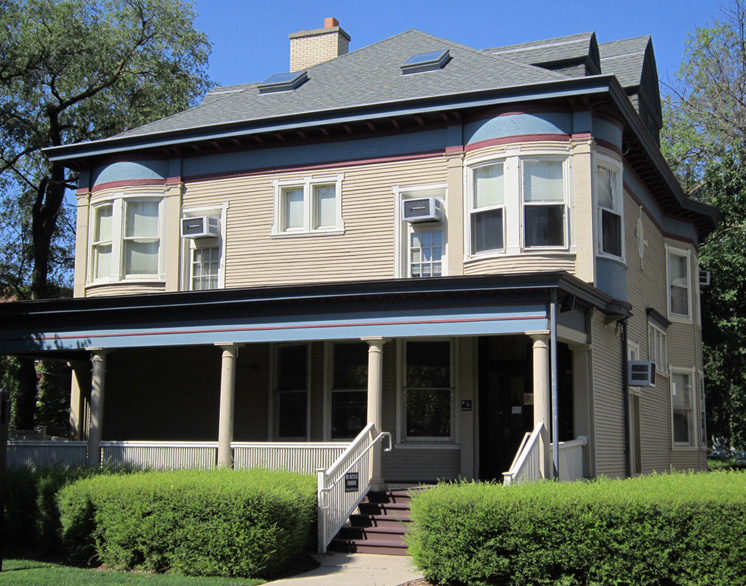 EV39 – Colonial Revival
This house shows off the studied symmetry and classical elements of the Colonial Revival style. The house is now used as a multicultural center.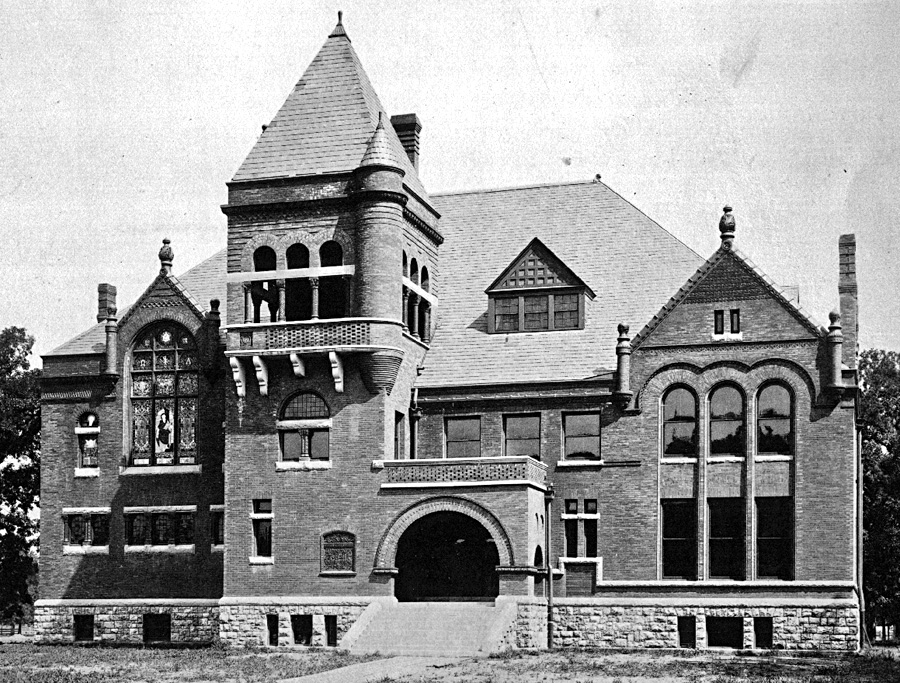 EV40 – Romanesque Revival
So long as we are talking about Northwestern University, I thought I might as well toss in this old photo of our once-upon-a-time sciences building. This marvelous little masterpiece of H. H. Richardson's was demolished in 1938, when the current science building was constructed, and I cannot blame the University for that. This building had become hopelessly obsolete even by then, and you cannot imagine how out-of-date it would be today. Space is at a premium in downtown Evanston, and the new, quite sprawling Technological Institute had to go somewhere, so . . . down the old building came.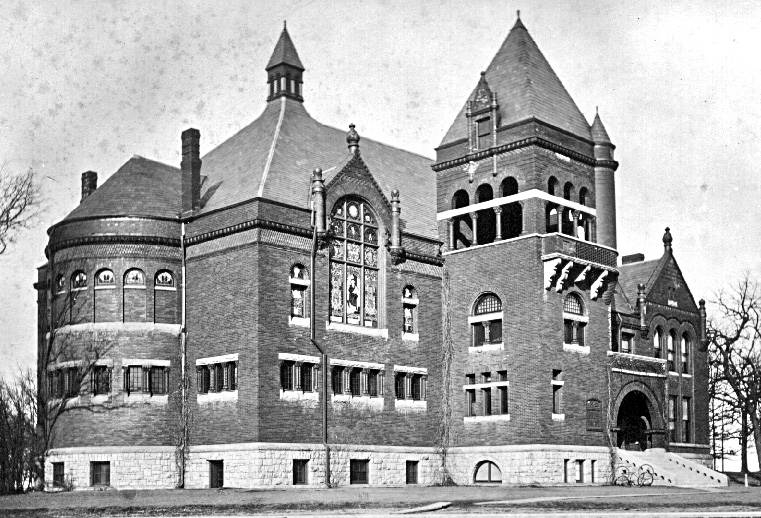 EV41 – Romanesque Revival
This is a second view of the old sciences hall at Northwestern. Although the Romanesque Revival style was used for (very expensive) private homes, it found its best use in large public buildings.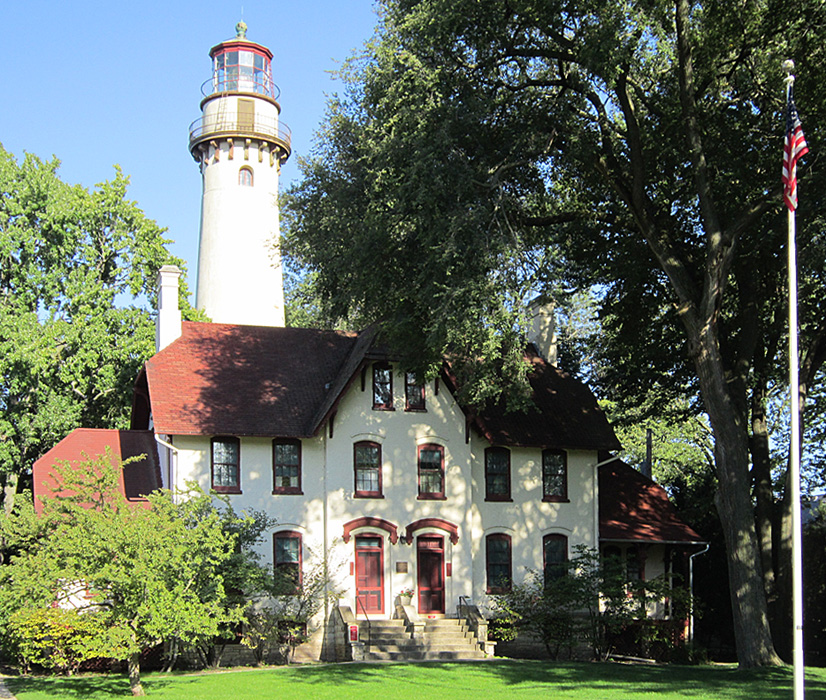 EV42 – Italianate
And now for something completely different -- an Italianate lighthouse. This is the Grosse Point Lighthouse, built in 1873, which stands at the north edge of Evanston. Note the Italianate detailing just below the lantern. The house itself is a double house: one half was for the family of the lighthouse keeper, and the other half was for the family of the assistant lighthouse keeper. Assignment to the Grosse Point Lighthouse was considered to be a genuine privledge when it was built, because the house stands on the mainland rather than on some terribly isolated rock far out in the water. Hence the lighthouse keeper's wife and children could just walk to town like other folks and live a normal life. The lighthouse was automated in 1935 and today is a national monument.