Gallery for Galena, IL


Galena is an old Illinois river town which, once upon a time, was an economic rival to Chicago. It had more than its share of wealthy steam-boat captains and rich merchants; consequently it came to have a concentration of stylish Victorian mansions far out of proportion to its population. But eventually the economic tides passed Galena by, and Chicago became a megopolis while Galena turned into a backwater.
Today Galena has revived, and is a tourist destination with many craft shops, art galleries, and antique dealers. Galena contains a flabbergasting total of 41 bed and breakfasts, most of them in historic houses, and also 25 cafes and restaurants. (Not bad for a small town of 3500.)
I spent several days in Galena a few summers back, and as always whenever I find a town with lots of Victorian houses, I did the photographic equivalent of carpet bombing the place. I took photos of every Victorian house in town that was even vaguely interesting architecturally, and my favorites among those are shown here. Enjoy.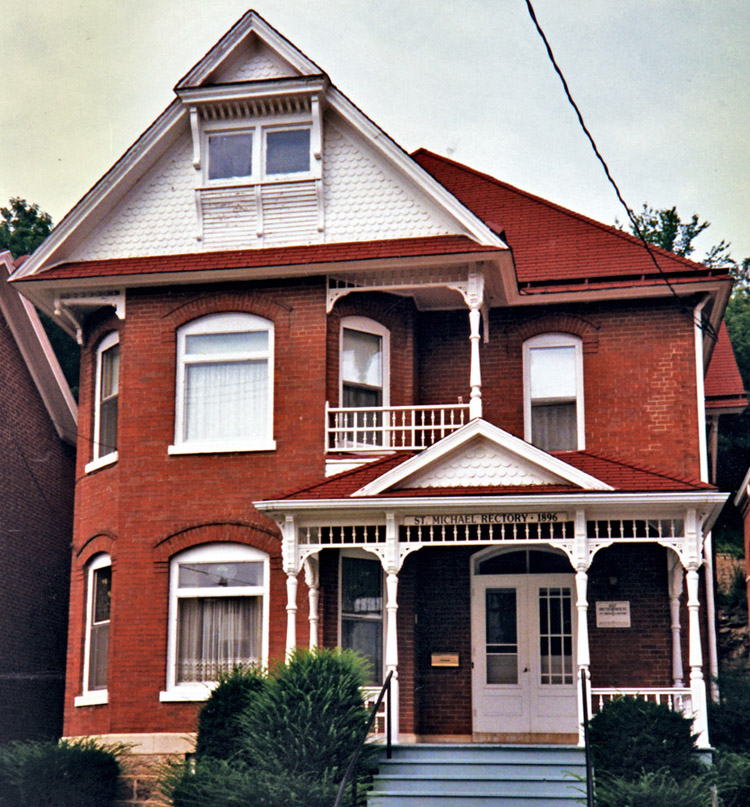 GL01 – Folk Victorian
As you can see from the sign above the front steps, this modest but handsome brick Victorian is the rectory for St. Michael's catholic church, which is next door. The house was built in 1896. Except for the rather institutional gray-painted steps and iron-bar railing, I suspect that this house looks exactly the same as the day it was built.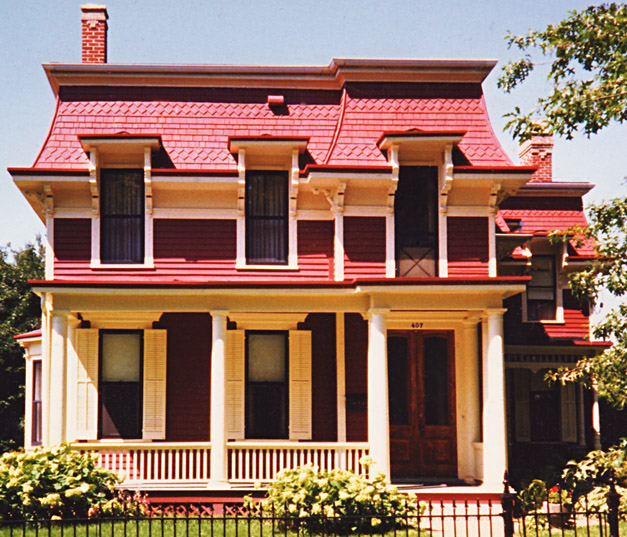 GL02 – Second Empire Cottage
This Folk/Second Empire cottage is located almost across the street from the house where I stayed. The dormer windows, which are actually set into the mansard cornice rather than above it and therefore have an unusually deep set-back, are a sure give-away that this house was designed by a local carpenter or maybe even the owner, not a professional architect. The flat, projecting, porch-like hoods above the second-story windows are either quaintly charming in a folk-art sort of way, or goofy-looking, depending on your point of view.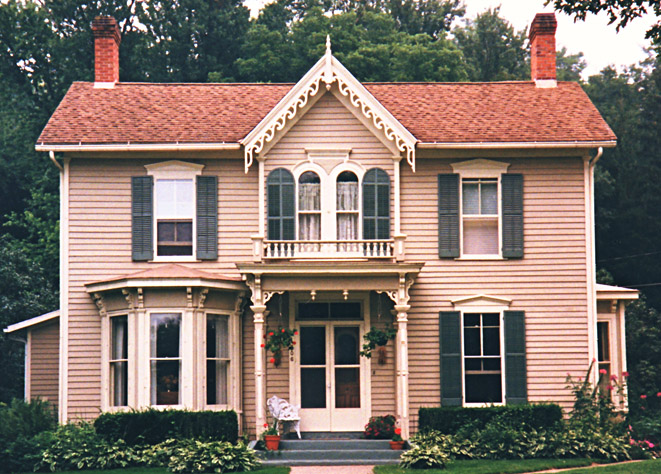 GL03 – Folk Victorian
This quintessential folk Victorian is on Park Avenue, about a block from the bed and breakfast where I stayed while I was in Galena. Other buildings along Park Avenue (all within easy walking distance of each other) whose photos are in this gallery include GL02, GL07, GL21, and GL22. The Grant House (house GL05) is also nearby, albeit at the top of a very steep hill.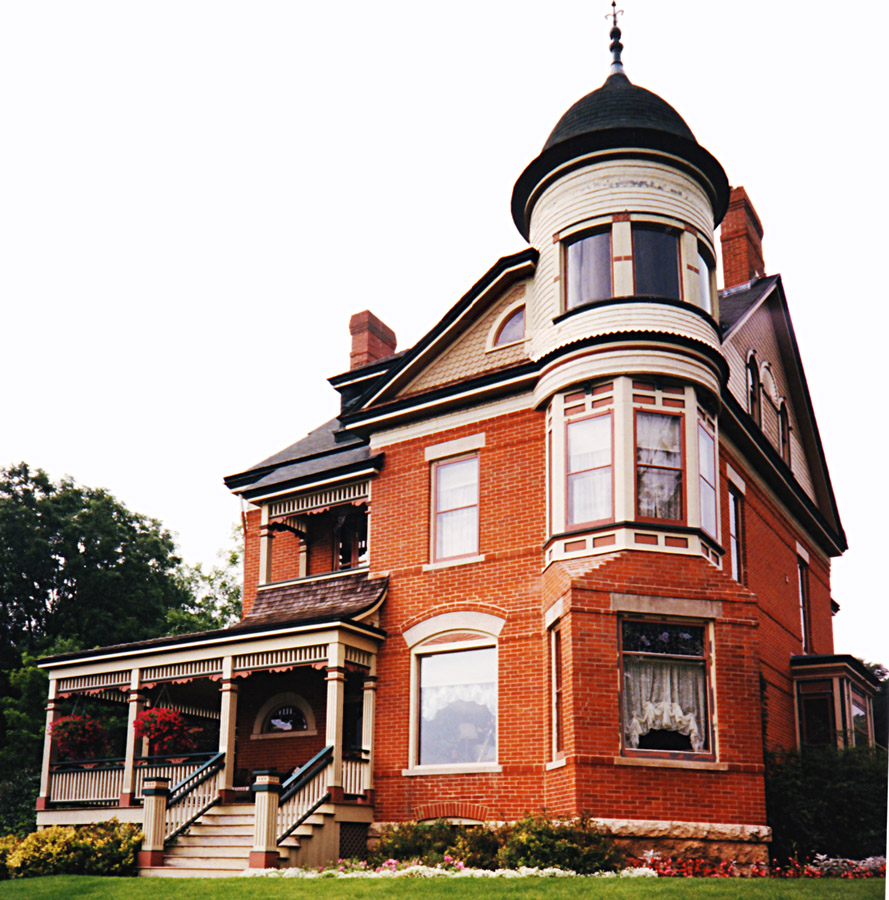 GL04 – Queen Anne
This 1896 Queen Anne is now a bed and breakfast, called the Hellman Guest House. The house sets on a extremely steep hill overlooking the town, so I had to stand very close to the house to photograph it. One step backwards, and I would have fallen off the stone wall I was precariously perched on, and plummeted about 30 feet.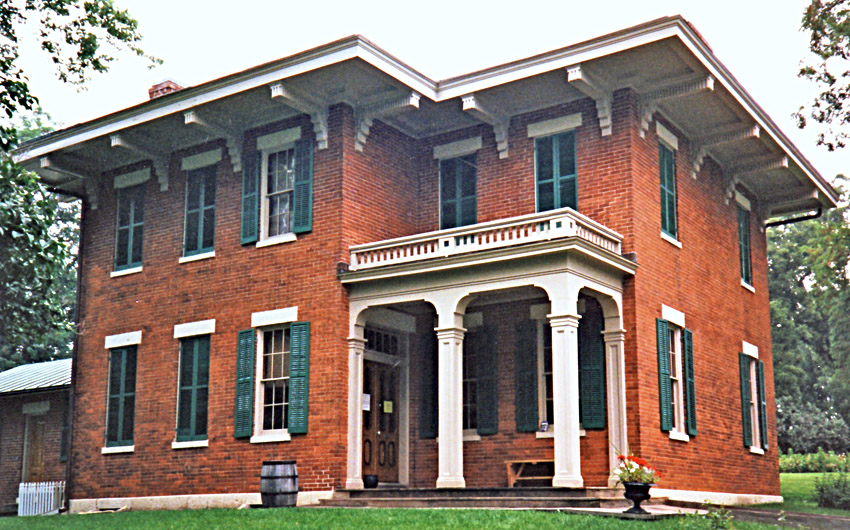 GL05 – Ulysses S. Grant House
This Italianate house was built in 1860. It was purchased in 1865 by a group of prominent local Republicans and given in honor to Ulysses S. Grant, who had lived in Galena prior to his assuming command of the Union armies during the Civil War. Grant actually spent very little time in the house, as he was elected President in 1868 and undertook a lengthy world tour following the end of his Presidency in 1876. He died in 1885. In 1904 Grant's children gave the house, along with many of its furnishings, to the city of Galena, which eventually deeded it to the State of Illinois. It is now a Historic Preservation Site. The house is open to the public daily, 9 am to 5 pm, except for major holidays.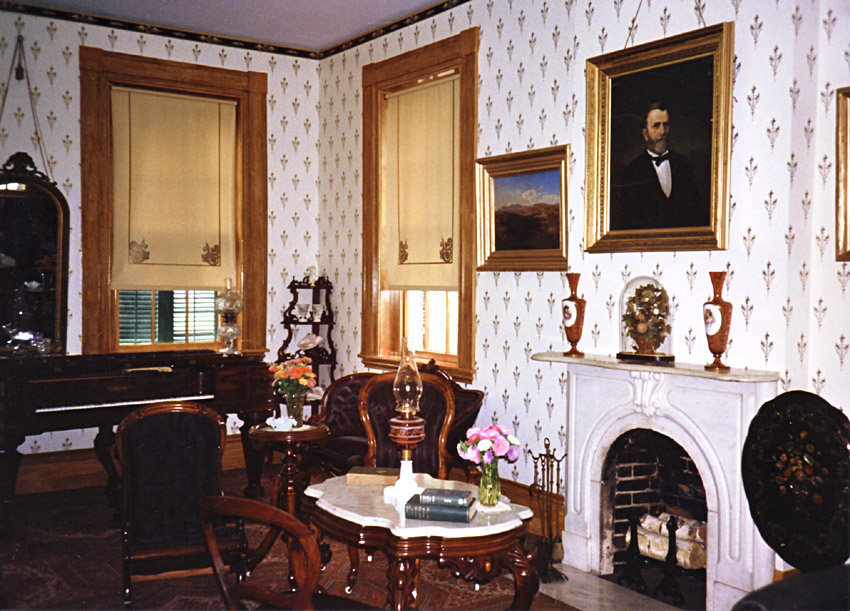 GL05a – Grant House Interior
The Grant house has been very faithfully restored to the way it looked when Grant owned it, due to the large number of period photographs and etchings which are extant for it. Too many people today associate "Victorian" interior decoration with overwrought excess: florid wallpapers, elaborate tapestries, masses of bric-a-brac, etc. But in point of fact, many Victorian houses had a much more spare feel than that, and the Grant home is a perfect example. Check out the simple window treatments, the elegant restraint of the wallpaper, and the lack of elaborate table coverings in this interior photo. Historical decorators would do well to remember that not every Victorian cared to fill their house with massive excess.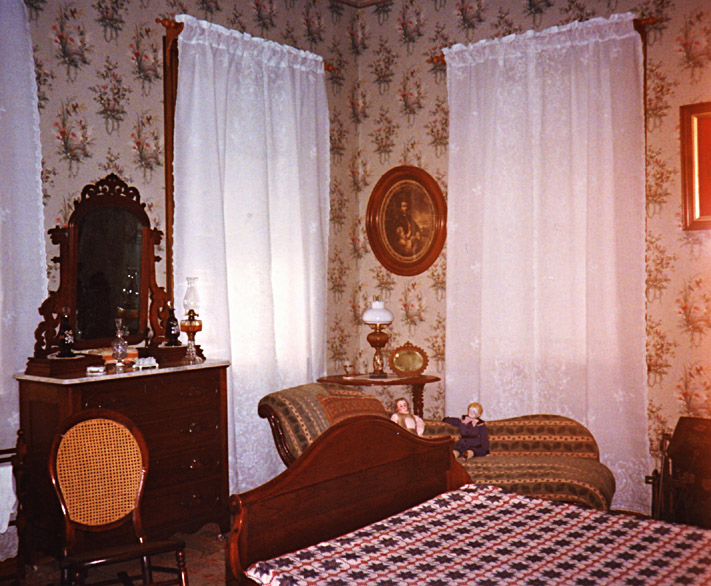 GL05b – Grant House Interior
This is a view of one of the bedrooms in the Grant House.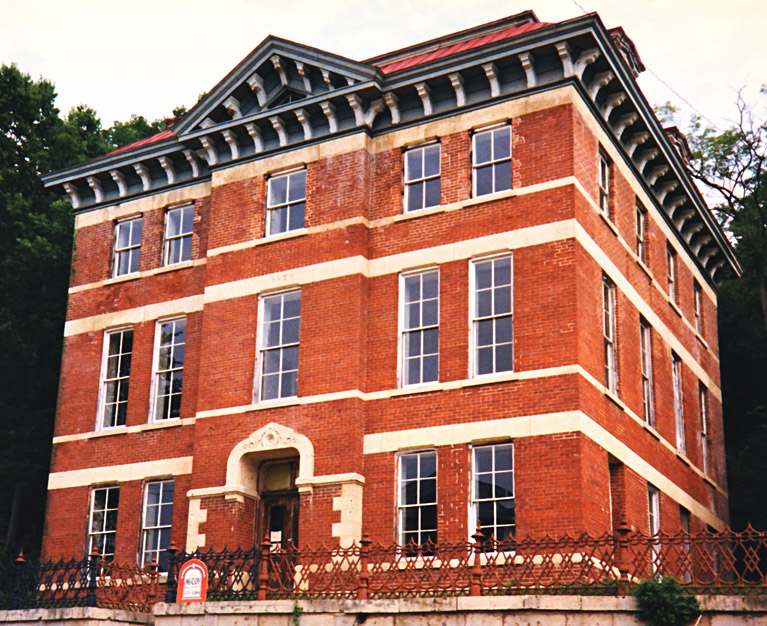 GL06 – Victorian School
This imposing building, with its immense and stately cornice bracketing, was obviously never a private home. I don't know what it was originally, most likely a school, but at the time I took this photo it was as empty as a soap bubble and there was a realtor's sign out front. I hope it found a sympathetic buyer.


GL07 – Folk Italianate
This modest Italianate has the same classic three-window symmetry as many in the Chicago area, such as house EV07 in the Evanston gallery and house IL05 in the "Other Illinois Cities" gallery. This house is part of a Victorian neighborhood in Galena that also includes the much flashier GL21, GL22, and GL27 depicted in this gallery. The Grant House (GL05) is also nearby.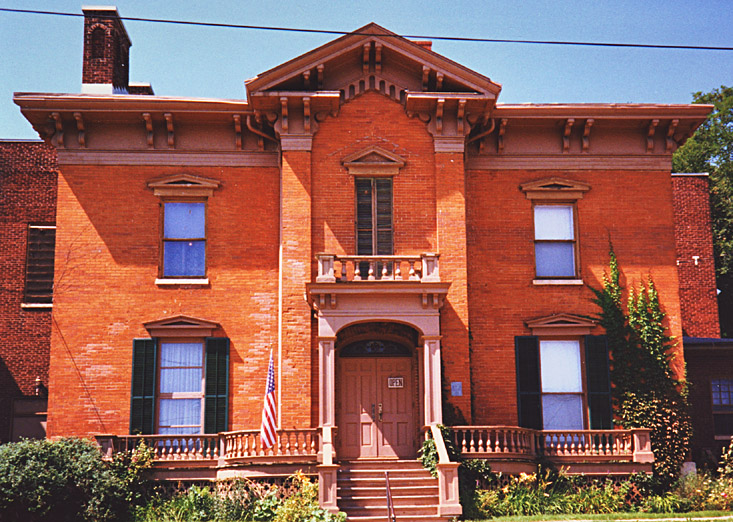 GL08 – Italianate
This Italianate house was built in 1858. It is now the site of the Galena Historical Society and Museum. The museum is open daily 9 am to 4:30 pm.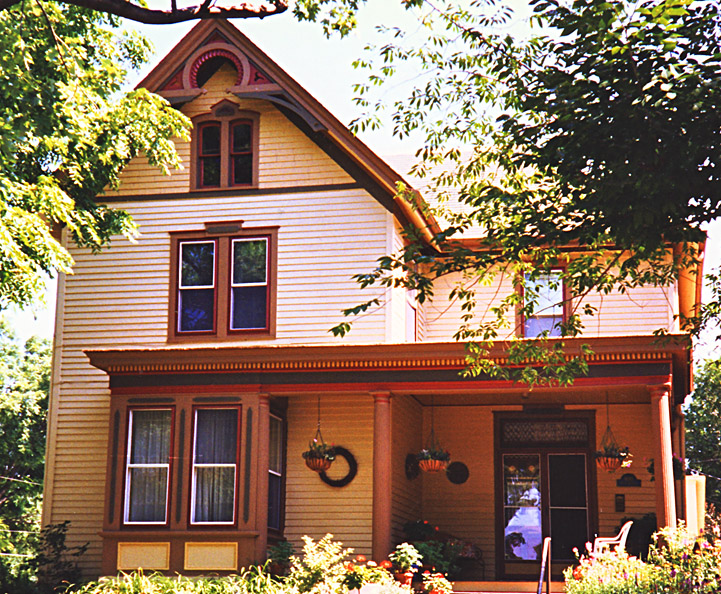 GL09 – Folk Victorian
This Folk Victorian is a terrific example of how a little paint can punch up even a modest Victorian – one which actually has very little gingerbread or architectural detail on it – and turn it into a gem of classic Victorian design. If this house were painted a bland and boring uniform white, it would be as exciting to look at as a tool shed.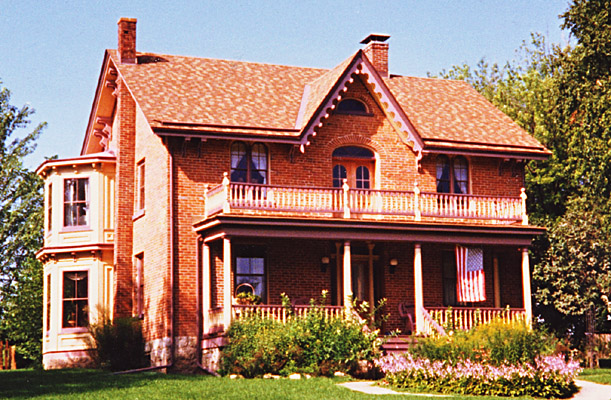 GL10 – Folk Victorian
This cottage with its mixed but very charming architectural styles reminds me of the kind of house that I always imagined Hansel and Gretel would live in.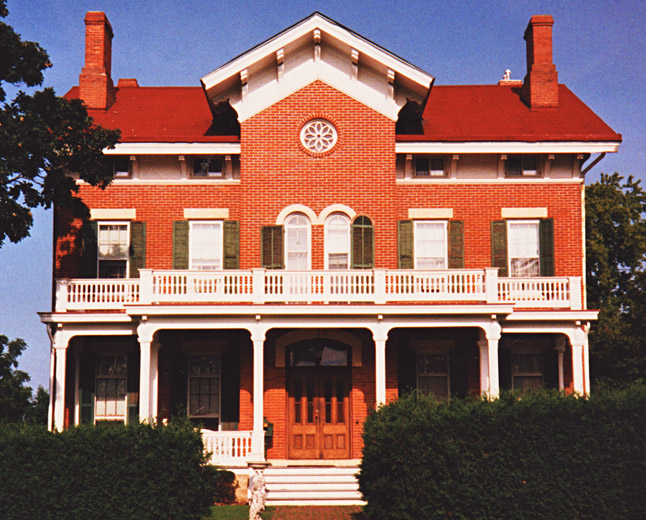 GL11 – Italianate
This Italianate house was built in 1861. It is now a beautiful bed and breakfast, with splendid interiors, called the Victorian Mansion.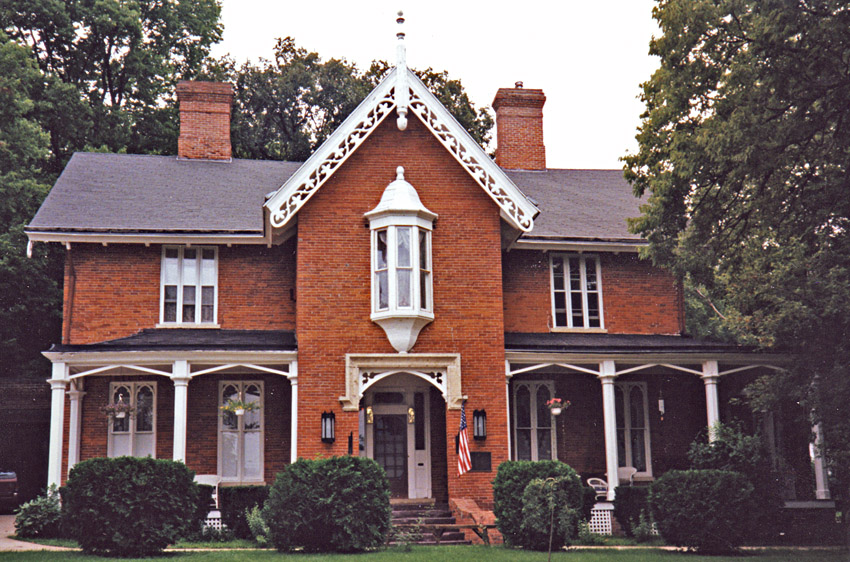 GL12 – Gothic Revival
This is an exceptionally fine example of a Gothic Revival house. In particular, the centered Gothic bay window on the second floor is very striking.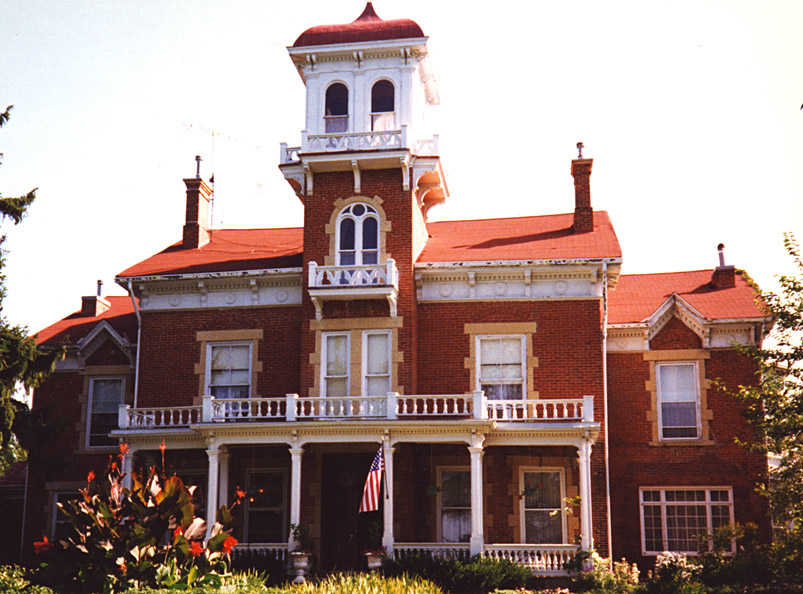 GL13 – Italianate
This Italianate mansion was built in 1876. It is a bed and breakfast today, called the Ryan Mansion Guest House.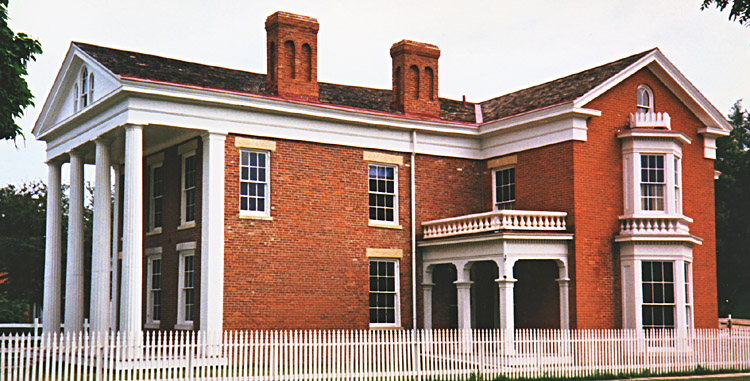 GL14 – Greek Revival
This house is mostly Greek Revival, but it has some Gothic Revival features mixed in. It was built in 1844 by Congressman Elihu Washburne, with additions made in 1860. Washburne was a close friend and political ally of Ulysses S. Grant, and the house has recently been restored by the Illinois Historic Preservation Society. It is now open to the public most days of the year.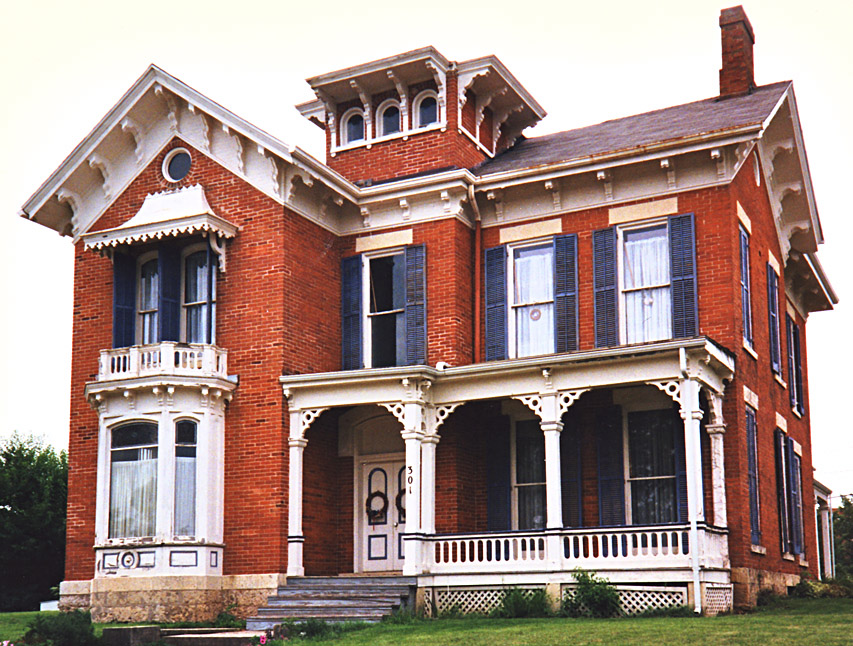 GL15 – Italianate
I would bet a month's salary that the chopped-off stub in the center of this Italianate villa was once a full tower. The house shows clear signs of having undergone a restoration after some pretty rough days (those are more visible from the side than from the front), so I suspect some previous owner got tired of the maintenance bills and the leaky roof, and just demolished the top of the tower.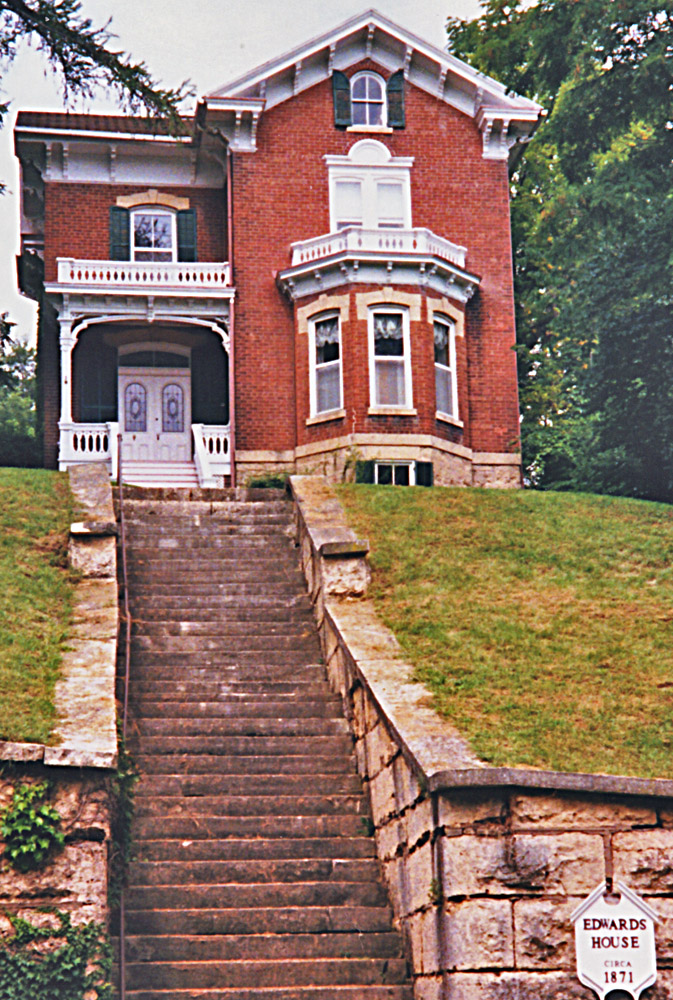 GL16 – Folk Italianate
Galena is one of those towns which is built across an extremely steep ridge. The ridge is so steep that houses only two blocks back from the city center look down upon the cross setting on the top of a very tall church steeple. Many of the older Victorian houses are built right at the top of the ridge, of course. This house and the next one in the gallery are two of them.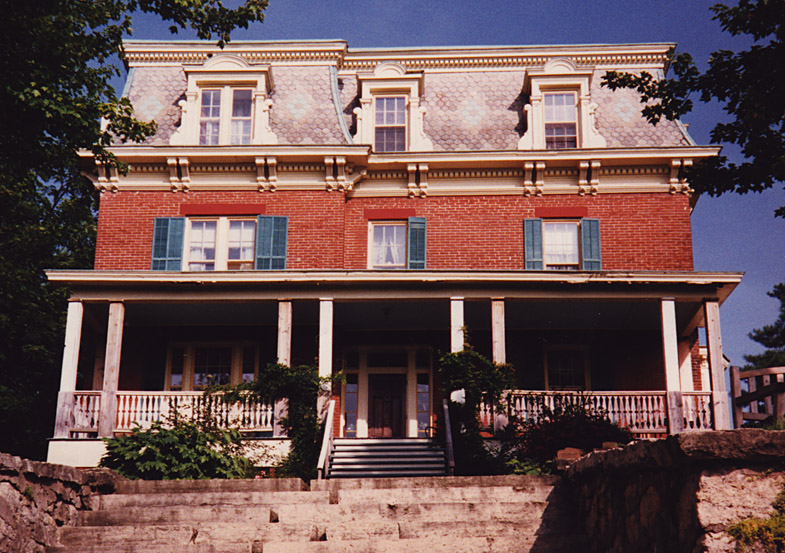 GL17 – Second Empire
This Second Empire house was built in 1850 (which is very early for the Second Empire style). It sets high atop a quite spectacular double staircase rising very steeply from the street below, which is why the photograph gives you such an insect's-eye view. The house has a great view of the town. Today it is a bed and breakfast, called the Felt Manor Guest House.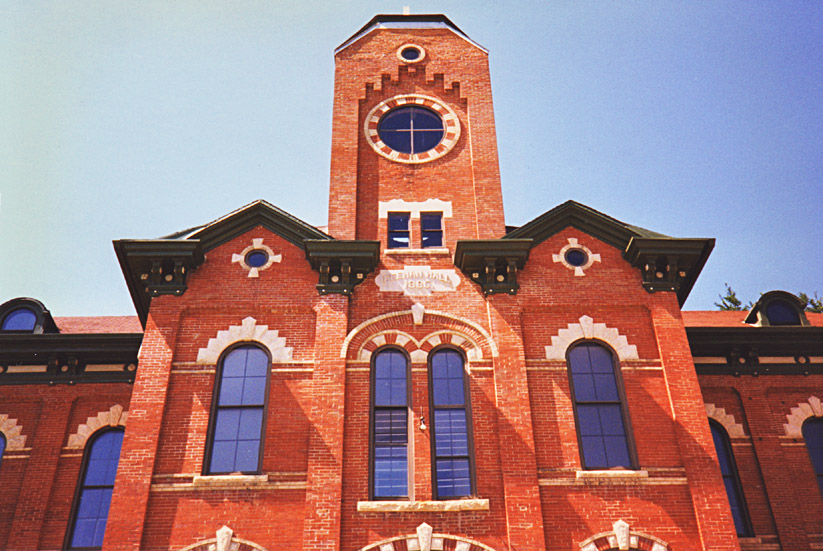 GL18 – Victorian School
I am not normally much interested in commercial or institutional Victorian buildings, but this one, built in 1886 and originally called Feehan Hall, is more interesting than most. It is now owned by a church and is apparently used as a school.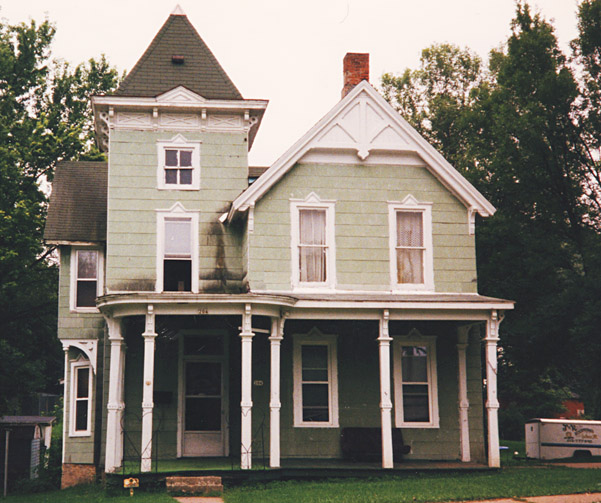 GL19 – Folk Victorian
I have included a photo of this house precisely because it isn't a monument to historic preservation. Notwithstanding the decades-old asphalt siding, the recycled car seat on the front porch, or the grimy water stains from a broken gutter system, you can tell at a glance exactly what this Folk Victorian is. Perhaps it has seen better days, but at least no one has "improved" it by chopping off the tower, smashing a hole in front to add a family room, or tearing off every bit of wood around every window. It is faded, but not gone.


GL20 – Victorian Commerical Building
I am not normally much interested in Victorian commercial buildings, but many of the storefronts in Galena are exceptionally well-preserved. This is one of the better ones.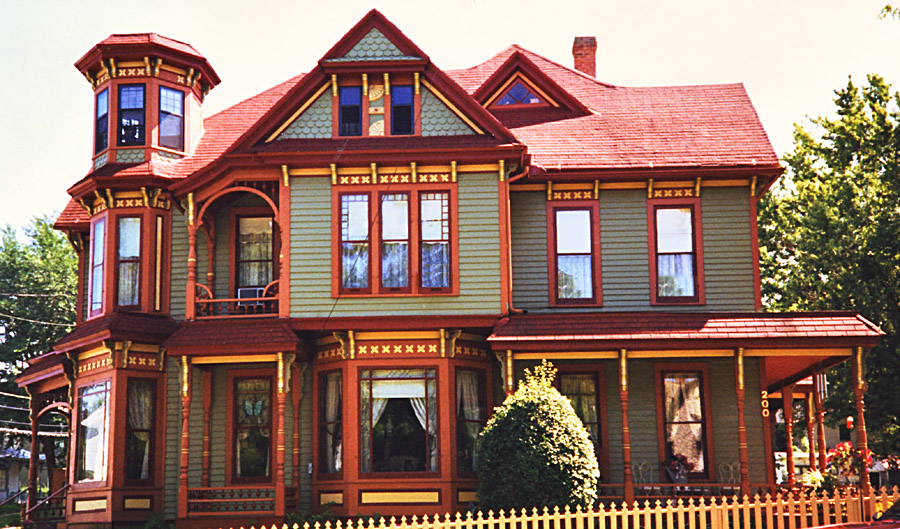 GL21 – Queen Anne
This spectacular Painted Lady was built in 1891, and is today a bed and breakfast. I am told that originally the flat-topped tower had a very tall, "witch's hat" peak on it, but when it started to rot out it was torn off and never replaced. There is a beautiful photo of this house on page 140 of the book "America's Painted Ladies".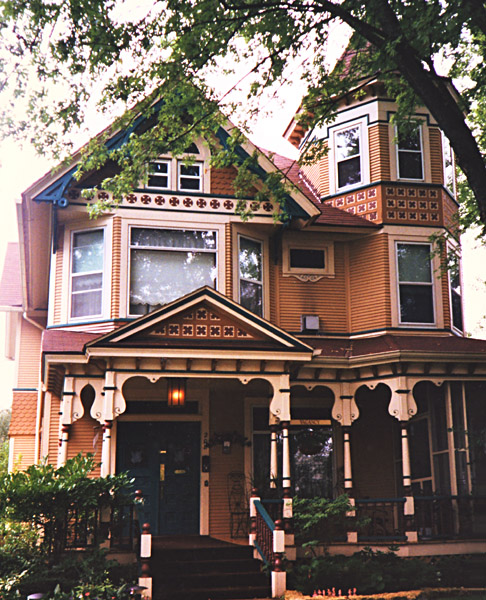 GL22 – Queen Anne
The photo really does not do justice to this beautiful Queen Anne, built in 1893. It is located only a block from the Queen Anne Guest House (see the previous house in this gallery) and is painted equally well. Unfortunately, the house is surrounded by trees, and it is almost impossible to get a good close-up photo of it. The house is now a bed and breakfast, named the Park Avenue Guest House.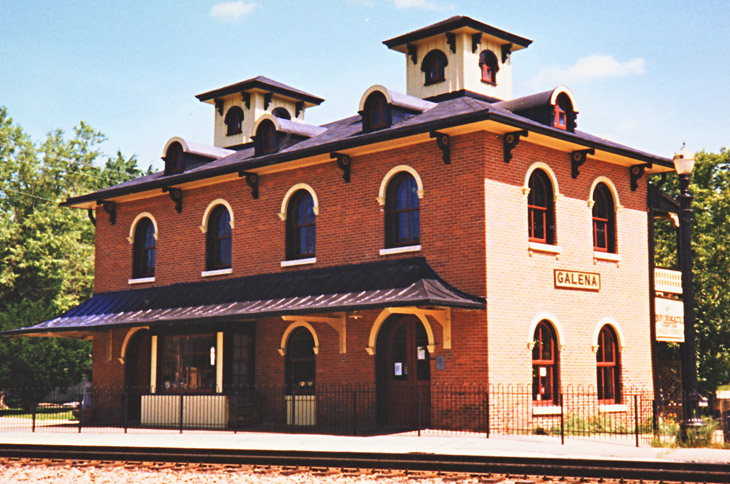 GL23 – Italianate Rail Depot
This Italianate-style building used to be the railroad depot. It is now a tourist information center.


GL24 – Second Empire
In terms of its construction and the style of its brickwork, this house is similar to several I have found in central Missouri (see houses Mo02, Mo05, and Mo08 in the Missouri gallery), although it is not quite as large as those.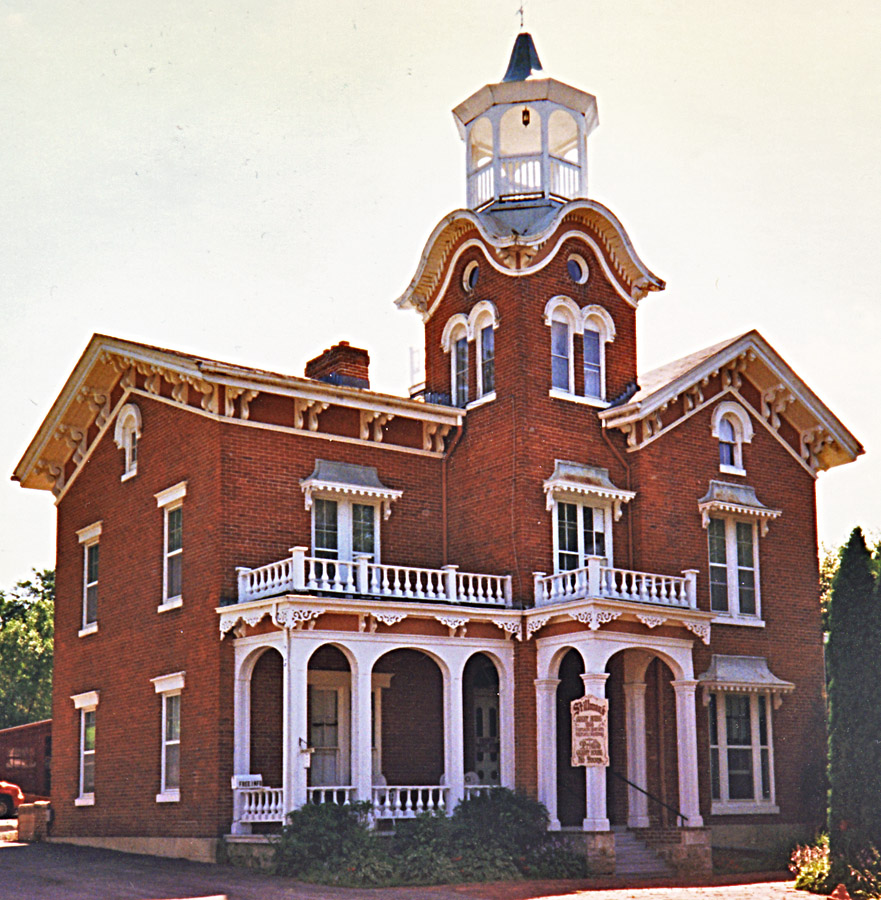 GL25 – Italianate
This beautifully restored house is now a bed and breakfast called the Stillman Mansion.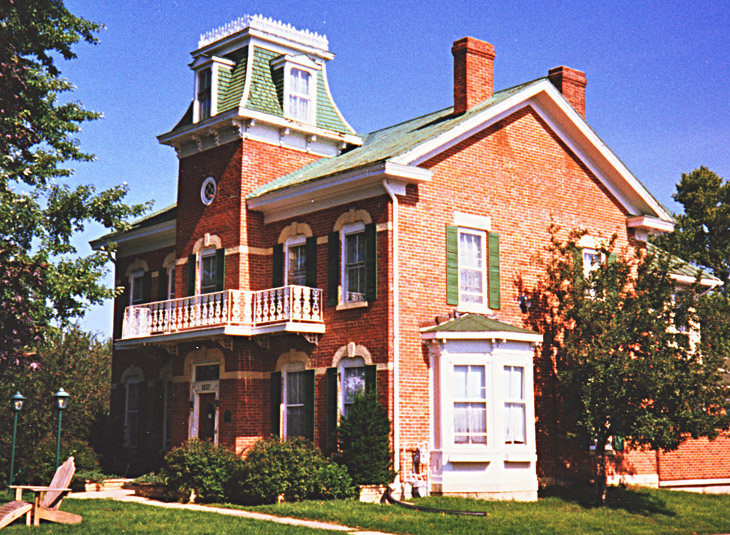 GL26 – Italianate
This brick Italianate was built in 1880. It is a bed and breakfast today, called the Cloran Mansion.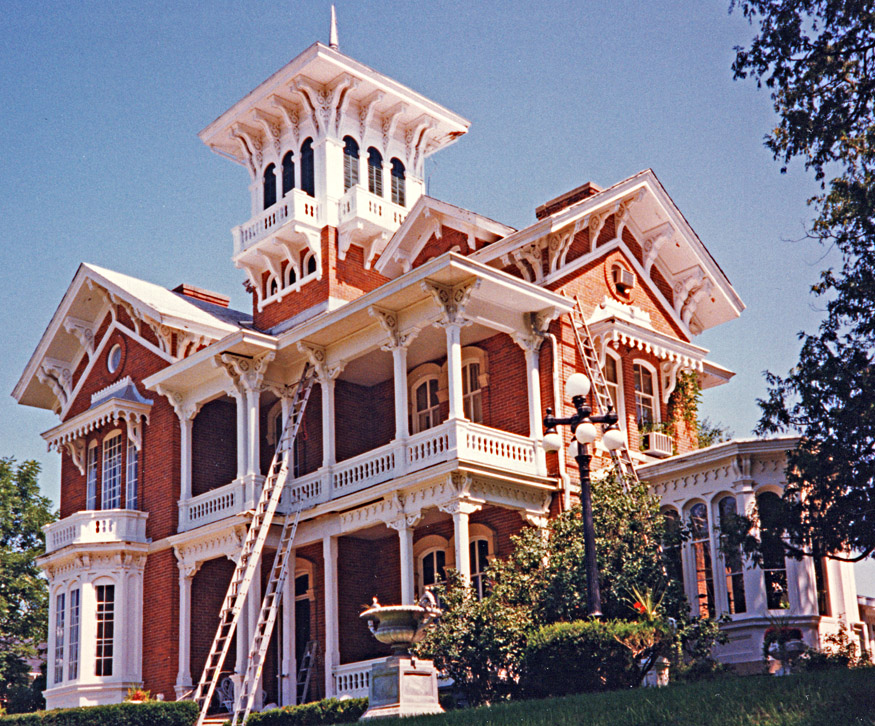 GL27 – Gingerbread Italianate
This eye-popping Italianate mansion was built in 1857 by steamboat magnate J. Russell Jones, who later served as Ambassador to Belgium. It is presently owned by a couple who deal in real estate and antiques, and who have filled the house with antiques of great expense and somewhat dubious taste, plus items from Liberace's estate and other curiosities such as the actual green drapes used in "Gone With The Wind". A few rooms on the ground floor are open to the public in September and October.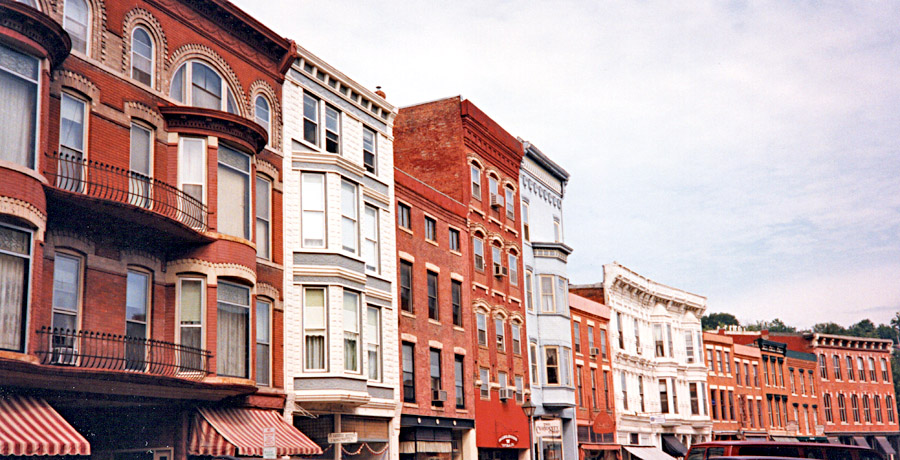 GL28 – Victorian Commerical Buildings
One of the charms of Galena is that the 19th century buildings in its downtown area have survived remarkably intact. This panorama is of Main Street.