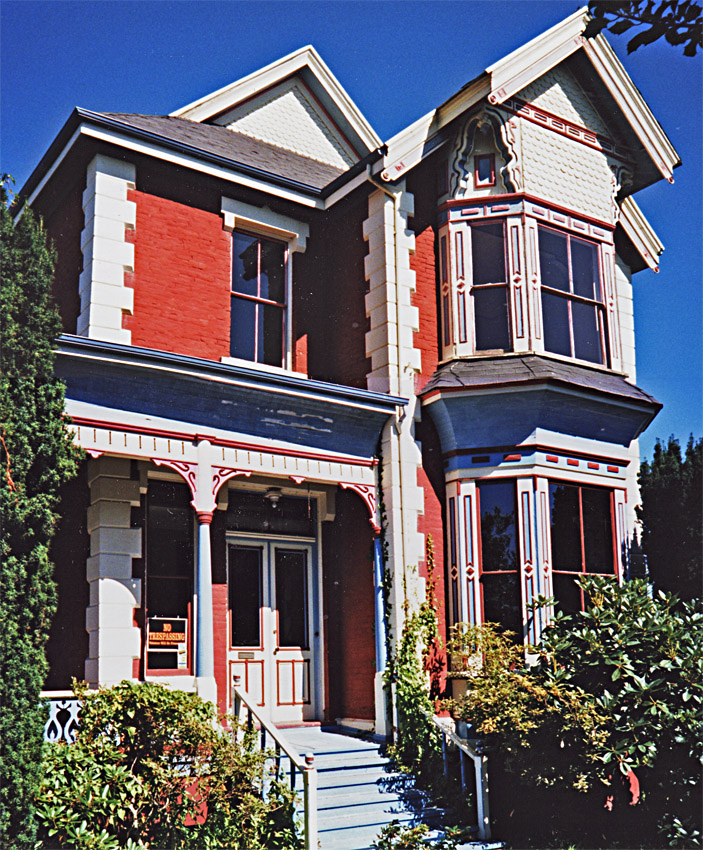 PT01 – Vernacular Victorian
This Stick Style/Italianate is very reminiscent of similar houses in San Francisco. (This mixture of Italianate design and Stick-Style verticality, so common on the West Coast, really ought to have its own name. How do you feel about: San Franciscanate?) The house looks to be made of brick, and so it is – but that's not red brick you see. The local bricks that they made in Port Townsend were of incredibly poor quality, because they used raw beach sand to make them. And beach sand contains salt. And salt dissolves when water hits it. Like, you know, when it rains? So, to protect the brick, the folks in Port Townsend would cover the brick with red stucco, then score the wet stucco with a sharp tool so that it would look like brick! (Sometimes, it's a good thing they don't build them like they used to.) The house was empty when I saw it. The interior was gutted and there were signs of construction. Hopefully, it will be returned to its days of grandeur fairly soon.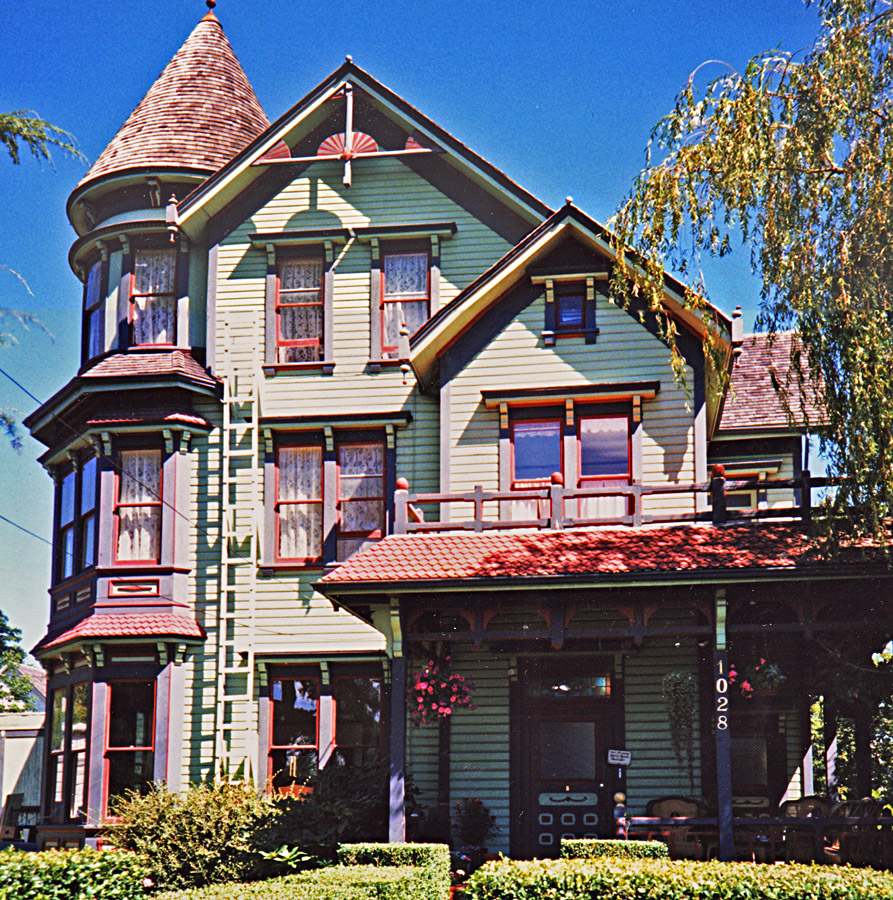 PT02 – Queen Anne
This lovely Queen Anne is apparently in the final stages of a complete rehab (note the ladder leaning against the front). It looked nearly complete when I saw it, and there was a sign out front which said "Coming soon! The John Quincy Adams House Bed & Breakfast Inn!" The sign also gave 1887 as the date of the house, which sounds exactly right for a house of this style.


PT03 – Italianate
This simple, elegant Italianate would have been considered (relatively) very plain, very unadorned at the time it was built. Except for the bay windows and a little bracketing, it is basically a Federal-style house. The house is a bed & breakfast today, called the English Inn.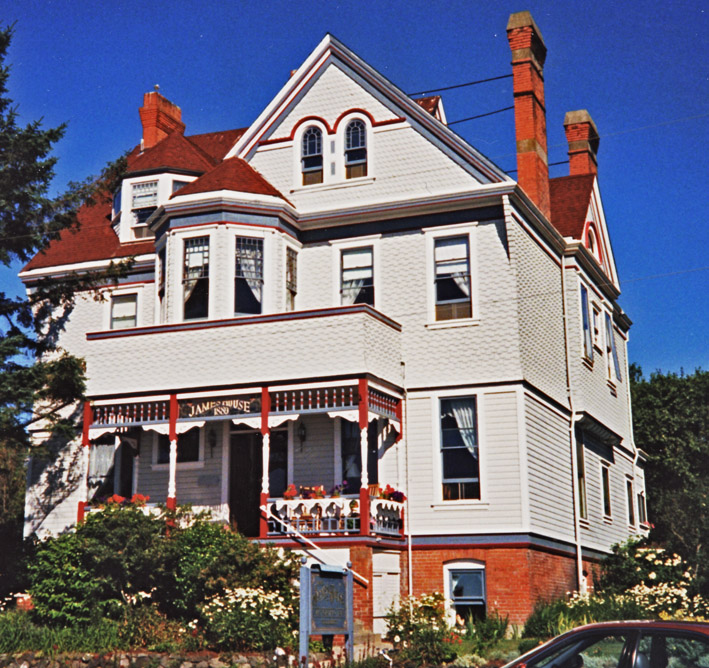 PT04 – Colonial Revival
This house is a classic example of a turn-of-the-century Colonial Revival. Note that it is a quite large house – in addition to being wide and deep, it has a very usable third story and a full basement – but the styling is relatively restrained, compared to the Queen Anne houses of twenty years earlier. (It is interesting to note, however, that the interiors of Colonial Revival houses are often much more elaborate than their exteriors. The interior of this particular house is splendid, filled with oak panelling and inlaid floors.) The house today is a bed & breakfast inn, called the James House.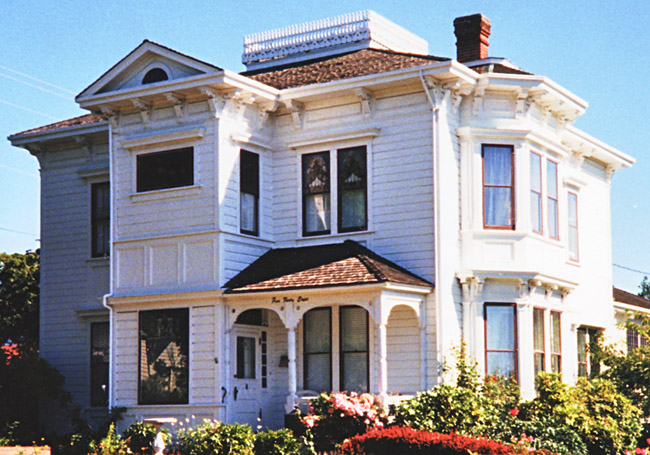 PT05 – Italianate
I don't have much to say about this house, except that it looks surprizingly nice in view of the fact that it is painted a uniform white. White was the color of choice (practically the only color, in fact) for so long in America that it is sad, but true, that most surviving Victorian houses have ended up spending more of their life in white paint than their original colors. This house looks ok as it is, but if we could just convince the owners to paint those roof brackets a nice shade of teal...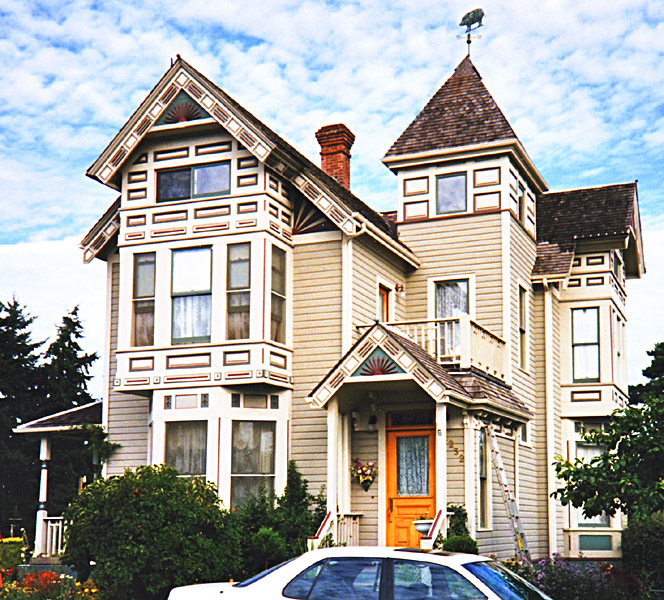 PT06 – Stick Style
I had a little handout that I picked up in Port Townsend which gave a few historical facts about this house, but I seem to have lost it. Oh, well. It is a nicely restored Stick Style house, with a little tower thrown in just for bragging rights. I am betting the tower probably serves as a skylight for the main staircase. This house would have been built in the late 1870's or early 1880's. It was probably much more gaudily painted when it was new.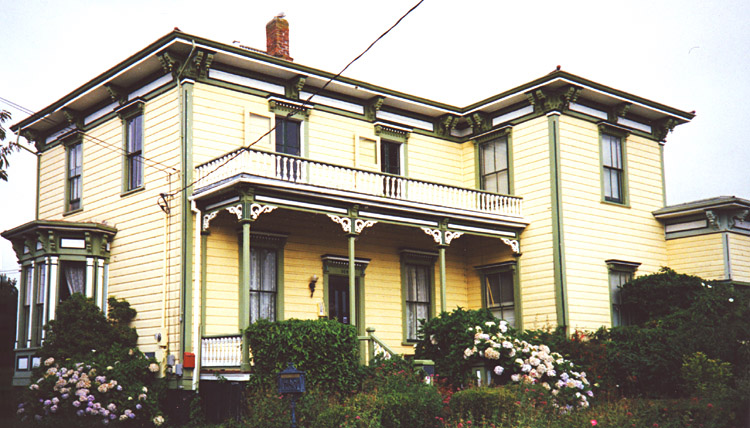 PT07 – Italianate
If there is any street that can be identified as the "fashionable" street of Victorian Port Townsend, this house is on it. The street is the first on a small ridge that runs just above the downtown, and there are a dozen fairly nice Victorians scattered along the length of it. Most of them are not especially large, which somewhat plays against the idea that this was a "fashionable" street of the wealthy...but they would have been considered very proper houses in Victorian times, and in a West Coast boom town, maybe that's close enough. This house looks to be a very early Italianate, dating from the 1860's or maybe even the 1850's. The quite simple window surrounds and relatively restrained bracketing are what make me think this. As with most other Victorian styles, the Italianate started out as a fairly straight-forward style, then gradually became more elaborate as time moved on.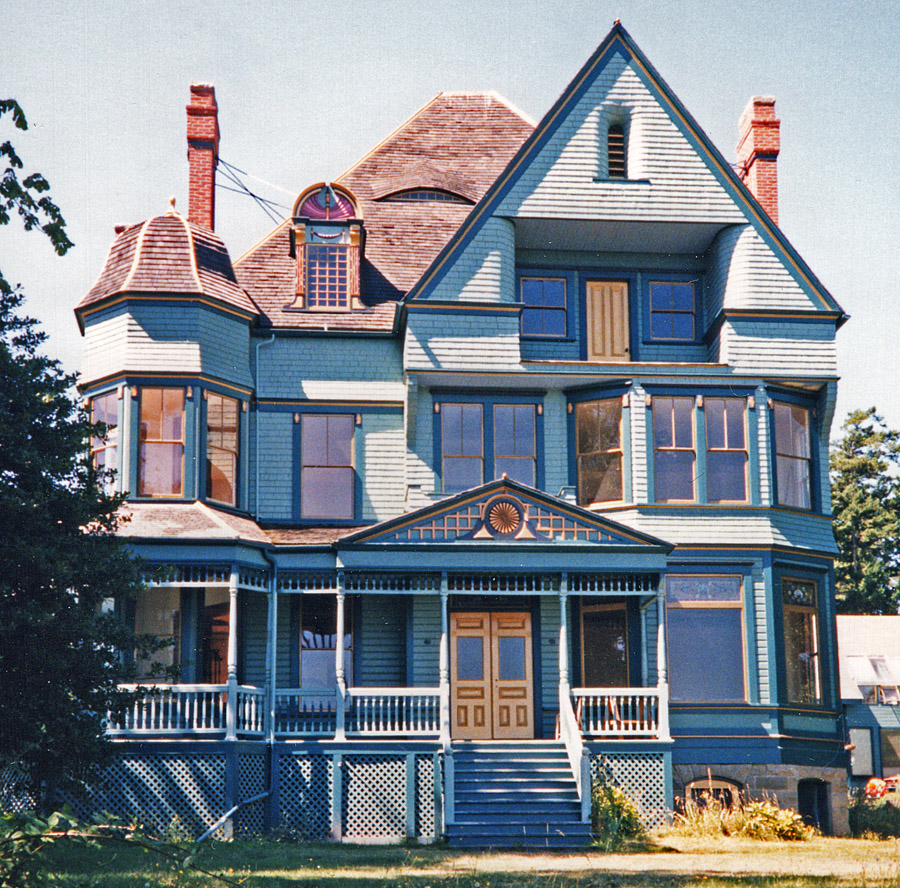 PT08 – Queen Anne
This 1890's Queen Anne is gorgeous. You can't see it too well in the photograph, but the gilded-gold highlights on the house absolutely gleam in the sunlight. The house also has a terrific location, on a high hill at the far edge of town, where it towers majestically above Highway 20. That is, the house has a terrific location unless you want to photograph it. Then, it is just terrible. The highway has no place whatever for you to pull off, and the house itself is at the end of a long, heavily wooded, private drive. It is completely invisible from everywhere *except* for that dramatic view from the highway. To photograph this one, I had to park probably a half-mile away and then hike up the shoulder of the highway, heavy trucks and impatient tourists roaring past me all the way. I scaled a five-foot bank and took the photo with one hand as I steadied myself on the top of a barbed wire fence with the other. Now you know why you find houses here that you're not going to find anywhere else.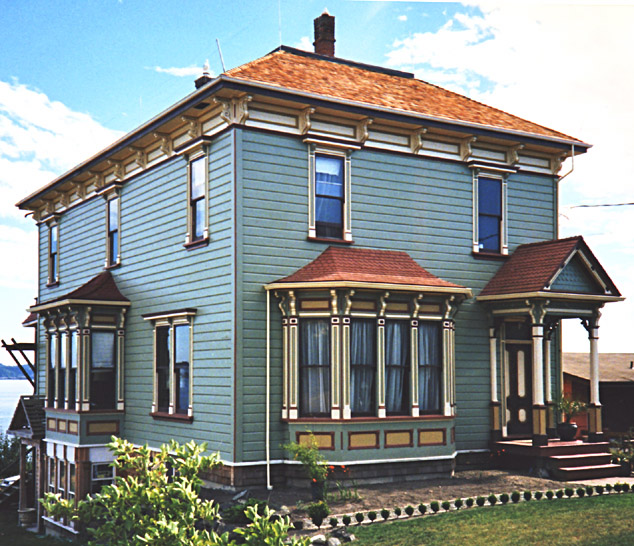 PT09 – Italianate
This house is set on the side of a steep hill. The front door is at ground level, but the back door is in the basement. The two-story window bay that you see at the left is interesting, but the bottom half is not original, I think. The back of the house has a modern addition, and as far as I can tell the basement part of the bay window is also a (very nice) modern addition, which looks into a kitchen or maybe a rec room.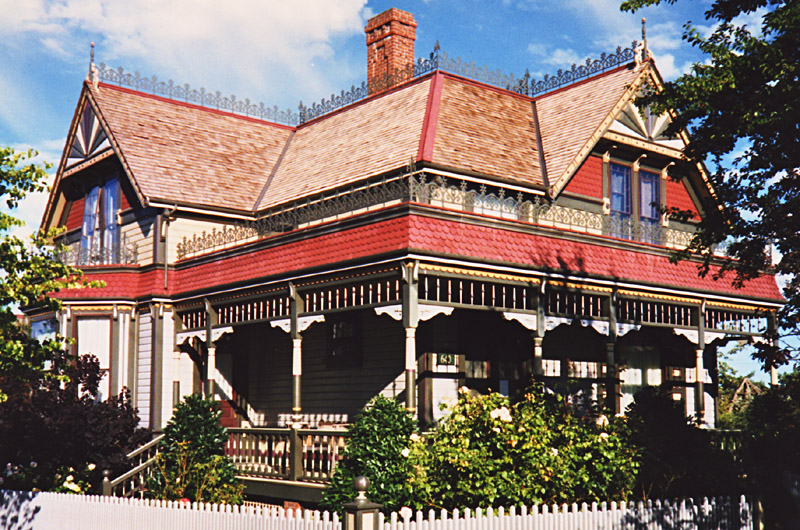 PT10 – Gingerbread Victorian
This house is an excellent example of what you can do with little bit of good 'ol Victorian excess. The house itself, design-wise, is just a boxy L-shape with gabled ends that could have been built anytime between 1860 and 1890. But the splendid gingerbread on the wrap-around porch, the multi-color paint scheme, including courses of bright-red scalloped shingles along the porch roof and in the gables, and most striking of all, the frilly iron roof crestings running along every roof line, transform this house into something special. Add in a classic white picket fence, and you have a home that probably turns the neighbors as green with envy today as all that gingerbread did 100 years ago – exactly as it was designed to do.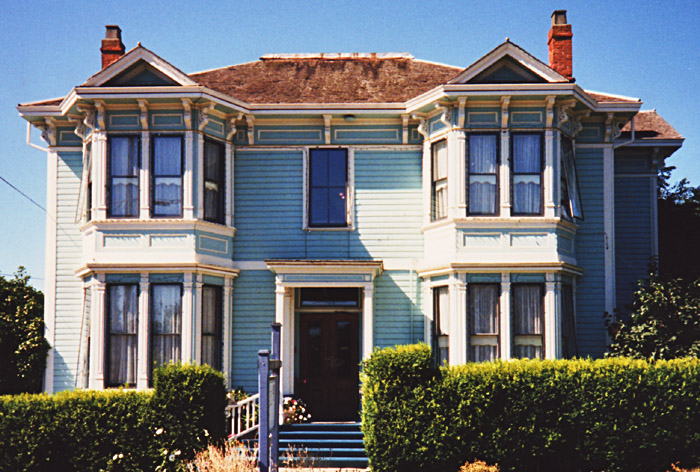 PT11 – Italianate
The front of this Italianate is striking, with its elaborate, symmetrical two-story window bays. The sides of the house are relatively much more plain and uninteresting. This is fairly common for Victorian houses built on city streets, since the Victorians tended to put the money where you could see it. The house is a bed and breakfast inn today , called Lizzie's Bed & Breakfast.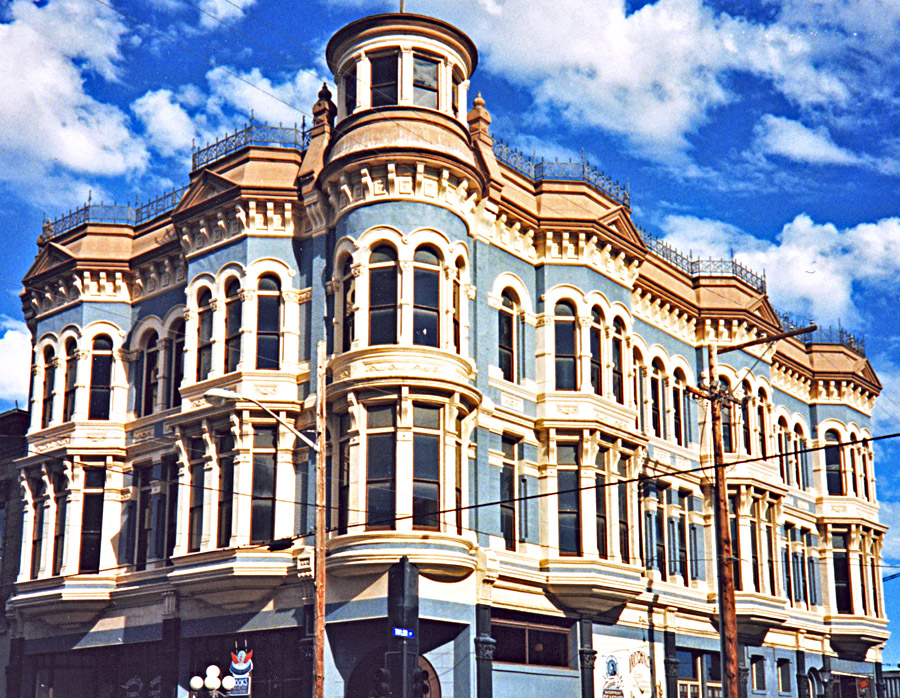 PT12 – Victorian Commerical Building
OK, so this one isn't a house. It is still very Victorian and very striking. Just before the railroad bubble burst, speculators built some impressive commercial buildings in Port Townsend, and most of them are still standing. This building impressed me the most, with its bold Romanesque-style arched windows and Italianate-style bracketing. Like most Victorian commercial buildings, it is topped by a spectacular cornice which is all show. The ceiling of the second floor is just above the window arches; everything above that is a false front. The top story of the tower is also just for show: it is far too small to have any practical use as an office. I wouldn't even bet you that it has stairs. It is probably a garrett that can only be reached by a ladder through a trap door. Don't you wish modern tycoons were a little more willing to spend money on decoration, like the Victorians were? The Victorian buildings that amaze me the most are the ones that were completely utilitarian: water pumping stations, storage buildings, etc. Today, buildings like that are nothing but the cheapest possible lump of concrete blocks. But their Victorian versions (which you can still see here and there, usually in small towns) had a certain balance to their architecture, a certain elegance, with modest little window and door decorations and usually some modest decoration around the roof line. In their own way, these buildings are as amazing as any Victorian mansion.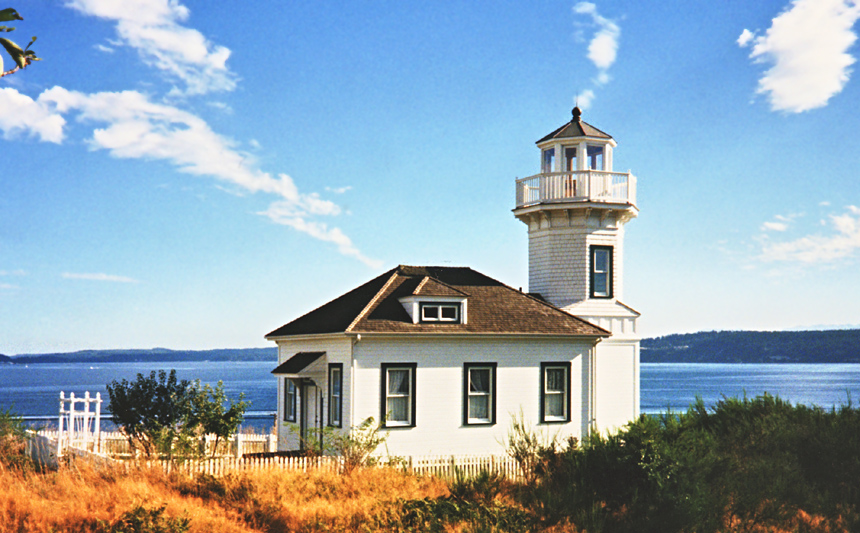 PT13 – Victorian Lighthouse
I don't know if this little "lighthouse" is Victorian or not (probably not), but it certainly has the same whimsy about it as a Victorian "trifle", which was a house built to look like an elephant or whatever. The house is located smack in the center of town (doesn't look like it, I know, but the camera angle is deceiving) and I doubt it ever served as a real lighthouse. In fact, the house is so small, I'd lay you odds that it is only a vacation cottage. I think it's a fake, but a nice fake. And the light and the sky were so perfect, how could I resist photographing it?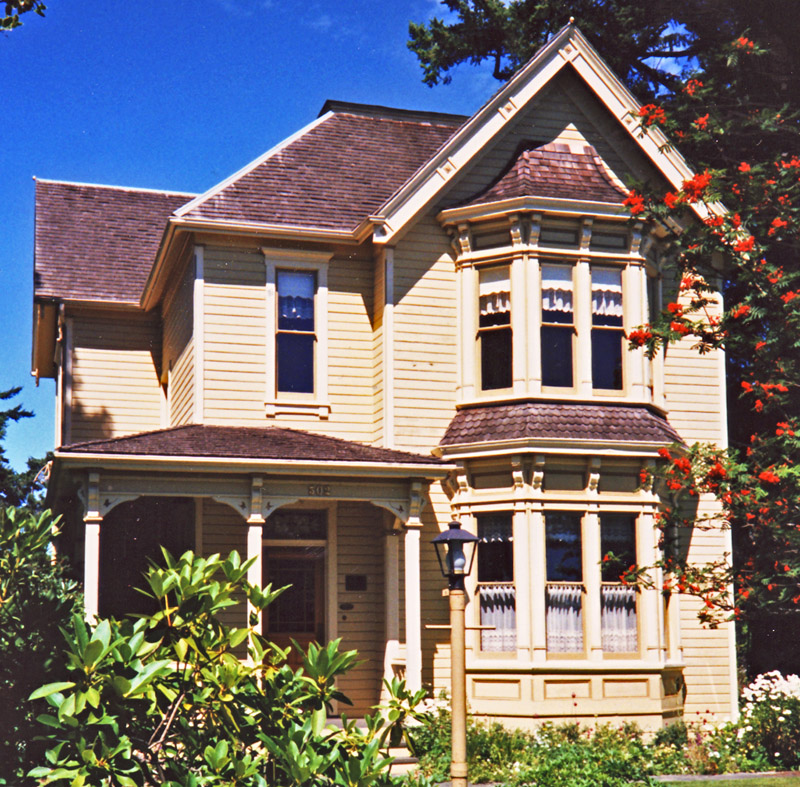 PT14 – Folk Victorian
This house has a certain hodge-podge feeling to it which makes me pretty certain that it has been added onto over the years. The Victorians liked their Italianates to have a certain unsymmetrical feel to them (to simulate the genuine hodge-podgy feeling of real Italian villas which, in point of fact, look that way precisely because they have been added onto over the centuries) – but the Victorians preferred symmetrical unsymmetry, if you know what I mean. Their unsymmetry normally has a certain, studied balance to it. If I had to make a guess, I would say that the side porch is a later addition.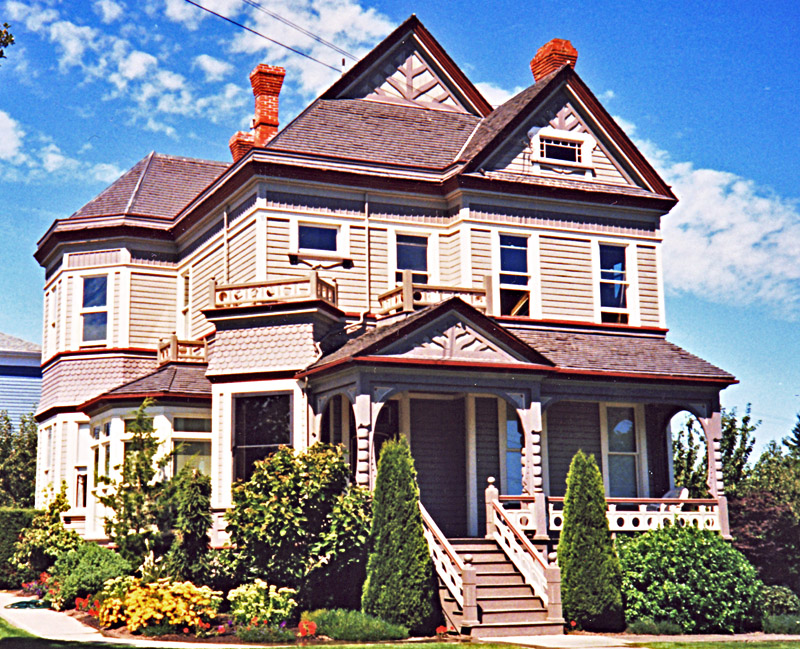 PT15 – Queen Anne
This turn-of-the-century house is something of a mixture of the Queen Anne and Stick Styles. It is in beautiful, original condition, and has a nice un-tree-cluttered corner lot where you can easily see it. Bravo!

If you look through the catalogs of modern architecture firms who specialize in Victorian look-alike houses, the majority of their designs are similar to this one. They don't look nearly as good as this one, though, because I said similar, not identical. (Even similar might be too strong a word. Maybe "inspired by" is more accurate.) The modern look-alikes are invariablly off: the windows are a touch too wide, the front porch isn't high enough off the ground, they cut corners on the applied decoration, etc. Close, but no cigar. If you want the real thing, you have to restore the real thing.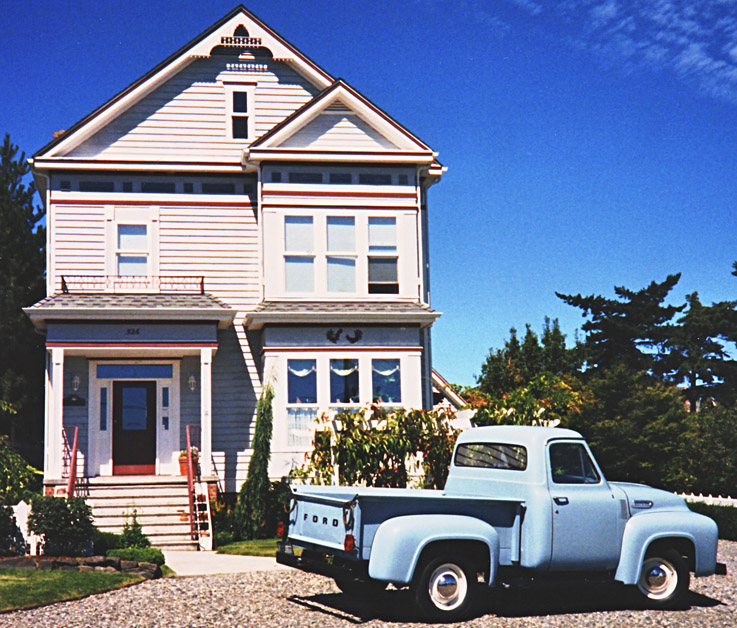 PT16 – Folk Victorian, plus Pick-Up
Talk about your all-American pictures! A Victorian house with a 1950's era pick-up truck parked in front! If the sunlight had been at a better angle, and the next-door neighbors had thoughtfully planted a row of trees to hide their boring house, the photo would have been perfect.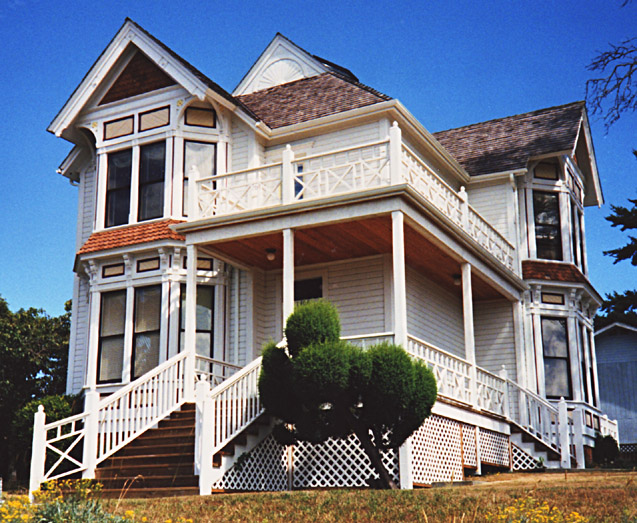 PT17 – Stick Style
The two-story porch is a clumsy addition, but other than that, this house is in nice condition. This house is actually a little ways outside Port Townsend, and isn't listed on the house map that the tourist office hands out. I found it by accident, as I was on my way to tour the Commanding Officer's House at Fort Worden.

FYI – Fort Worden was an old sea coast defense base; now it is a state park. The former C.O.'s house is an Edwardian house built about 1902 which has been restored as a house museum. It provides a very authentic flavor of what life was like just after the turn of the century, and I recommend you give it a look, if you are ever in the Port Townsend area.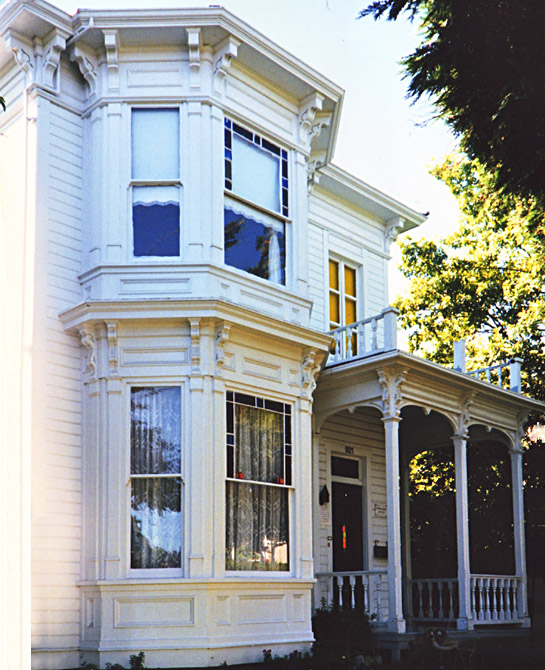 PT18 – Italianate
There were too many trees around this house to get any angle on a photo except this one, but that's ok. You need a few close-ups in a house gallery. Notice the almost Prairie-style stained-glass decorations in the bay windows. That's the kind of small detail that nobody puts in a house nowadays, not even expensive ones.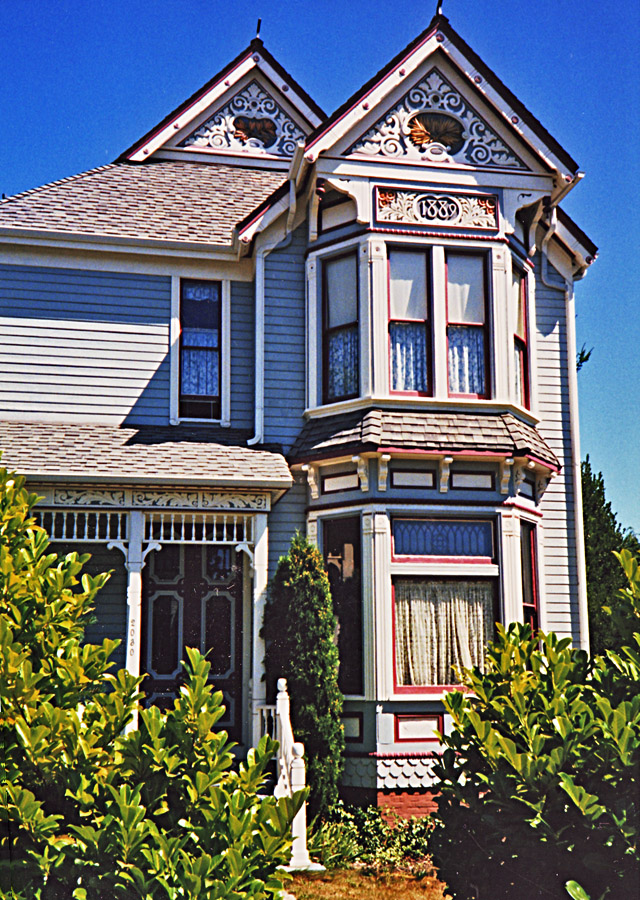 PT19 – Stick Style
Here is another house that, on the one hand, is spectacularly restored, but on the other hand is so surrounded by trees and shrubs that it is almost impossible to see it. (What a waste.) But, fortunately, the owners haven't (yet) put up a gate or some other military-quality barrier across the entrance to the yard, so it is just possible to get a shot of the best part of the front of the house. Notice the beautiful applied decoration in the gables; this is the most characteristic feature of a Stick Style/Eastlake house.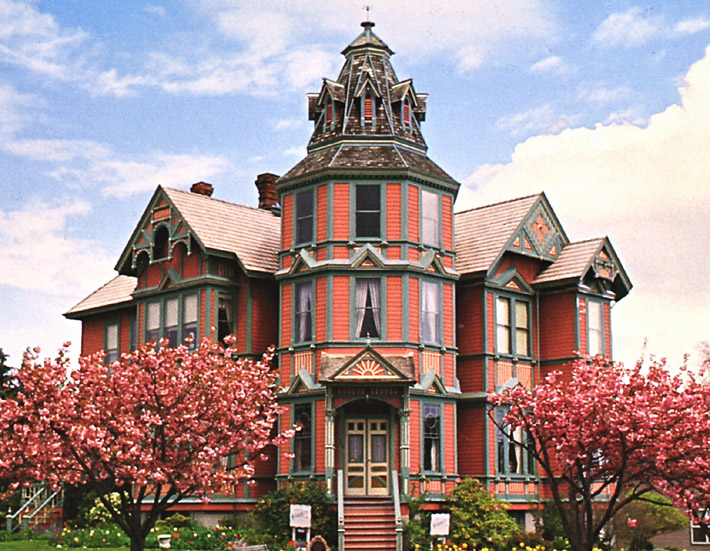 PT20a – Stick Style
This is the Ann Starrett Mansion, one of the most photographed Victorian houses in the country and deservedly so. It is a Stick Style fantasy par excellance, with many interesting features. It is perhaps most noted for its stairway tower, which features a ceiling painting that depicts the four seasons. On the first day of the start of each season, sunlight makes its way through one of the tiny windows clustered around the top of the tower, is refracted through a prism, and shines a spot of light on the appropriate section of the ceiling. The house is a bed and breakfast today. This view of the mansion is the "standard" one you see in all the photo books.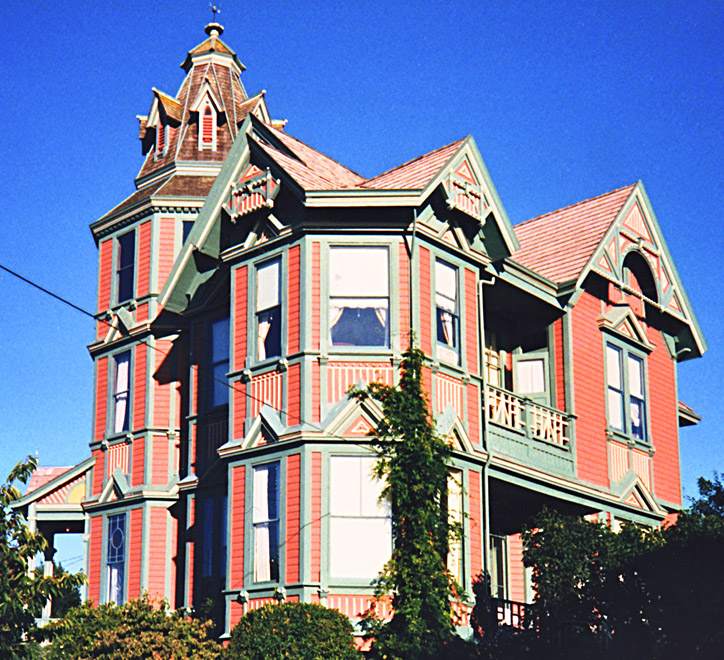 PT20b – Stick Style
I took this shot of the mansion partly to provide a different view, and partly because this is the same angle from which the historical photo below was taken.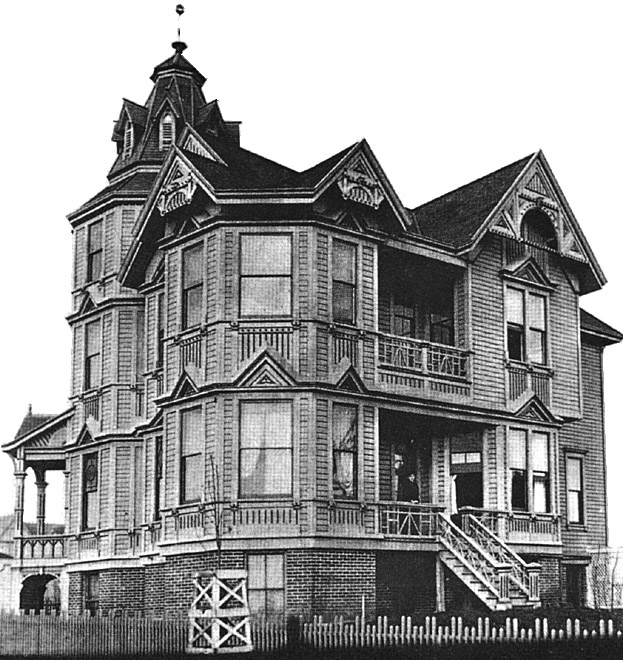 PT20c – Stick Style
This historical photo shows Ann Starrett standing on the lower back porch of her mansion. Notice how tightly enclosed the porches are: the better to ward off the brisk and often chilly breezes of the Pacific Northwest.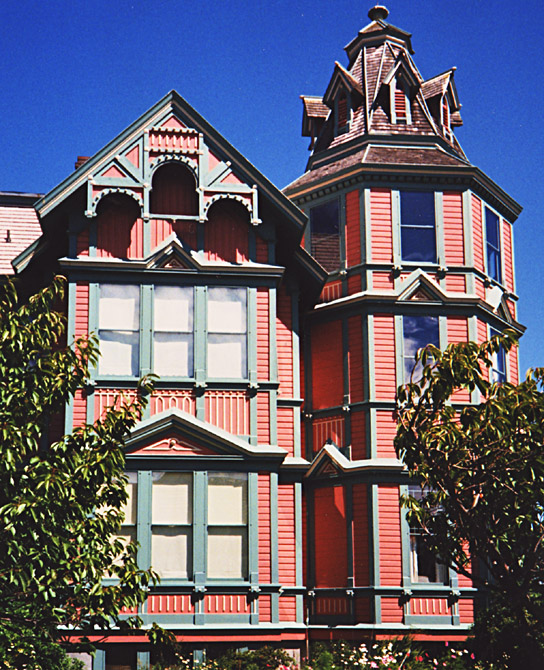 PT20d – Stick Style
This is a close-up view of the detailed woodwork on the Starrett house.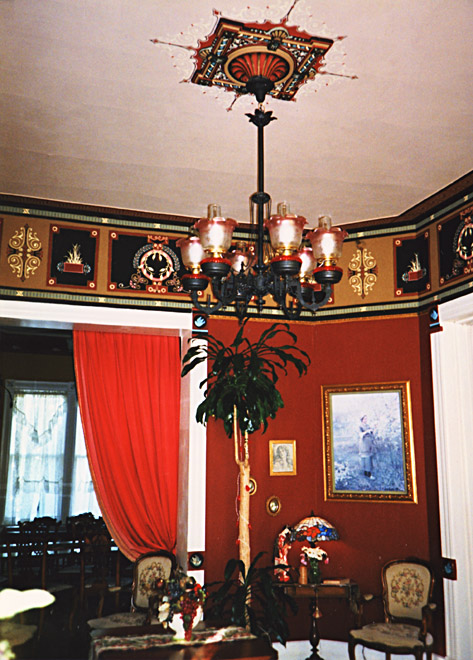 PT20e – Starrett Mansion Interior
This is a view of the parlor. I'm told that the spectacular chandelier and ceiling medallion are not original to the house, but were created by a contemporary California artist. I'm pretty sure Ann Starrett would approve.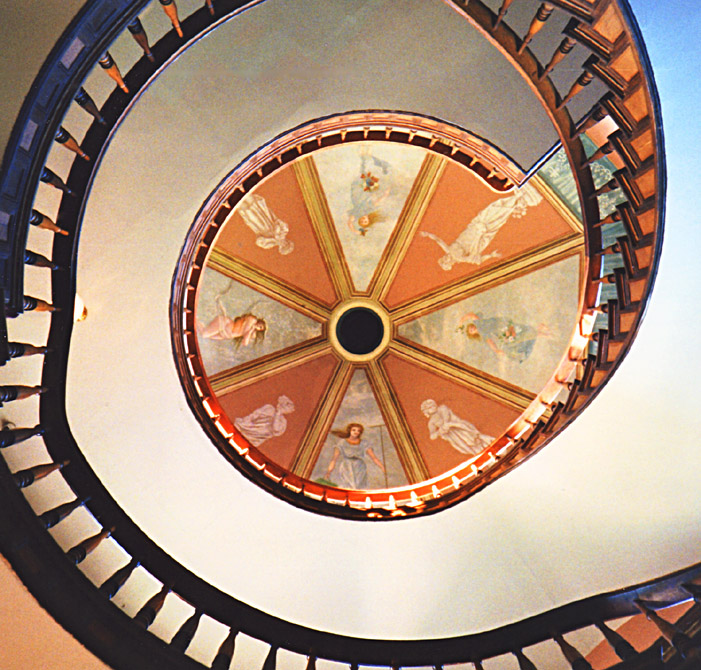 PT20f – Starrett Mansion Interior
This is a view of the famous stairway ceiling in the Starrett house.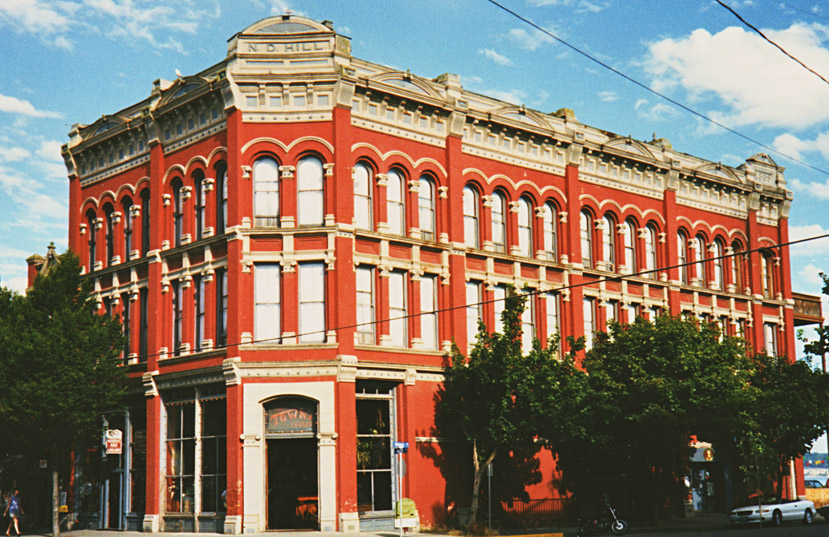 PT21 – Victorian Commerical Building
Here is a second beautifully preserved Victorian commercial building in downtown Port Townsend, the N. D. Hill building. It is essentially a Romanesque Revival building, with some Italianate detailing.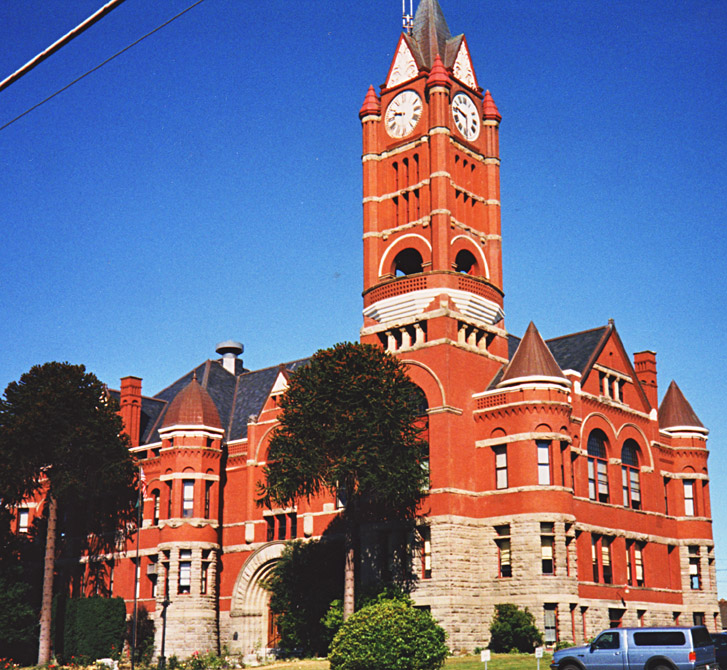 PT22 – Romanesque Revival Courthouse
This towering, Romanesque Revival behemoth is the excellently preserved county courthouse. Talk about an architecture which boldly projects the power of the law!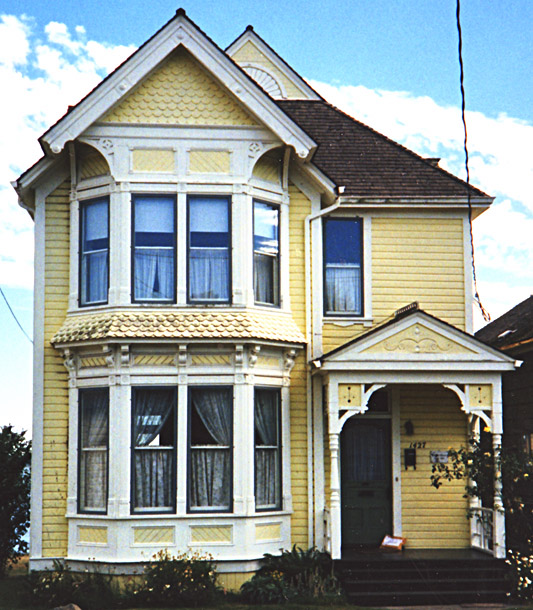 PT23 – Folk Victorian
This house, along with the next two, are simply nice Victorian cottages which I saw in various parts of town and liked enough to photograph.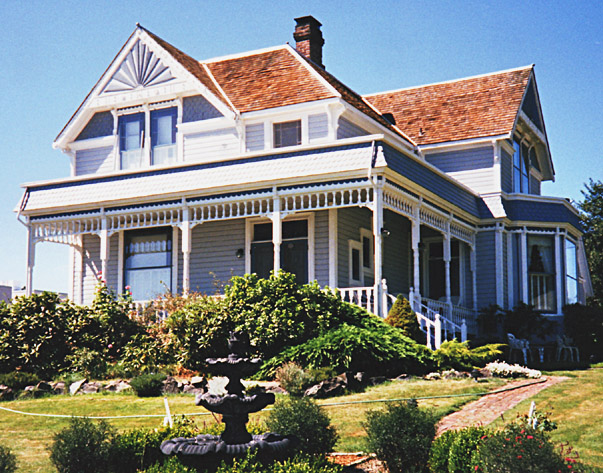 PT24 – Folk Victorian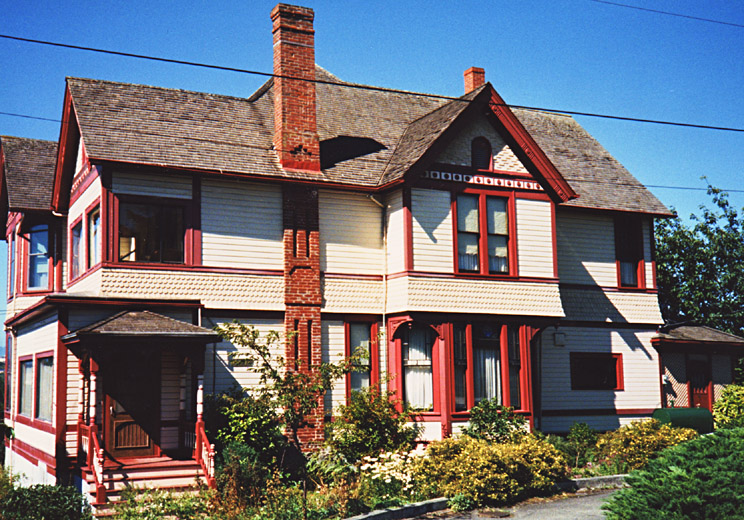 PT25 – Folk Victorian