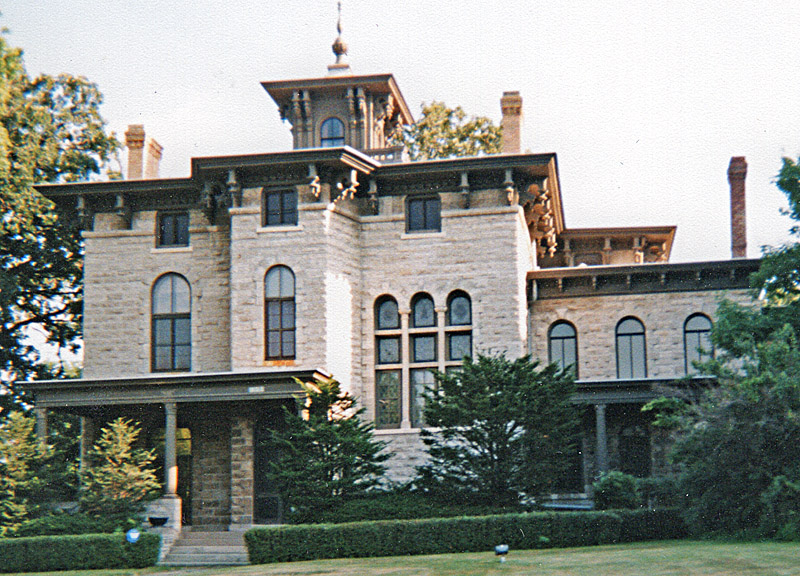 SP01 – Tuscan Villa
This classy Italianate villa is known as the Burbank-Livingston-Griggs house, and is located on Summit Avenue. The house was built in 1862 and donated to the Minnesota Historical Society in 1968. Unfortunately, the interior of the house was not in good condition, and it eventually had to be closed to the public. In 1996 the Society determined that it could not afford to maintain the house, and sold it to a private developer. I am informed that the house has since been renovated into condominiums.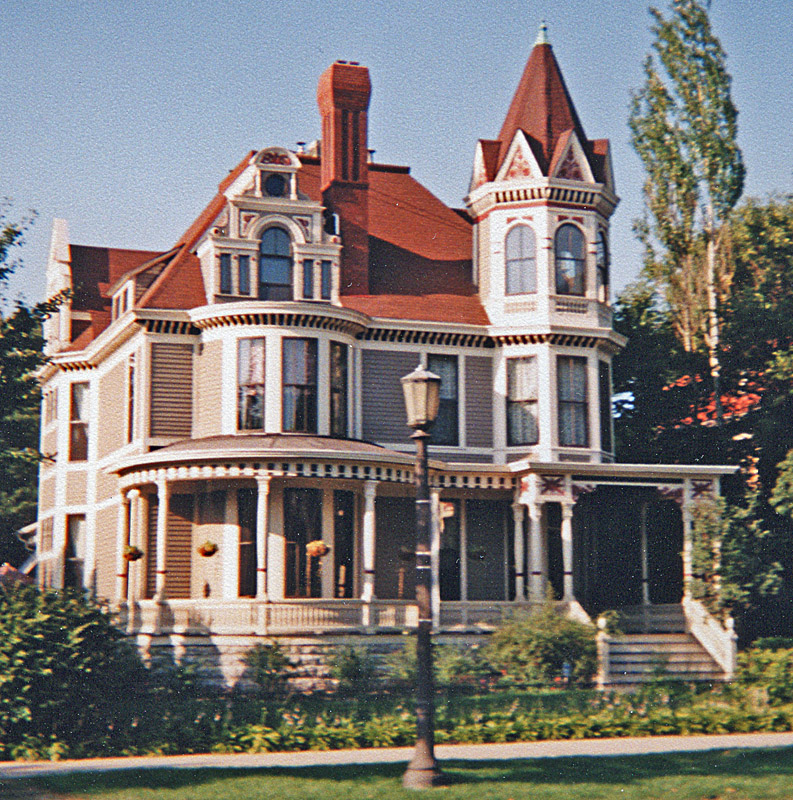 SP02 – Queen Anne
This beautifully painted and restored Queen Anne is another one of the many Victorian houses which line Summit Avenue. I took this particular photo with a $3.95 throw-away camera, for reasons which are elucidated in the commentary for the next house in this gallery.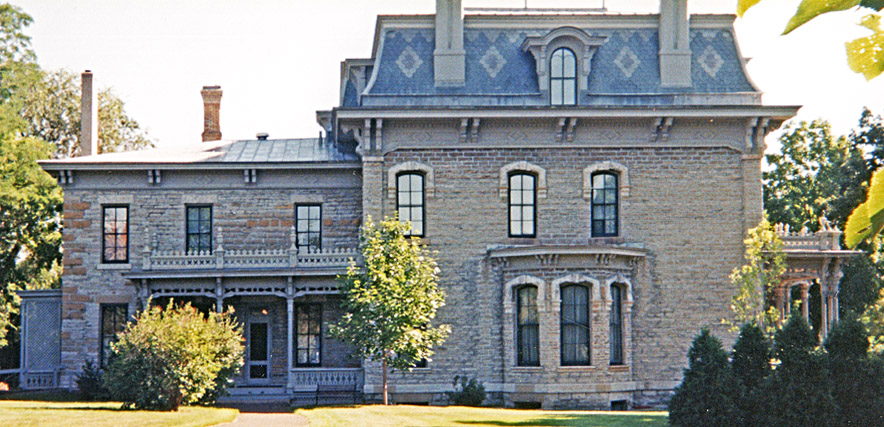 SP03 – Second Empire
This perfectly preserved Second Empire mansion is the Alexander Ramsey House. In a long political career, Ramsey was the mayor of St. Paul, the governor of Minnesota, and a U.S. senator. He built this very fashionable mansion in 1872. The mansion's interior is quite possibly the most spectacularly well-preserved Victorian interior in America. Ramsey lived in the house until 1903, then his granddaughter lived in it until 1964, when it was willed to the Minnesota Historical Society – along with virtually all of its furniture, art, and housewares. The mansion is thus not only completely furnished from attic to basement with beautiful Victorian furniture, it is in fact furnished with almost exactly the same furniture as it was when it was built! This mansion is a definite must-see on the travel itinerary of any Victorian house fancier. On a personal note, it was this mansion which started me photographing Victorian houses. When I visited the house, I was so disappointed (and quite surprised) that the gift shop did not have any nice color postcards of the house to sell, that I immediately went to a near-by drug store and bought a $3.95 throw-away cam. Then I took this photo. I used up the film shooting other houses in St. Paul (all of the St. Paul photos in this gallery were taken with that throw-away cam), and just like that, I was bitten by the photography bug.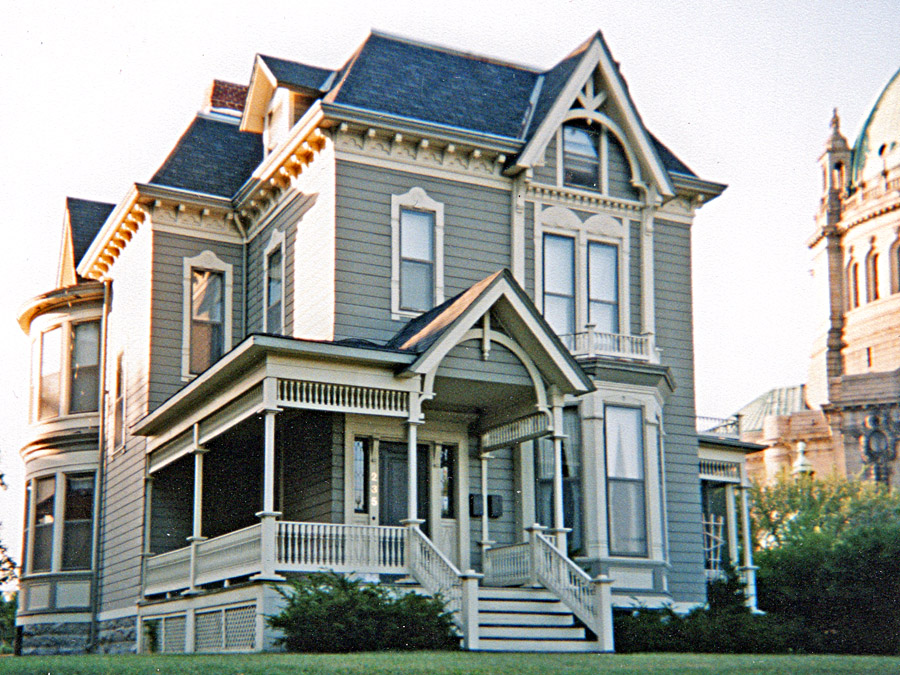 SP04 – Folk Victorian
Here is another nice Victorian house I shot with a throw-away camera along Summit Avenue. This is actually one of the smallest and most modest homes along that near-legendary boulevard of Victorian houses, but unlike most of the others, this one has no trees in front of it!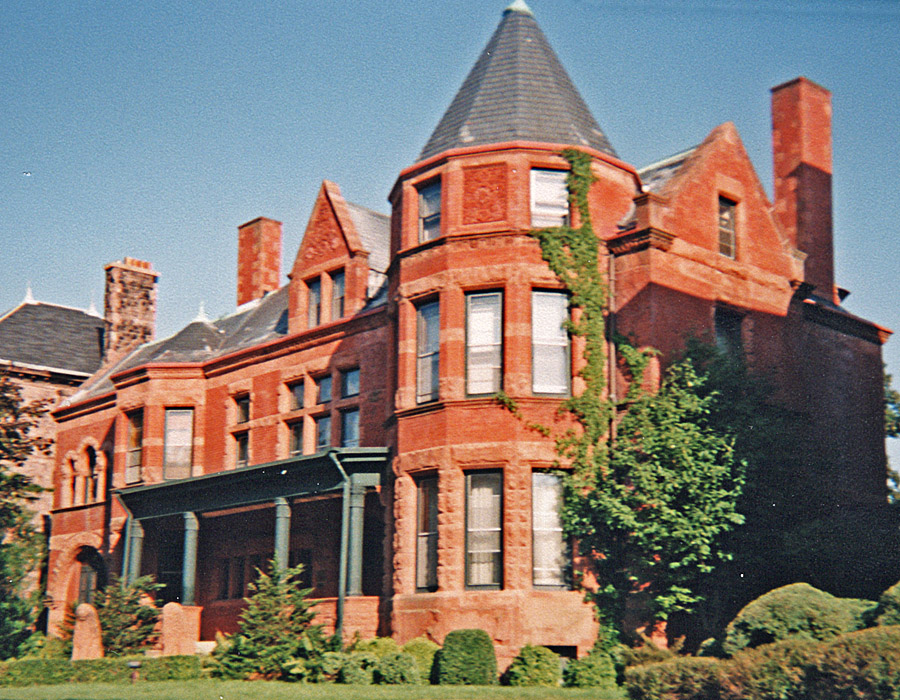 SP05 – Chateauesque
This Chateauesque mansion was built in 1889 by Edgar Long, a Minnesota lumber tycoon. It is just one of the dozens of Victorian mansions that still line Summit Avenue in downtown St. Paul. Unlike what took place in the vast majority of large cities in the U.S., St. Paul's prime Victorian residential boulevard was not swamped by urban sprawl and then urban decay as the city grew. Summit Avenue remained stubbornly residential, and in fact, it is fun to drive along the Avenue and watch as the houses gradually evolve from Victorian to Roaring '20s to post-WWII to contemporary structures as you move outward from the city. Some of the old Victorian houses are in much better condition than others, and the majority of the larger houses have been partitioned into condominiums or converted to use by nonprofit organizations – but they are still standing, and that is much more than most cities can say about their Victorian Millionaire's Row.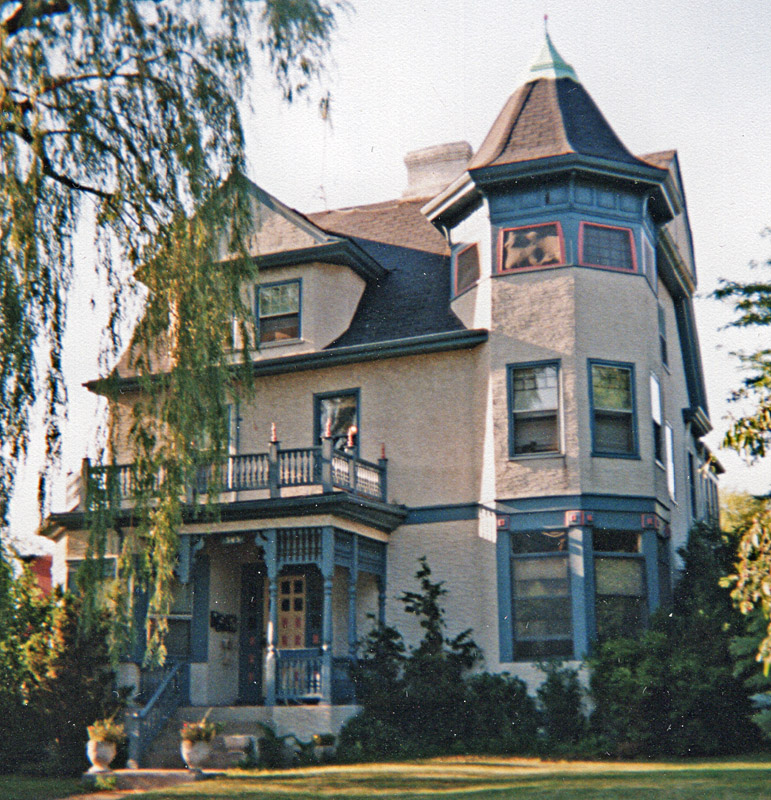 SP06 – Queen Anne
This is another Queen Anne I photographed along Summit Avenue, mainly because I could. (That is, it didn't have any trees in front of it, blocking the view.) Also, it has a beautifully restored porch. And to be honest, this photo is about as clear as it gets if you are doing your photography with a $3.95 throw-away camera, so how could I leave it out of the gallery?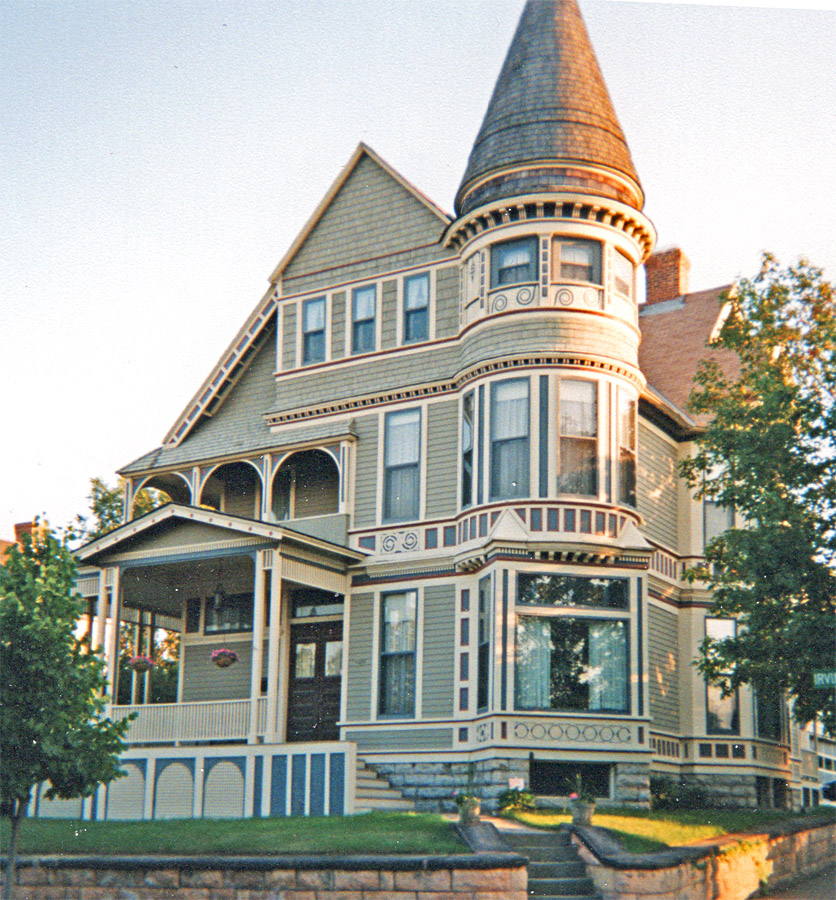 SP07 – Queen Anne
This gorgously restored Queen Anne now looks almost exactly as it did in 1886 – I know, because I have a book which shows a photograph of it taken shortly after that date, and from exactly this same perspective. The house is located in the Irvine Park area of St. Paul, not along Summit Avenue, and that area did not escape the urban blight of the 20th century as well as Summit Avenue. When the present owners bought the house in the 1970's, it was an utter wreck. But this house, along with the entire Irvine Park community, has undergone a Renaissance, and today both are well worth a side-trip for the Victorian house enthusiast. The house is only a block from the Ramsey House (SP03).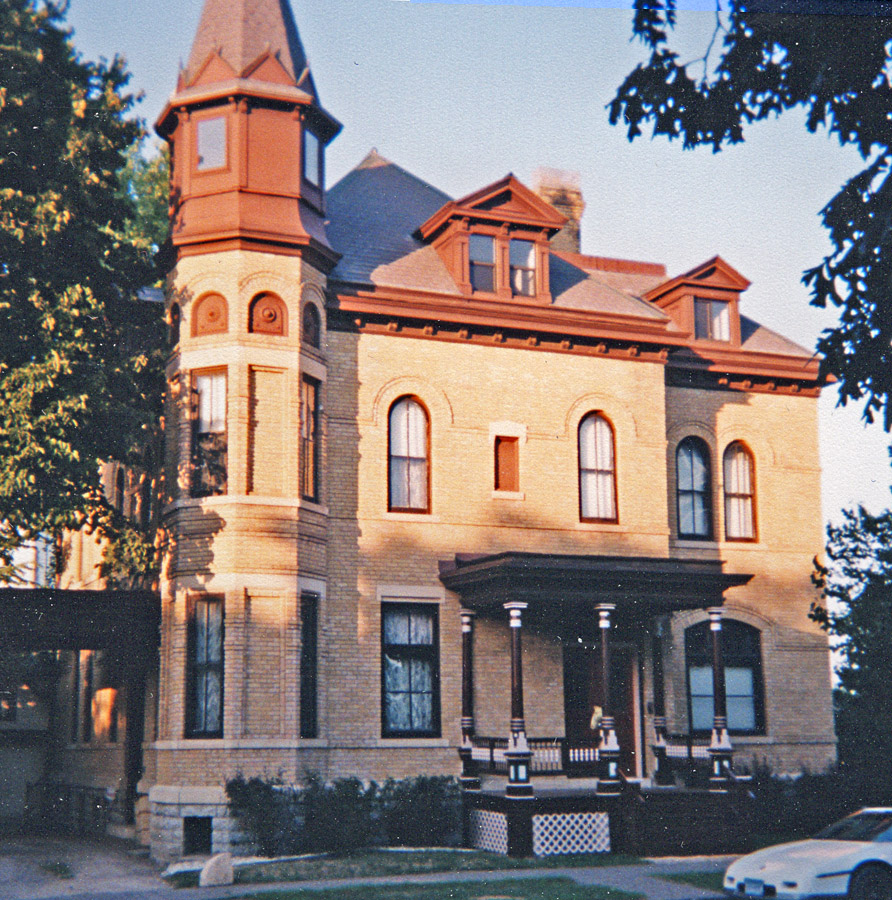 SP08 – Queen Anne
This distinctive Queen Anne mansion was built in 1889, out of Milwaukee creme brick. It is another of the restored Victorians which surround St. Paul's Irvine Park, and in fact, it sits on the opposite side of the park from the previous house in this gallery.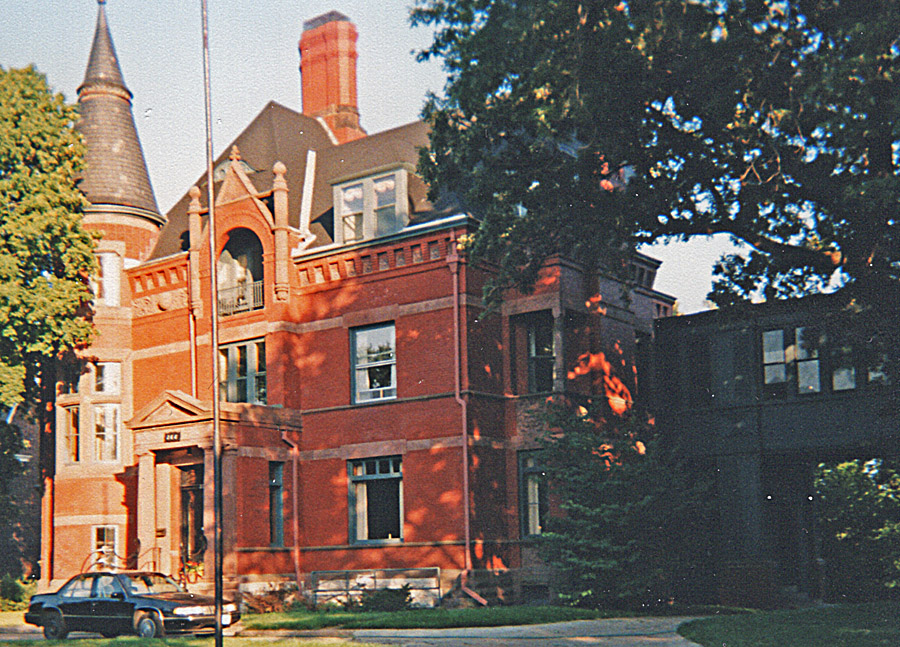 SP09 – Queen Anne
This nicely restored brick Queen Anne mansion is the Frederick Driscoll House, built in 1884, and later purchased in 1900 by Frederick Weyerhauser of lumber industry fame. It is today the headquarters of a non-profit religious organization.


SP10 – Vernacular Victorian
I don't have much to say about this house, except that it is another survivor along Summit Avenue.


SP11 – Eclectic Victorian
This house was built in 1883 for A. G. Foster, another Minnesota lumber millionaire. He was later a U.S. Senator. The third-story arcade was originally open-air. The house today is used for wedding receptions and other ceremonies.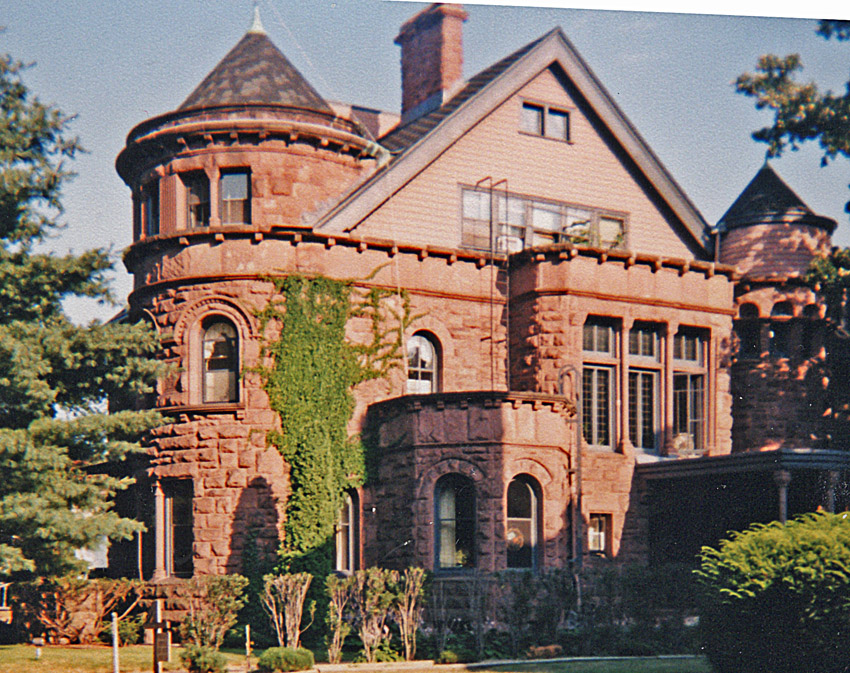 SP12 – Romanesque Revival
This beautifully preserved mansion is another Summit Avenue survivor, and is built in the massive Romanesque Revival style.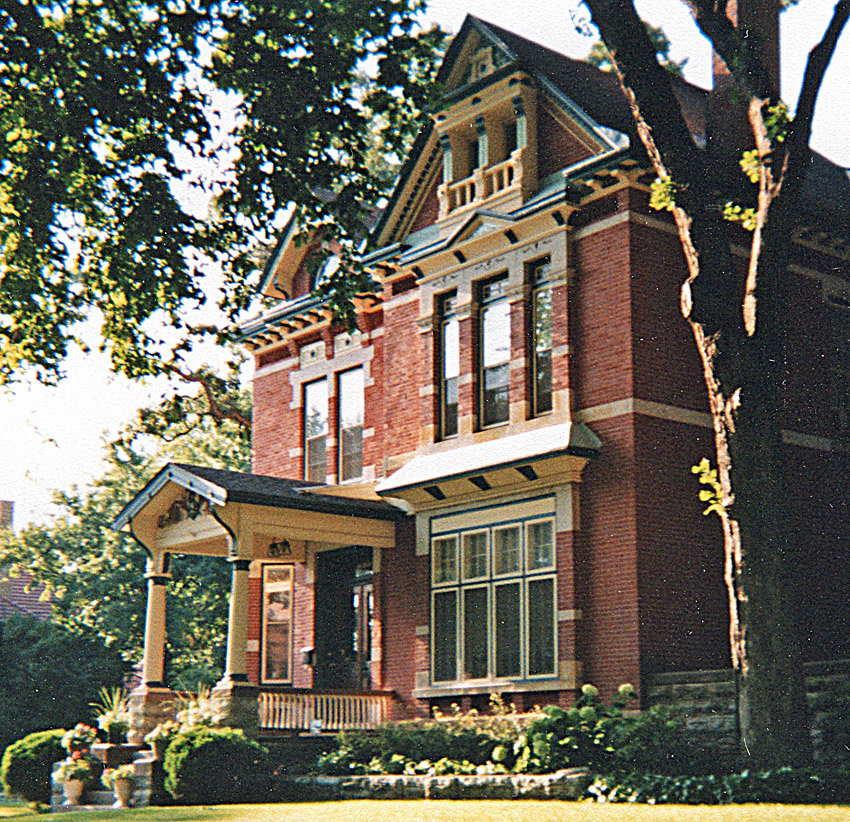 SP13 – Romanesque Revival
This is a shot of the front facade of another Summit Avenue survivor.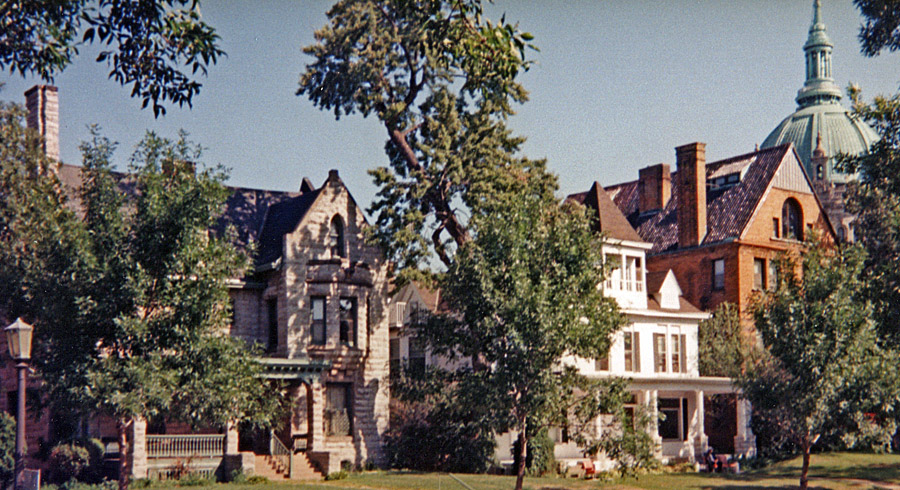 SP14 – Victorians
This is a long shot of the end of Summit Avenue, with the dome of the Catholic Cathedral of Saint Paul in the background.