IL01 – Ellwood Mansion
DeKalb, IL
This DeKalb landmark was built in 1879 by barbed-wire inventor Isaac Ellwood and is open to the public. The interior is very impressive (Bob Vila featured it in his tours of the historic houses of America), but the exterior doesn't do much for me. It was once a Second Empire house, probably very nice, and has since been mutilated by a Classical "upgrade". I almost didn't bother taking a photo of it. Then I shrugged and took just this one, because I figured I couldn't visit DeKalb without taking a photo of the legendary Ellwood Mansion.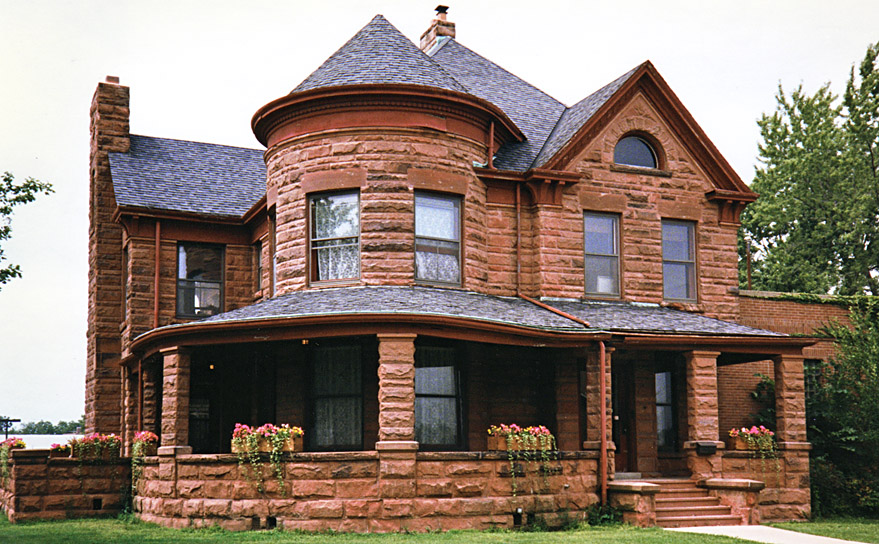 IL02 – Romanesque Revival
DeKalb, IL
This Romanesque Revival mansion is now a commercial building. It houses an optometrist, a hearing aid store, and several other small businesses. It is only a few blocks from the much, much more famous Ellwood Mansion – but whereas the exterior of that house is a remarkably boring neoclassical affair, this Romanesque Revival house has exactly the rugged look that one associates with classic late-Victorian mansions. I took several photos of this house, but only one of the Ellwood Mansion.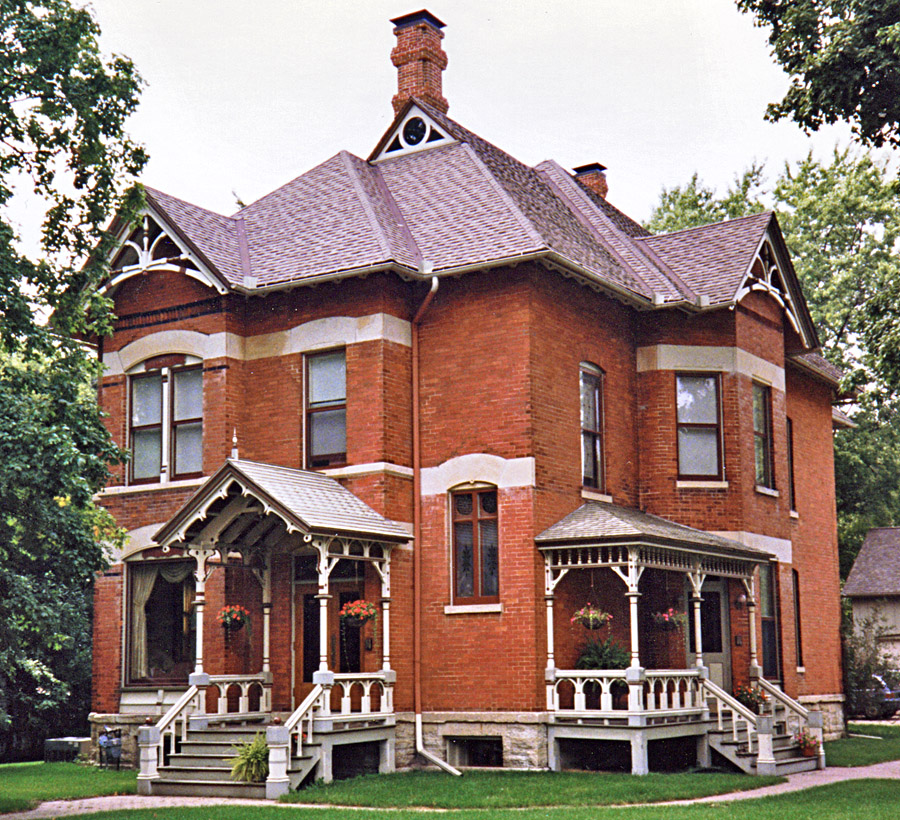 IL03 – Queen Anne
DeKalb, IL
This beautiful brick Queen Anne is also (like the previous house in this gallery) only a few blocks from the Ellwood Mansion. It is much more modest than the Ellwood Mansion, but I like it much better (on the exterior, at least) because it is much more architecturally authentic. This house, unlike the Ellwood Mansion, is not trying to look like a classical something else. It is exactly what it appears to be: an American Victorian home. This house is similar in size and style to one in Fayette, MO, but is in much better condition.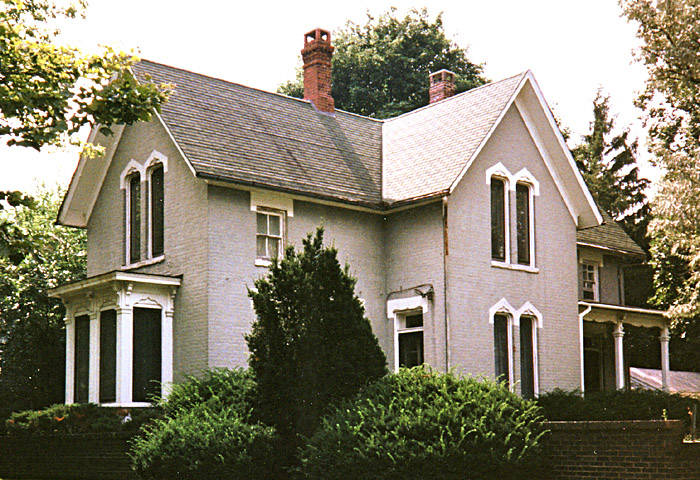 IL04 – Folk Victorian
DeKalb, IL
I spotted this hardy survivor of the Victorian age by accident. (I was wandering around on some DeKalb back streets, trying to find the Ellwood Mansion.) The house is faintly Gothic Revival with Italianate details, and the eaves were almost certainly decorated with elaborate brackets once upon a time.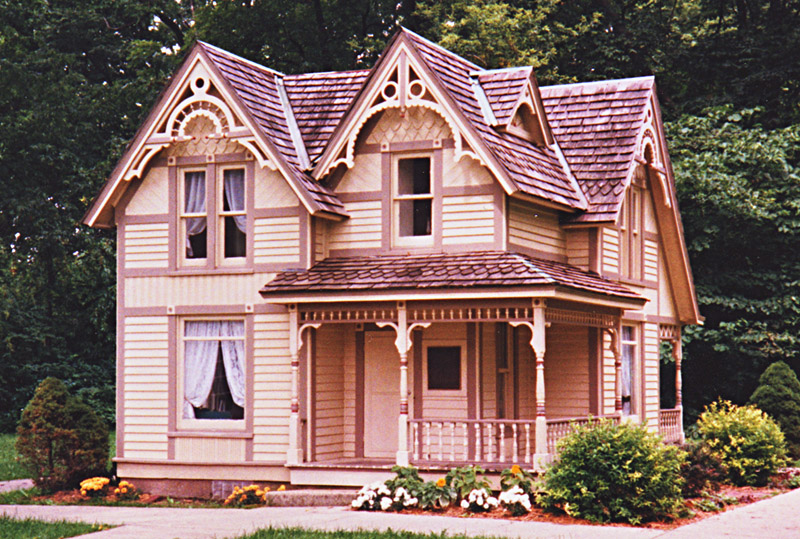 IL05 – Folk Victorian
DeKalb, IL
This too-cute-to-be-true little house is located very near the Ellwood Mansion.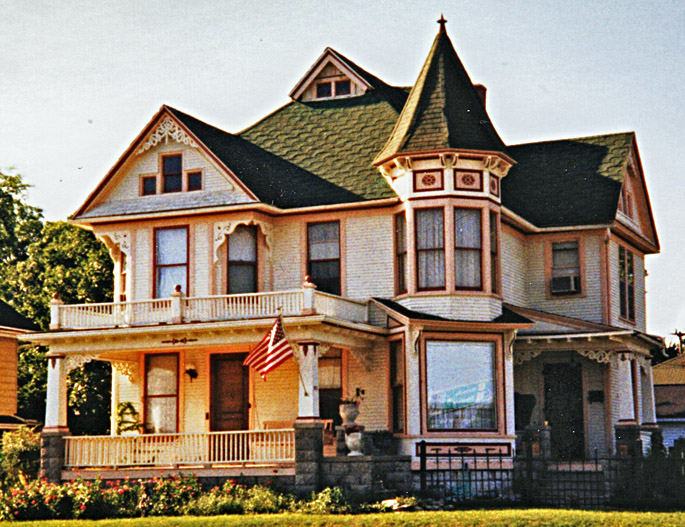 IL06 – Queen Anne
Dixon, IL
I spied this lovely Queen Anne in Dixon, Illinois, when I pulled into a MacDonald's for lunch. The house was across the street. A reader has since written me to say that the house has been destroyed. Dixon's main claim to fame is that Ronald Reagan lived there as a boy.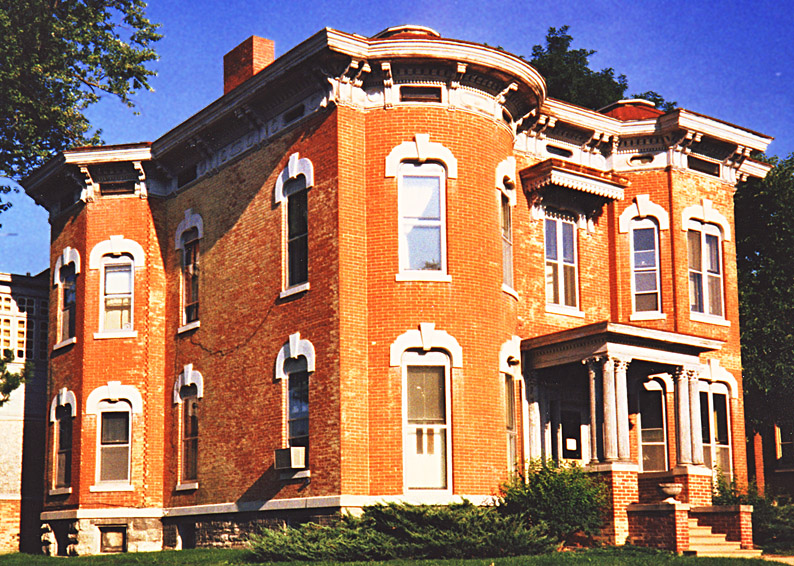 IL07 – Italianate
Dixon, IL
This is one of those Victorians that has obviously seen some pretty bad days, but whose design is so magnificent that you can practically feel the elegance it must have had. The house looks considerably worse in person than it does in this photo. Almost all the woodwork needs stripping and painting, it is covered with old, sloppy brick-and-plaster patches, there is an ugly addition in the rear, etc. But, it is still standing. The house is now occupied by an architectural firm, which is (apparently) in the process of slowly renovating it. I applaud their efforts.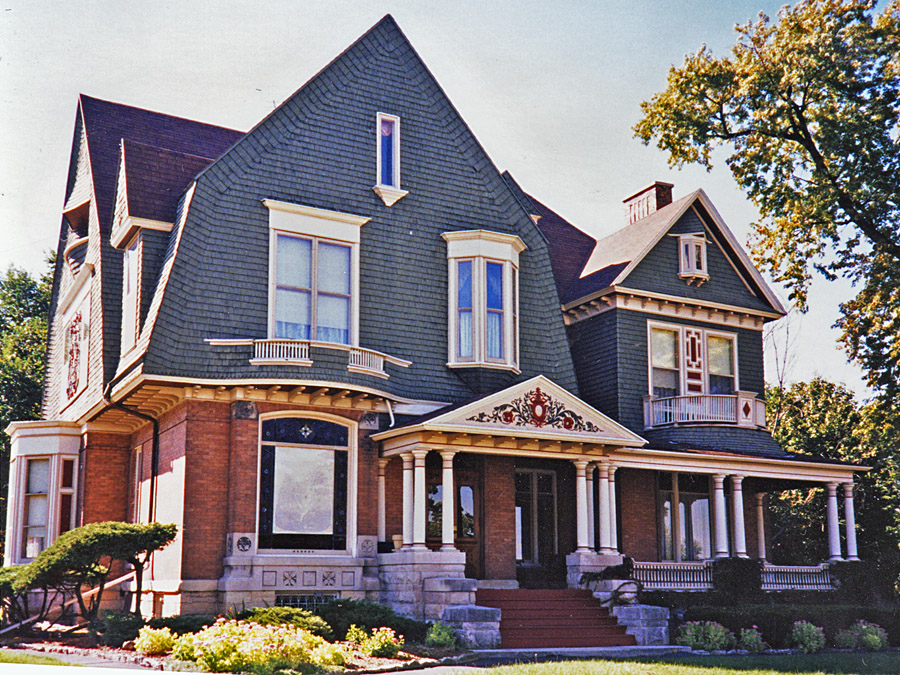 IL08a – Late Queen Anne
Elgin, IL
This turn-of-the-century Queen Anne in Elgin, IL, is in stunning condition. It has more-or-less a classical revival first story, topped by a huge, Shingle Style second story, both decorated by elaborate painted panels. This house is a knock-out in a second way: it has a corner lot, and the owners have not planted one tree or bush on any part of it. In other words, the house is spectacularly visible. The owners clearly understand that there is nothing they can do to beautify their property more than simply letting everyone see their house. Bravo!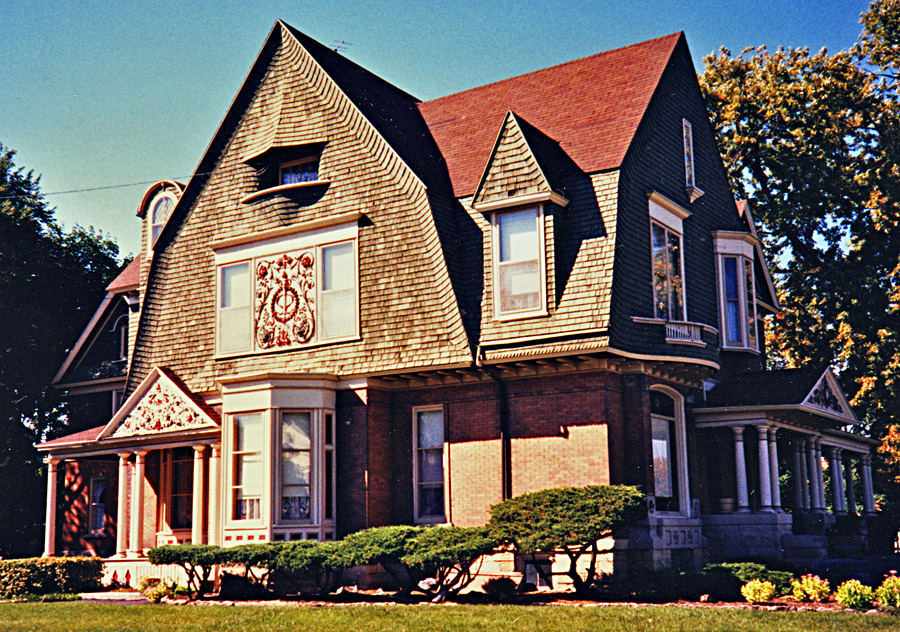 IL08b – Late Queen Anne
Elgin, IL
Side view of the house above, showing more of the painted panel detail.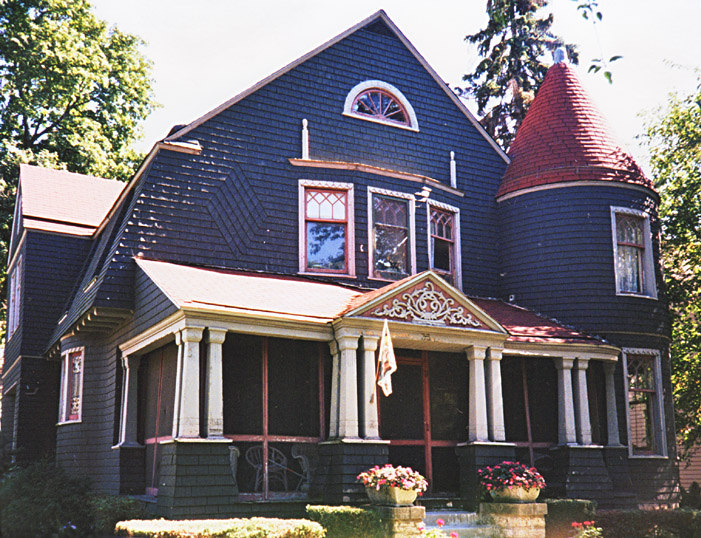 IL09 – Shingle Style
Elgin, IL
This massive Shingle Style house (with a few Queen Anne touches, such as the filigree above the front steps) projects much the same feeling as the previous house, although not as opulently.


IL10 – Queen Anne
Elgin, IL
This beautifully restored, classic 1880's Queen Anne is located in Elgin, IL. Elgin has quite a few Victorian houses that might best be called "poor country cousin" Victorians, because their style is more-or-less Queen Anne, or maybe Italianate villa, at least to the extent that they have an awkward tower perched on them – but the houses are generally small and ill-proportioned. Elgin is an old blue-collar town, and those houses were built by yeoman carpenters, or perhaps even the home-owners themselves, in an attempt to emulate the much more expensive, architect-designed houses of the well-to-do. Such as this one.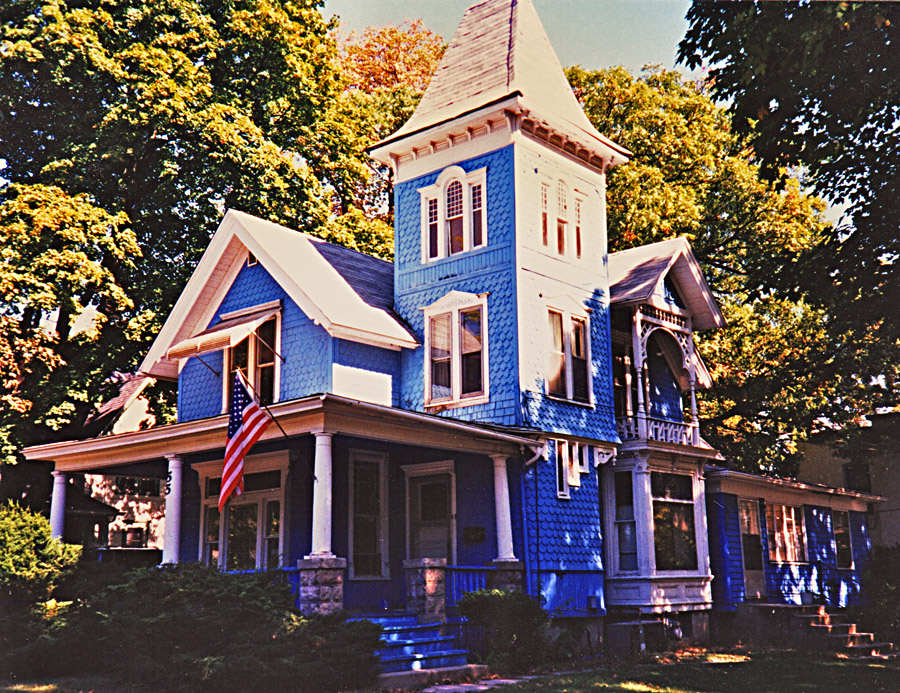 IL11 – Folk Victorian
Elgin, IL
This folk Victorian in the Queen Anne style is sufficiently amusing that I decided to include it here. The oversized tower with the slightly Palladian window on the third floor is the main attraction, of course. I hope the tower room is used as more than attic space, because it would be a shame to waste the view. Some interior photos of the house can be found at this link.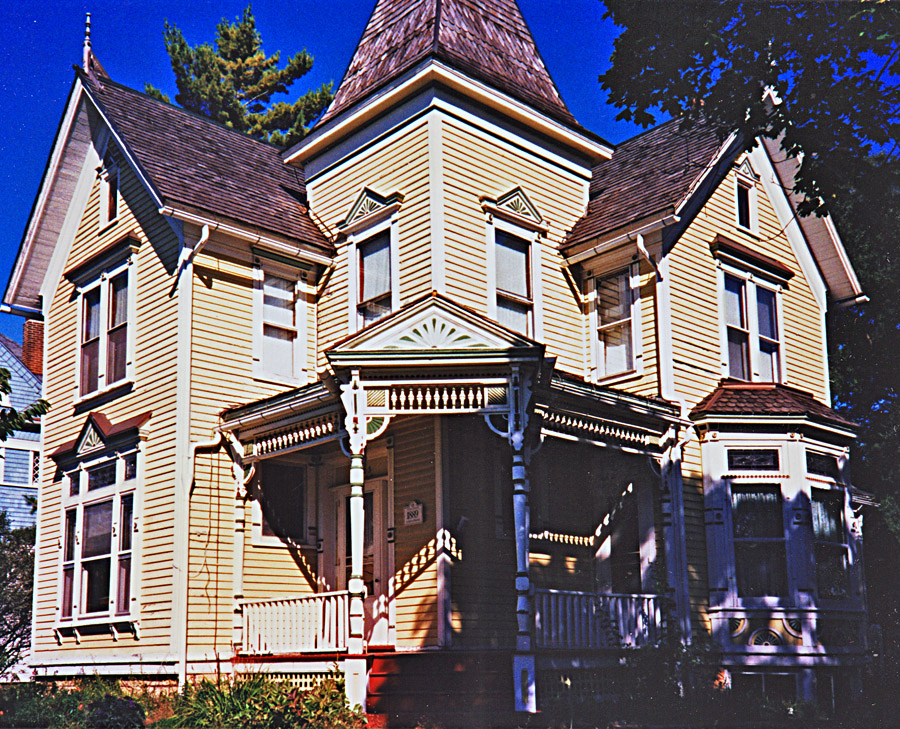 IL12 – Folk Victorian
Elgin, IL
This quaint folk Victorian looks like what you imagine your Grandma's house would look like in a Norman Rockwell painting. It features an L-shaped floor plan with a square tower placed in the elbow of the "L". (This plan is also used for house IL32 in Wilmette, IL.) A plaque on the front dates the house to 1889.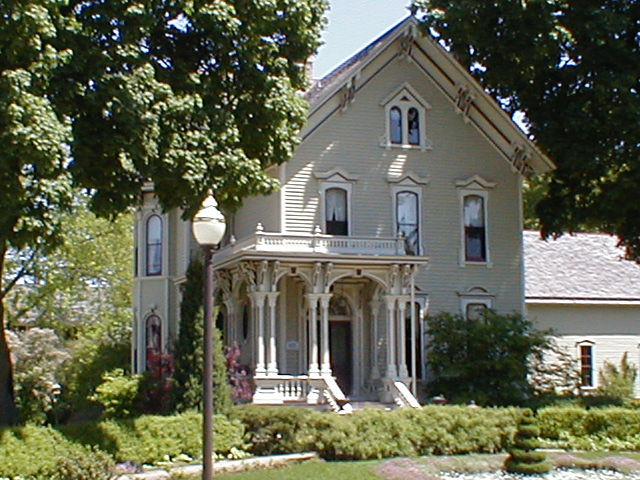 IL13 – Italianate
Elgin, IL
This photo was sent in by a viewer, who tells me that he has spent the better part of two decades slowly restoring the house. I am not surprised. The architectural precision on the restoration is beautiful, and that takes either a lot of time or a lot of money – and more often than not, both.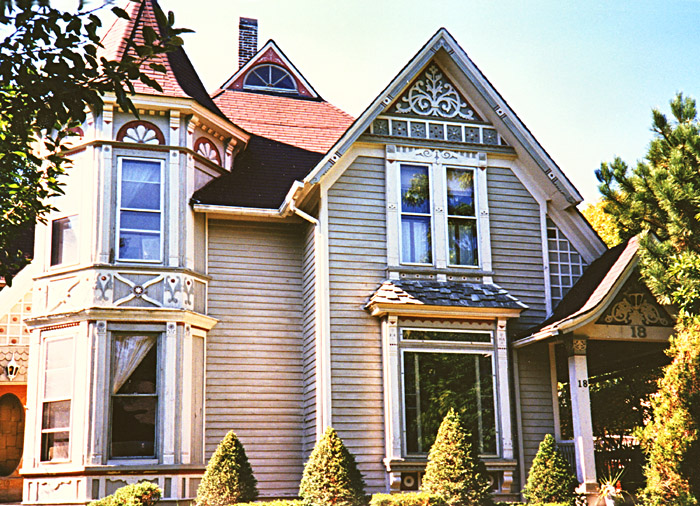 IL14 – Folk Victorian
Elgin, IL
This charming little house is unquestionably one of the more elegantly designed Folk Victorians in Elgin. It is possible that it was built from professional mail-order plans rather than from scratch.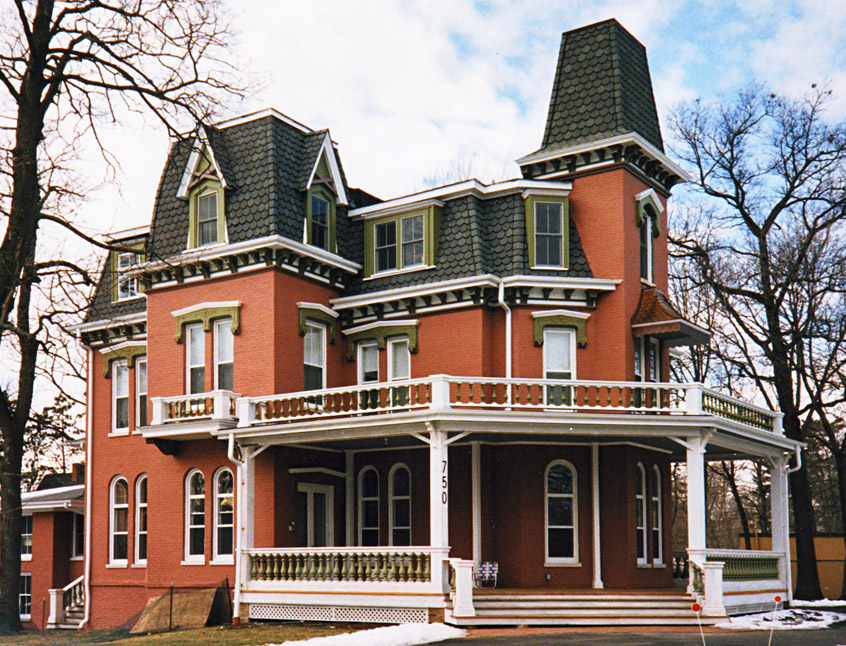 IL15 – Second Empire
Glencoe, IL
This house in Glencoe, IL, was a doughty apartment building until mid-1997. Then suddenly scaffolding went up and workers appeared and voila! A new single-family home emerged from the construction dust, spectacularly renovated. There are certain features of the house (particularly the placement of the doors) which lead me to suspect that this building was originally constructed as a boarding house. If so, the house is now a single-family dwelling for the first time in its history. I would be surprised if the original house had a large wrap-around porch on it, however, even though the apartment-building version of the house also had a (much more poorly constructed) porch.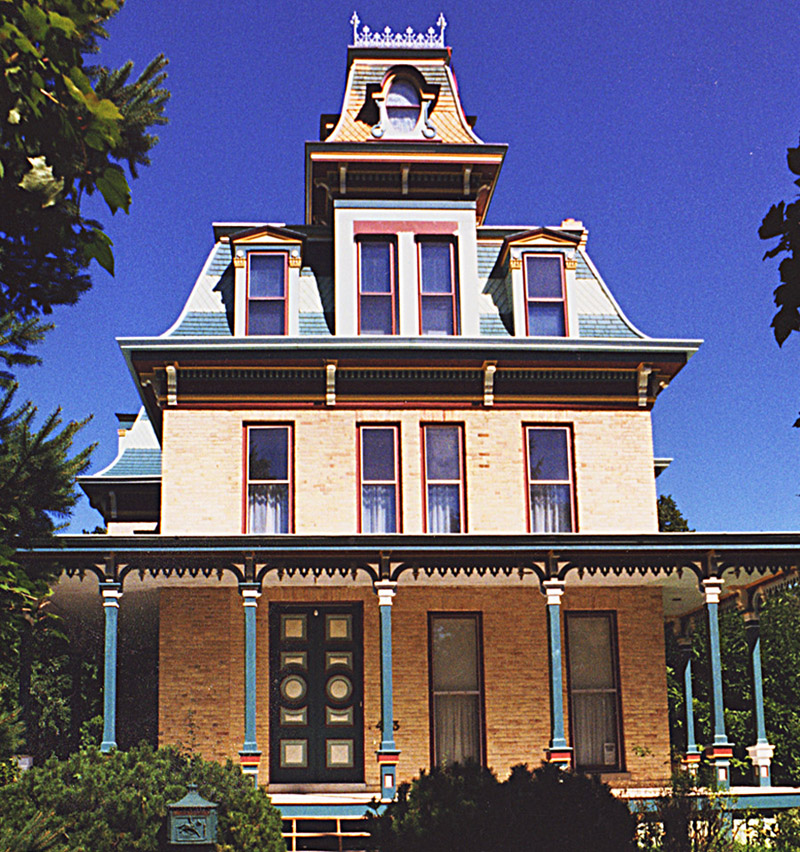 IL16 – Second Empire
Highland Park, IL
Highland Park is the famous suburb where many Chicago sports stars live. The good news is, this house is nearing the end of a wonderful restoration and it looks simply splendid. (Notice in particular the very fine detailing around the dormer windows.) The bad news is, the house is completely surrounded on all sides by an impenetrable, absolutely solid, ten-foot-high jungle which hides the house so well, the only thing you can see of it from any direction is the very top of the tower – except for this view right in front, which I took through a two-foot-wide slit in the hedge. If these folks put in a gate and block even this tiny portal, then it will serve them right if their trees get Dutch Elm disease.


IL17a – Jacob Henry Mansion
Joliet, IL
If there is any house in the Chicago area which deserves a panorama of photos, this is surely the one. This spectacular Second Empire palace is located in Joliet, Illinois, in a section of town which circa 1880 was home to the top of Joliet Victorian society. Today (alas), except for this amazing exception, many of the surviving Victorian homes in the area are run-down, seedy-looking apartment houses. (But there are signs here and there of renovation going on, so maybe the area is about to enter a renaissance. We can always hope.) This house is by far the most splendid house in the city, so at least the best has been saved. I am informed that the house has always been owned privately, and is today used mostly for weddings and other receptions.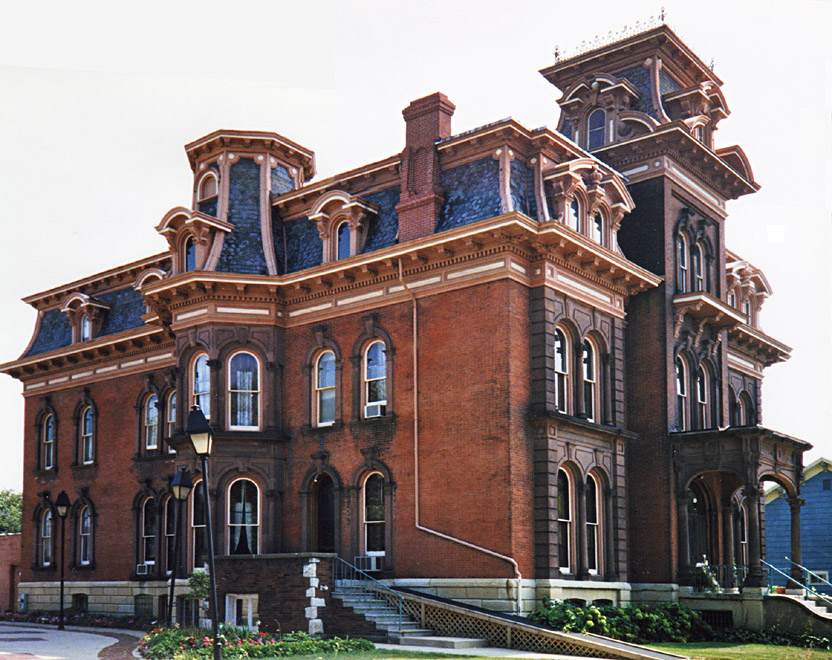 IL17b – Jacob Henry Mansion
Joliet, IL
View of the left side of the mansion. This house was built in 1873 by railroad millionaire Jacob Henry. It was awarded an architectural prize at the American Centennial in 1876, and is widely considered to be the most splendid example of the Second Empire style still standing in the state of Illinois.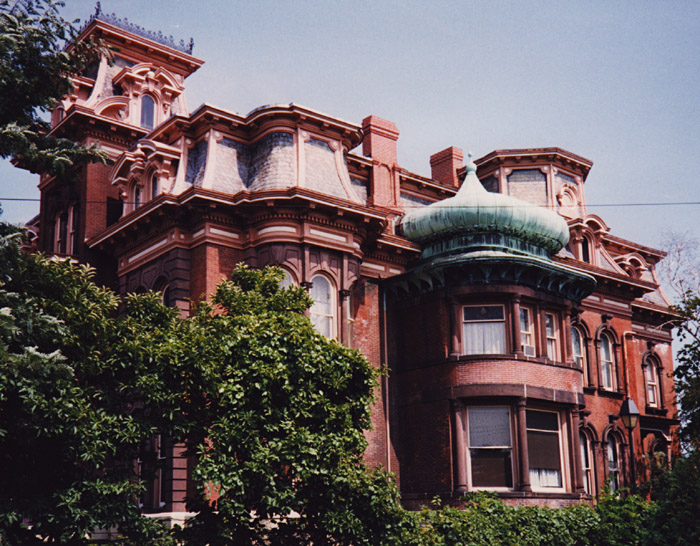 IL17c – Jacob Henry Mansion
Joliet, IL
View of the right side of the mansion.


IL17d – Jacob Henry Mansion
Joliet, IL
Street view of the mansion.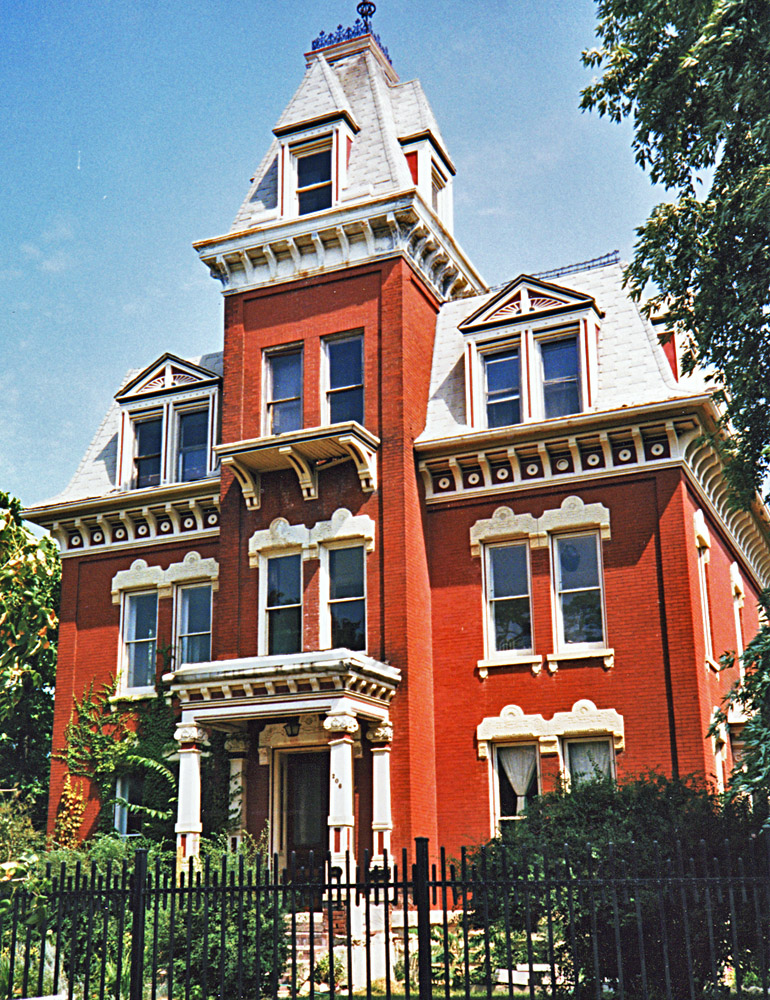 IL18a – Hiram Scutt House
Joliet, IL
This house was built in 1882. It is a fine house, although it pales in comparison with the Jacobs Henry Mansion. The house is not very close to the Jacobs Mansion as it is set on the other side of the Des Plaines River, which runs through the center of Joliet. Like the neighborhood around the Jacobs Mansion, however, most of the Victorian houses around the Scutt house are also in bad shape. The Scutt house appears to be in pristine condition, but alas. I have a historic photo of the Scutt house, and this shows that the facade has been stripped of quite a bit of its decoration: the elaborate flanges on the upper-story windows, the grillwork on the porch roof and the decorative balcony, the window surrounds on the third-floor tower windows, and the decorative insets on the tower cornice, all are missing. However, given that the house is still standing, this is only a purist's grumbling.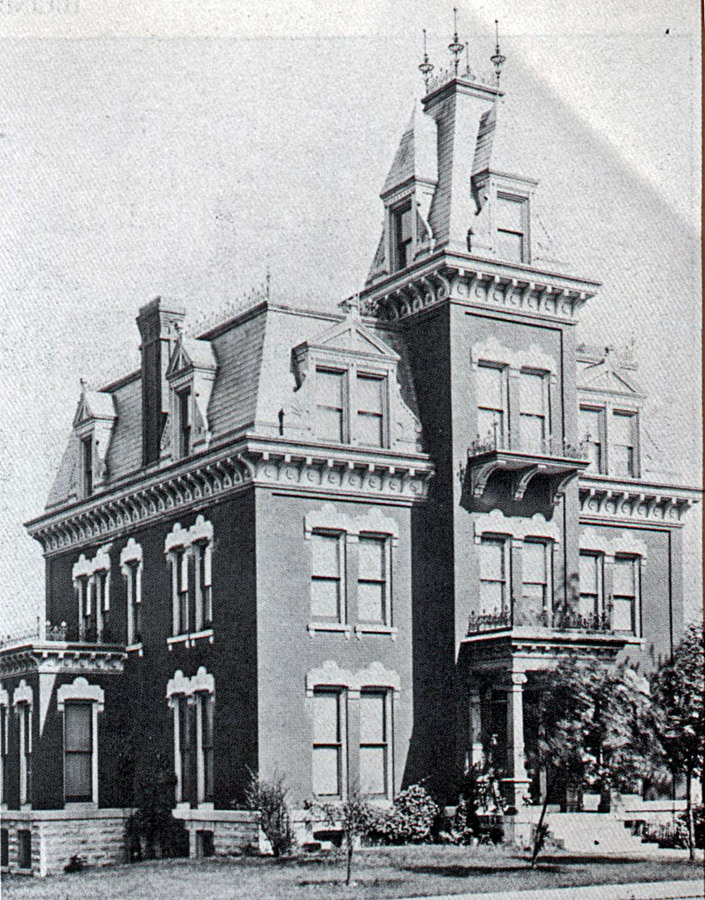 IL18b – Hiram Scutt House
Joliet, IL
Historic photo of the Hiram Scutt House.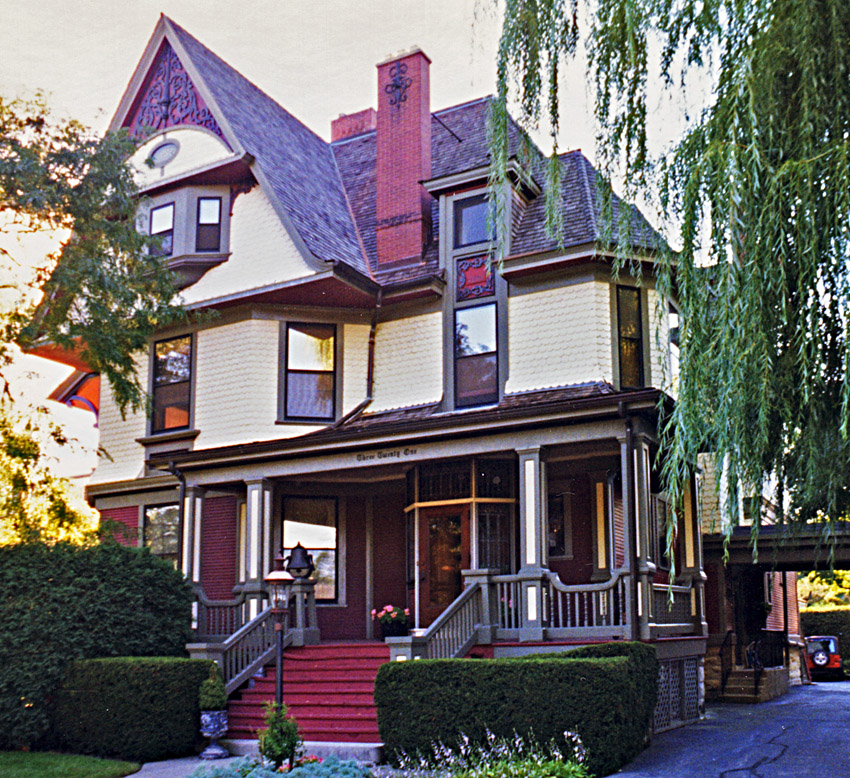 IL19 – Queen Anne
Kenilworth, IL
Kenilworth is probably the most expensive town in Illinois, and that's saying something, considering how much money there is along the North Shore of Chicago. This transitional Queen Anne, dated 1893 in the window decoration above the front porch, is set in a neighborhood of very large, very expensive, and mostly very tasteless mansions. It is the only true Victorian in the area, and does it make its neighbors look sad. It is a mystery to me how anonymous, self-taught Victorian architects could design beautiful houses like falling off a log, when highly educated, modern architects armed with an arsenal of the latest CAD software can only design ill-proportioned, pretentious hulks.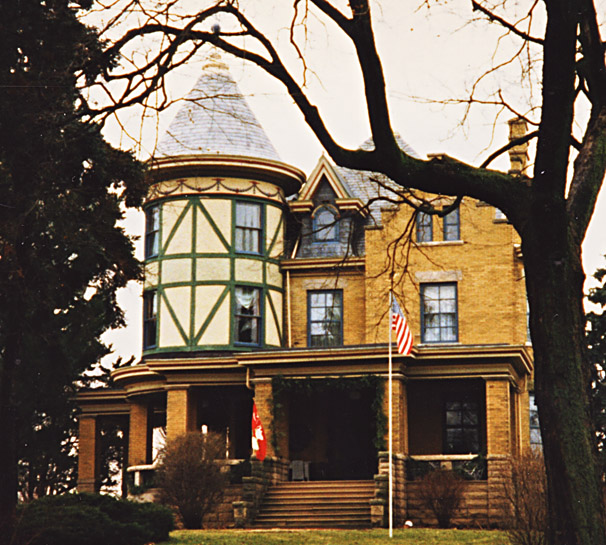 IL20 – Queen Anne Mansion
Lincoln, IL
I discovered this house completely by accident, when I pulled off Interstate 55 to buy some gas. The house sits on a large estate in almost the middle of nowhere. You can't help but wonder what circumstances could have led to such a large and imposing house being built on such a remote site.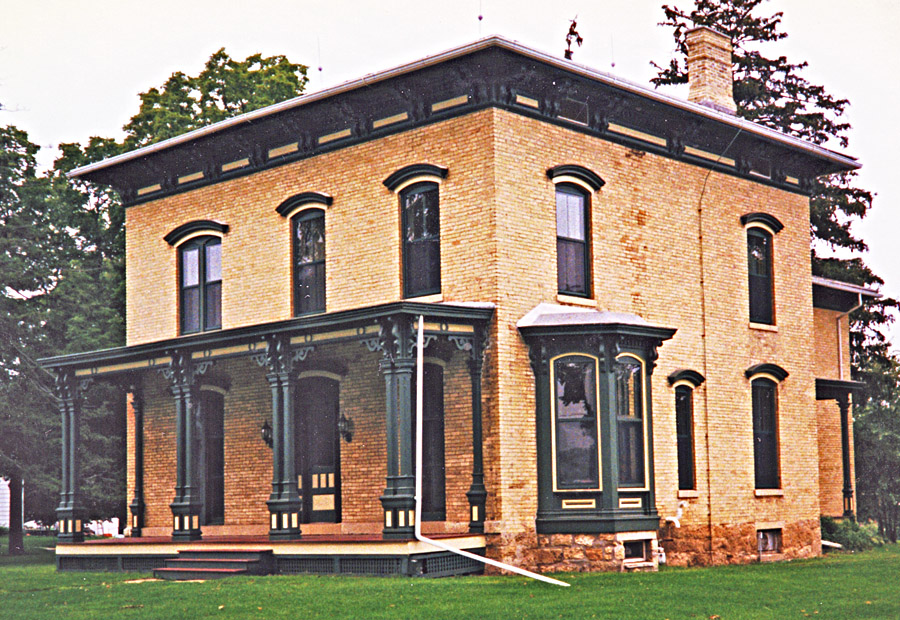 IL21 – Italianate Villa
Mount Carroll, IL
This is the Owen P. Miles House, built in 1873 by a prosperous banker. The detailing on the brackets is quite elaborate, but unfortunately the brackets are painted a uniform super-dark-green which masks the details in this photo. The house is remarkably conservative by the standards of 1873, which perhaps reflects the tastes of a small-town banker.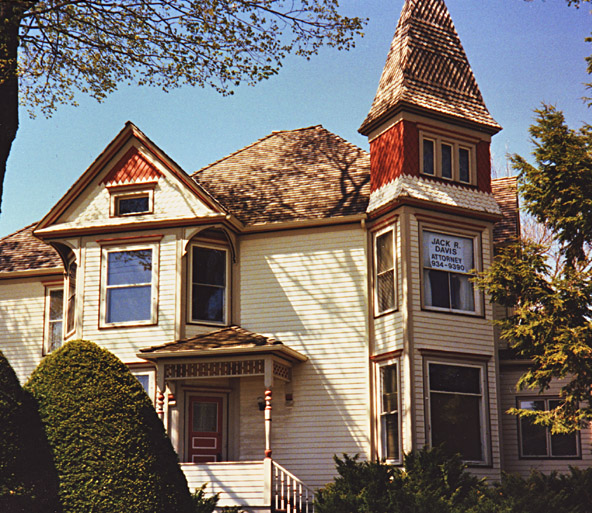 IL22 – Queen Anne
Palatine, IL
This handsomely maintained Queen Anne in Palatine, IL, is now a law office. One has a tendency to be cynical about lawyers (One lawyer in a town, the lawyer starves. Two lawyers in a town, they both get rich.) but I think any lawyer with enough taste to place his offices in a house as nice as this can't be all bad.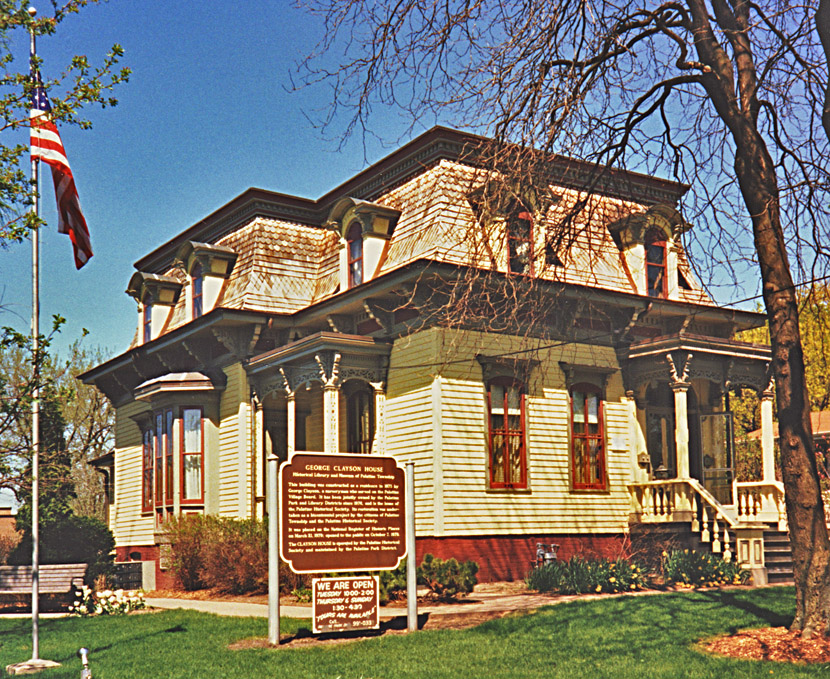 IL23 – George Clayson House
Palatine, IL
This lovely little Second Empire House was built in 1873 by George Clayson, a prosperous farmer. The house is now owned by the Palatine Historical Society and is open to the public. This is one of my favorite show houses, because the staff is very friendly and allows you to wander through the house and look at the Victorian furniture and memorabilia without supervision. There are no ropes, chains, or plastic shields to block your view. The house itself is rare in that it is built in a Second Empire style of the highest sort, yet it is only a modest-sized farmer's house, not a grand mansion. The Second Empire style with this level of detail tends to be seen only on very substantial houses.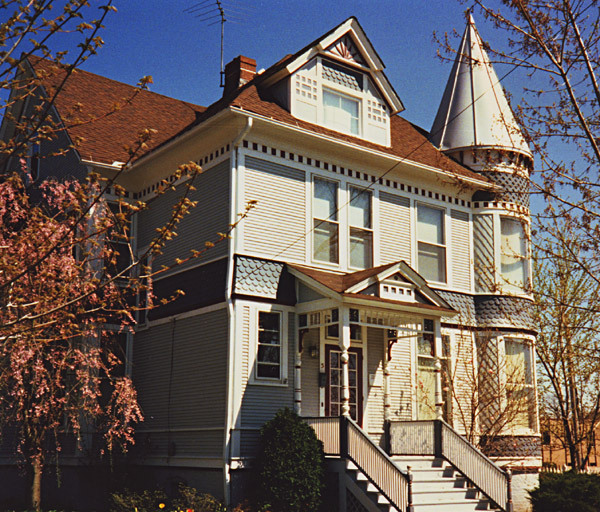 IL24 – Queen Anne
Palatine, IL
This sparkling-clean Queen Anne is located just a few blocks from the George Clayson House. It was built in 1892, according to a plaque beside the front door.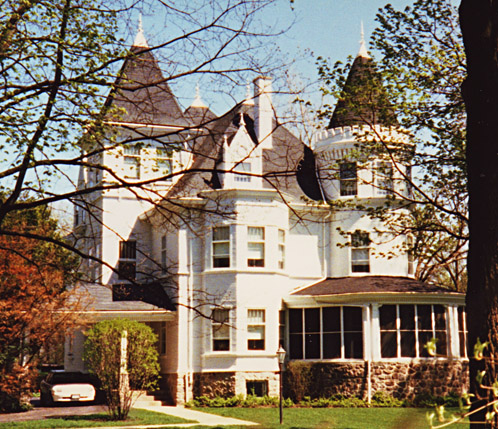 IL25 – Queen Anne
Palatine, IL
This Queen Anne mansion is a good deal more imposing than the photo might suggest. Alas, it is set on a very large lot – and surrounded by walls of hedges, bushes, and trees, of course – so it is very difficult to get a suitable shot of it from the street. A waitress at a local cafe told me that it is still owned by the same family that built it in 1896.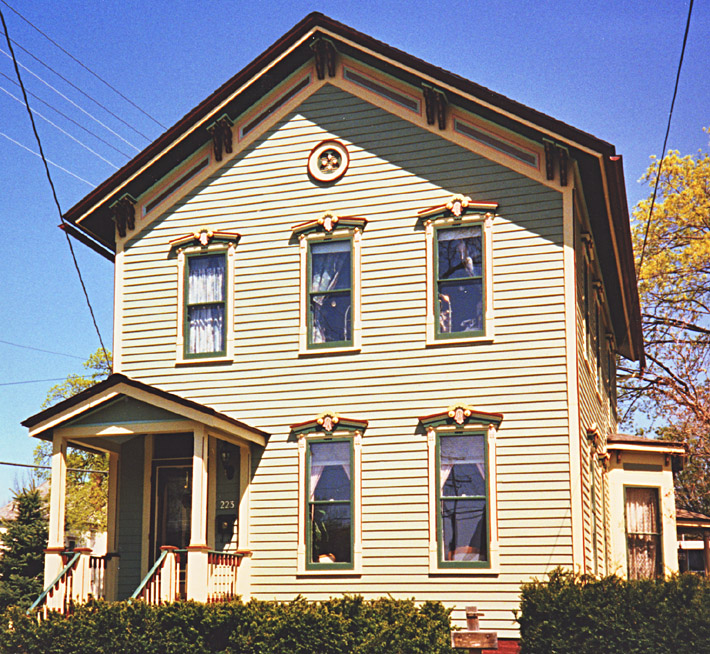 IL26 – Italianate
Palatine, IL
In view of its pitched roof, it could be argued either way whether this is an Italianate house or just a Folk Victorian with some gingerbread. I think the heavy Italianate bracketing, classic three-window symmetry, and the bay window at the right, settle the matter. It's Italianate. One has to make some allowance for the Chicago winters! The detailed painting of the cornice and window surrounds is very nice – and certainly demonstrates what the owners of the more expensive Italianates in Evanston are missing by uniformly painting theirs a boring white.


IL27 – Queen Anne
Springfield, IL
This splendid brick Queen Anne is a familiar sight to motorists driving along Interstate 55. It sets just off the highway, about 20 minutes south of Springfield. It was not always thus. The 1888 mansion had been abandoned and had fallen into total ruin by the 1970's. It was an utter wreck, with the roof missing in places and an interior ravaged by insects, rot, and even by cattle wandering through from neighboring fields. The only thing that saved it from being razed was its location in the middle of the countryside: it was too remote to bother tearing down. It was finally purchased by a Springfield antiques dealer, who has spent many years restoring it, inside and out. One of his shops is located near the mansion, and visitors are allowed to see some of the interior rooms on certain days of the year.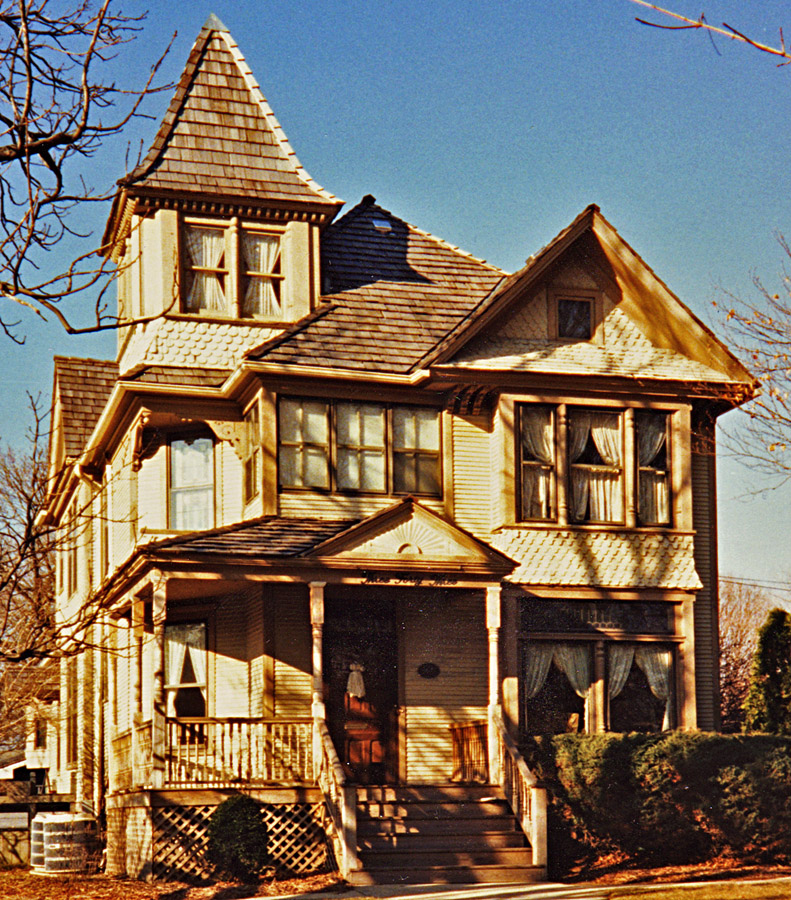 IL28 – Queen Anne
Wheaton, IL
I found this rather peculiarly restored Queen Anne in Wheaton, IL. At the time I photographed it, the house had obviously been reshingled and resided with cedar in the recent past. I don't know if the owner intends to paint the house later on or not – but I suspect not, since I can't see any point for the extra expense of putting cedar siding on a house if you are going to paint over it anyway. As it now stands, this house reminds me overpoweringly of those unpainted Victorian doll houses that one sees in the crafts stores.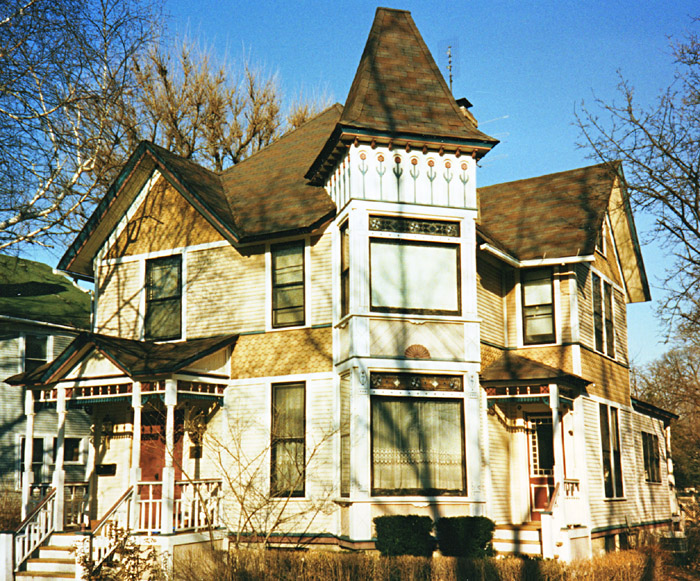 IL29 – Folk Victorian
Wheaton, IL
The main reason I photographed this rather quirky Folk Victorian was the interesting corner tower, with the amusing, stylized flowers carved around the top.


IL30 – Gage House
Wilmette, IL
The Gage House (built in 1873) is a remarkable Italianate located about ten minutes from my home. I like to drive visitors down the street this house is on and tell them to keep their eyes open for the "Victorian" house. The street has many turn-of-the-century homes on it, so this usually produces confusion – until the Gage house comes into view. No one ever has any problem distinguishing this beauty from some hulking mass of Colonial Revivalism. There is a gorgeous full-page photograph of this house on page 151 of the book America's Painted Ladies. The exquisite, almost microscopic detailing along the crown of the tower and in the window surrounds really stands out in that photograph, which was taken with a professional-quality 4 X 5 flat camera. It is a good thing that I took this picture when I could, because that little bush at the corner of the porch has now grown into a hulking tree that completely blocks this view of the house.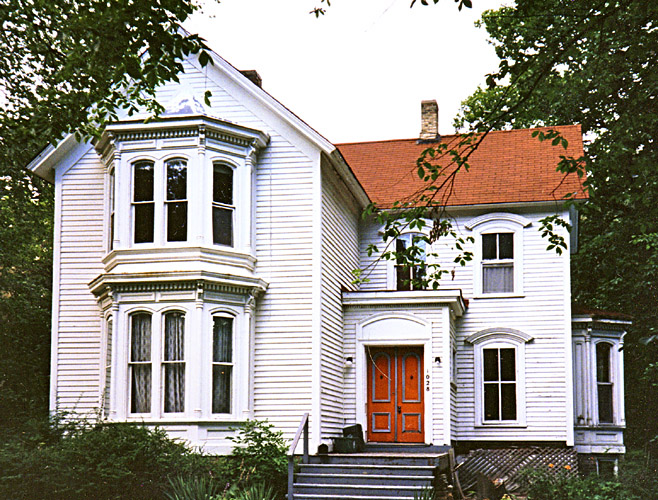 IL31 – Folk Victorian
Wilmette, IL
This house is located along Sheridan Road in the north Chicago suburbs, a part of town which today is one of the most affluent neighborhoods in America. Unlike most of the Victorian houses in this Web site, which eclipse the boring modern boxes on their street like the sun glaring down on a Christmas tree bulb, this house seems so small and plain compared to its hulking, ostentatious neighbors that you could almost mistake it for a child's playhouse, or perhaps the butler's cottage. I would guess from the Italianate-style detailing on the windows that the house dates from the 1870's. As far as I know, it is the only surviving Victorian for about a mile in any direction, in a neighborhood which must surely have been graced with many fine Victorian homes at one time. So I include it here, my salute to a survivor.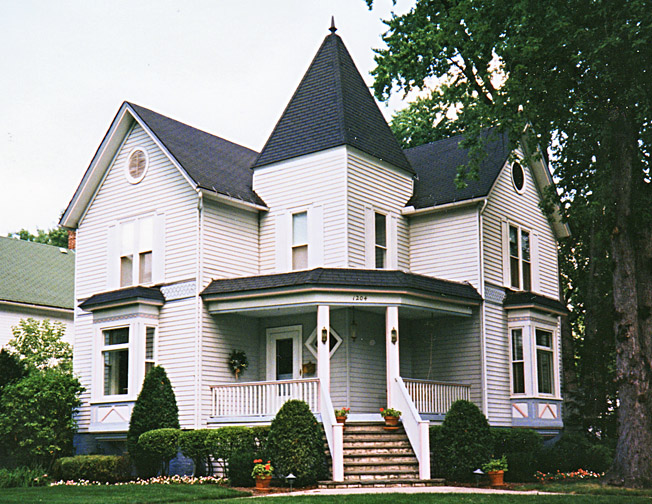 IL32 – Folk Victorian
Wilmette, IL
This modest little Victorian incorporates a design that one sees fairly often in folk Victorians. It is essentially an L-shape with a square tower placed at the bend in the "L". Folk Victorian IL12 in Elgin, IL also uses this design.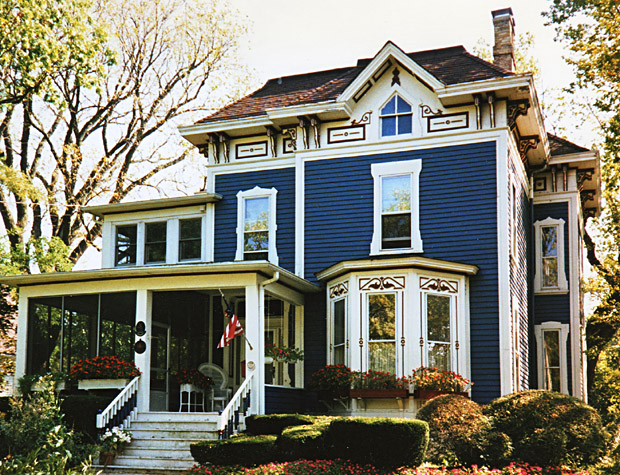 IL33 – Italianate
Winnetka, IL
This Italianate in Winnetka was not especially dazzling, and the porches added to the front and the left second story were not especially graceful and certainly not original to the house – but the cornice decoration was intact and very neatly painted, and the house successfully maintained a comfortable, small-town Victorian feel, so I gave it a place in my gallery. In early 2001, new owners bulldozed it flat and constructed a new house over it.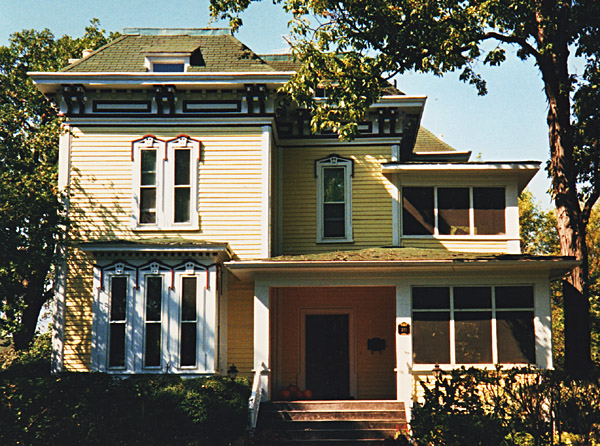 IL34 – Italianate
Winnetka, IL
This Italianate is very similar to the one above, and in fact was located just across the street. It also features screened porches that are not original to the house, yet nonetheless retains a comfortable, small-town Victorian feel.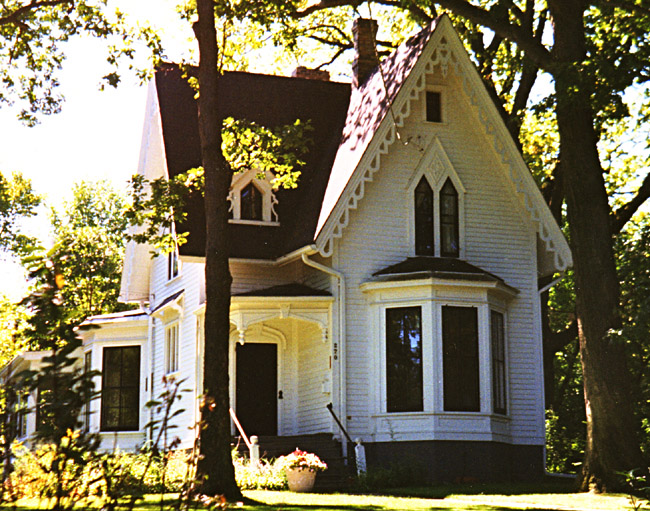 IL35 – Gothic Revival
Winnetka, IL
This classic Gothic Revival Cottage is (or was) next door to house IL33. It is across from the yellow house above. Once upon a time, these three houses must have made up the most prestigious neighborhood in town. Since this photo was taken, new owners have added a huge wing on the left side of the house. The wing is reasonably sympathetic to the Gothic architecture, but I'm glad I got a photo of this house before the wing was added, just the same.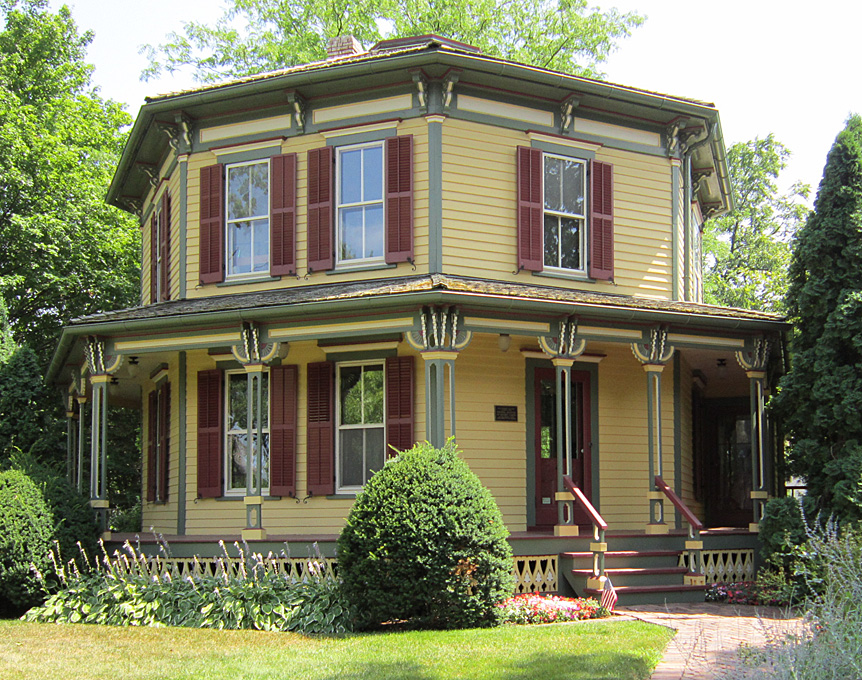 IL36 – Octagon House
Barrington, IL
This classic octagonal house is small but beautifully preserved. Octagons enjoyed a certain minor vogue in the 1850's, but they are extremely rare in the Midwest; in fact, there are only about ten extant octagons in the entire state of of Illinois. This one was built in 1860 by Joseph Brown. Brown seems to have missed the whole point of the octagon house, however, because despite its eight-sided exterior, the interior of the house is divided so that no octagonal corner is visible from the inside! The small spaces that develop from fitting a rectilinear floorplan into an octagonal space are used as coat nooks and as a stair closet. The house is used today for commercial office space.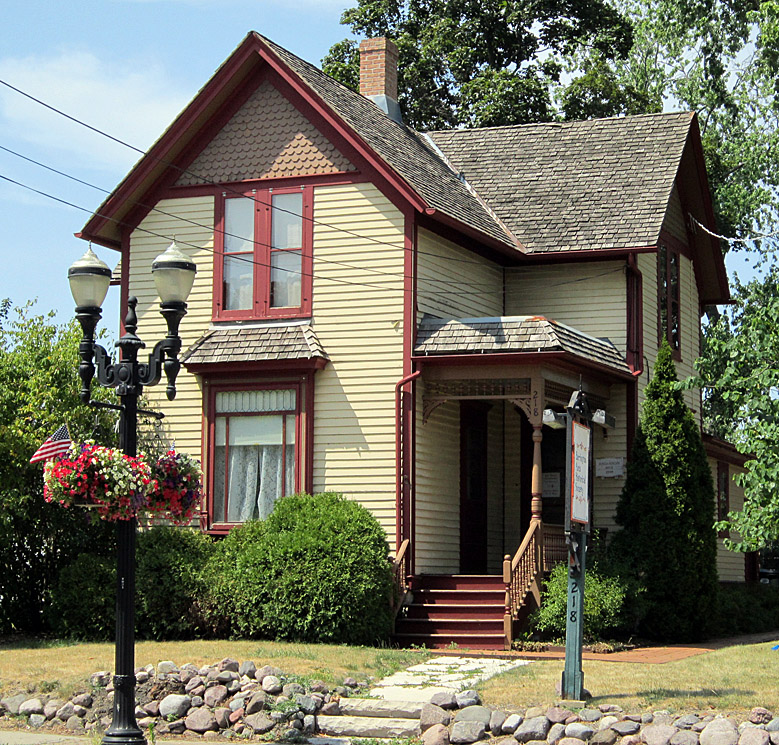 IL37 – Folk Victorian
Barrington, IL
This simple but charming Folk Victorian, with a nice period cast-iron lamp post in front, is directly across the street from the Octagon House.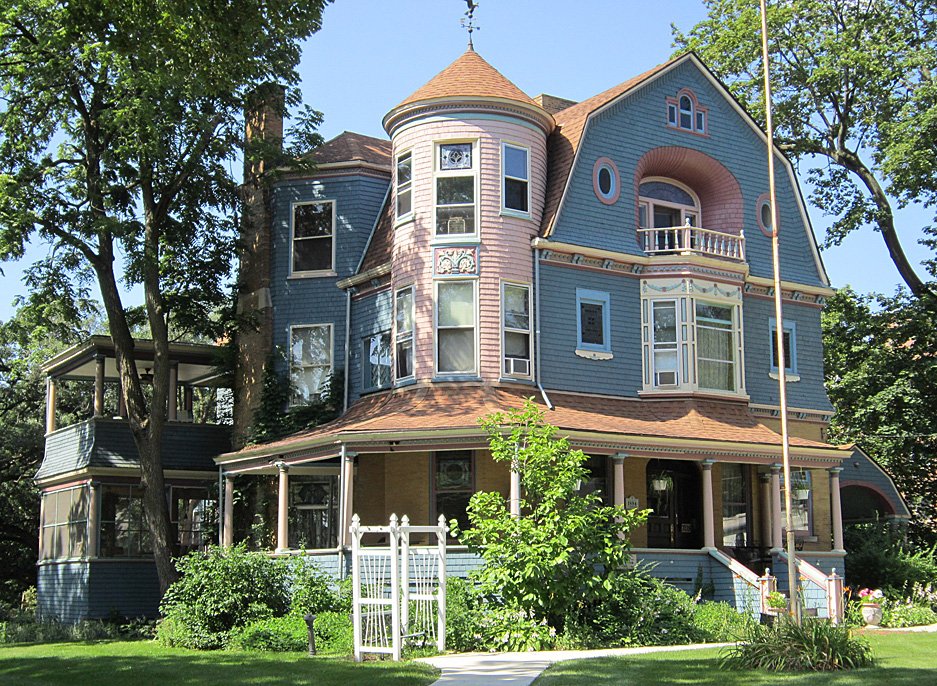 IL38 – Queen Anne
Elgin, IL
I first saw this huge Queen Anne house about 15 years ago, and at that time it was a wreck. It was utterly unpainted, the porches were falling off, the lot was grown up to weeds, etcetera. Then (apparently) some new owners purchased the property, and after a lot of hard work the house emerged again, like a butterfly from a cocoon. The photo does not do justice to just how much this house looms over the street around it. It is set on a bit of a hill, and on a corner, and is very tall -- three full stories plus a fourth-floor attic. The original owner undoubtedly built it to make a statement, and it does.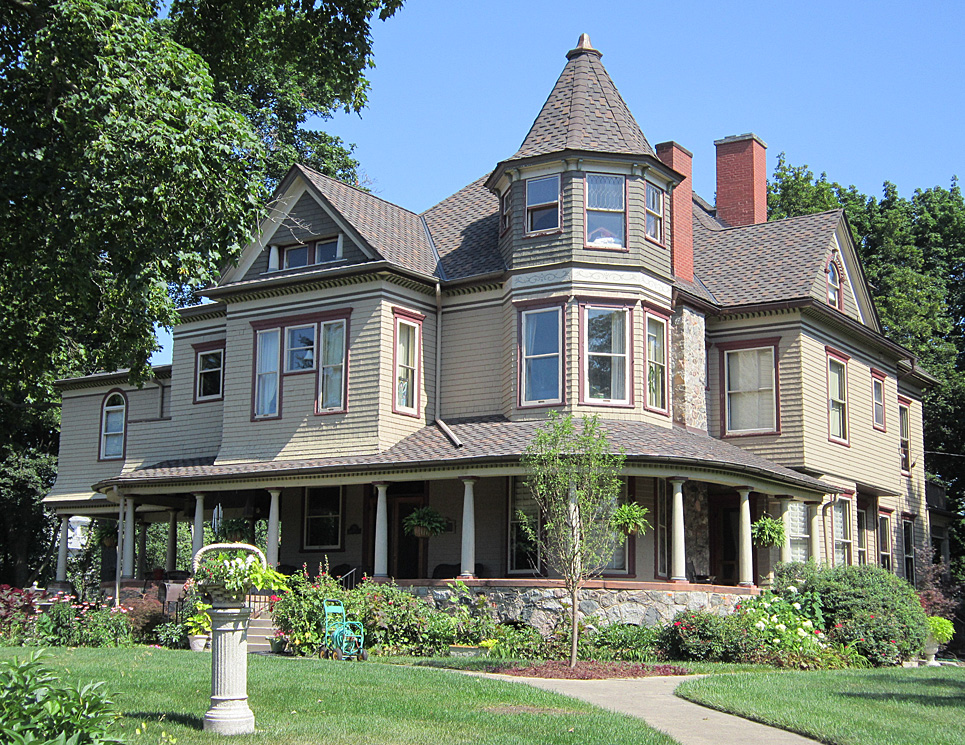 IL39 – Queen Anne
Elgin, IL
This sprawling Queen Anne is located just down the street from the above house (IL38). It is also on a corner, and comes complete with very large yards in the front and back and a matching garage. Both of these houses and the next two are located just to the east of a small river that runs through downtown Elgin, on a ridge that overlooks the city -- it is clear that this area was once the up-and-coming suburb for Elgin's well-to-do, circa 1895.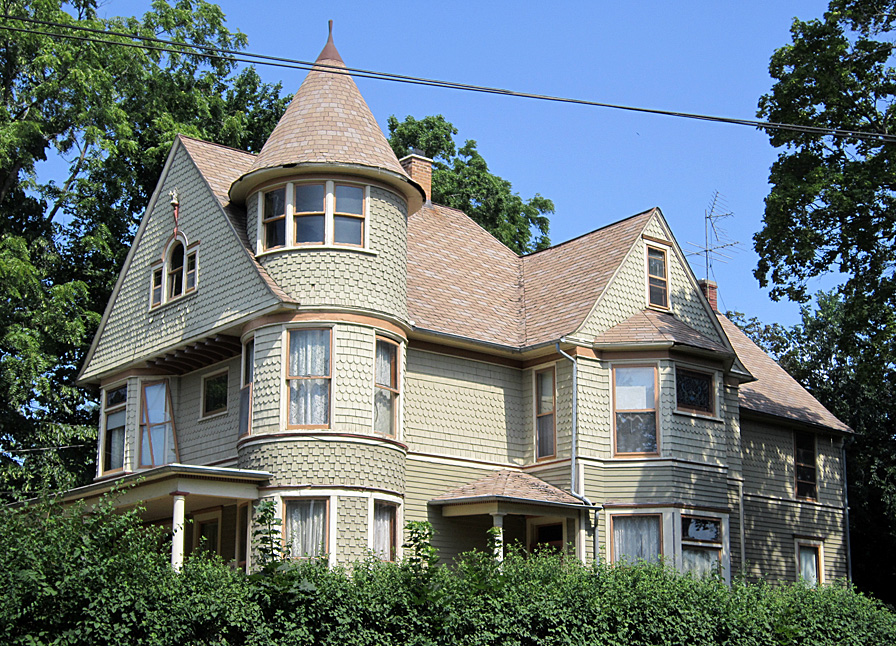 IL40 – Queen Anne
Elgin, IL
This house is located essentially across the street from house IL38. It is not nearly so large and looming as IL38, but the different styles of shingles running around the house are quite well-done and very true to what the house would have looked like originally.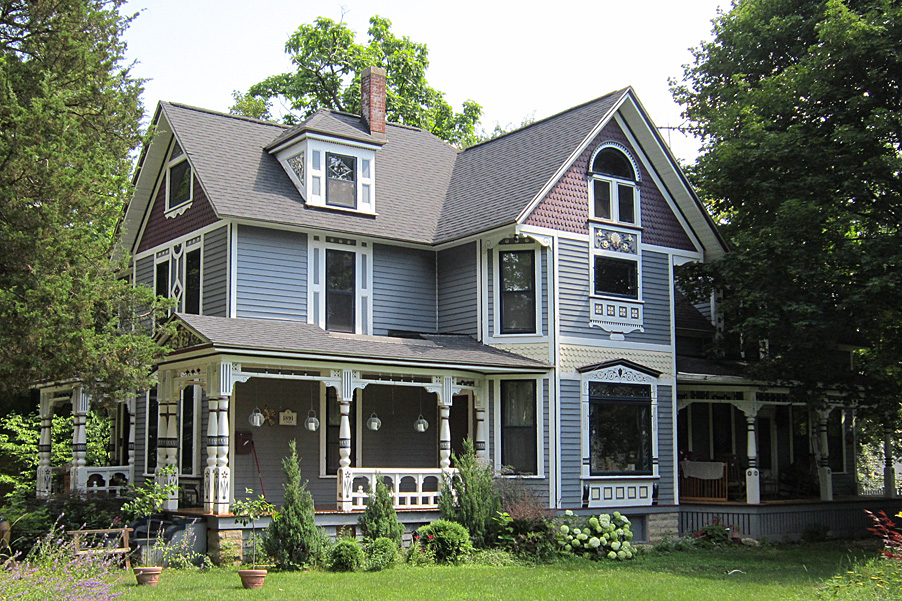 IL41 – Stick Style
Elgin, IL
The paint job on this house is what makes it stand out. Notice the flower motifs on the porch pillars and the elaborate tracery above the main windows.