Gallery of Victoria, British Columbia


After I was finished looking around Port Townsend, Washington, I took the ferry to Victoria, British Columbia, and stayed there for a few days. I went to Victoria primarily for their superb museums, and not for house photographs. However, as it happened, I was staying in an inn just off Fort Street, and Fort Street was once the fashionable street in Victorian Victoria, so....I took a few photographs. All these houses are either close to, or along streets leading to, the various museums I visited. An interesting thing about the eight houses in the gallery is that none of them is a private residence today. They are all commercial buildings, apartments, etc. Better that than the wrecker's ball, though.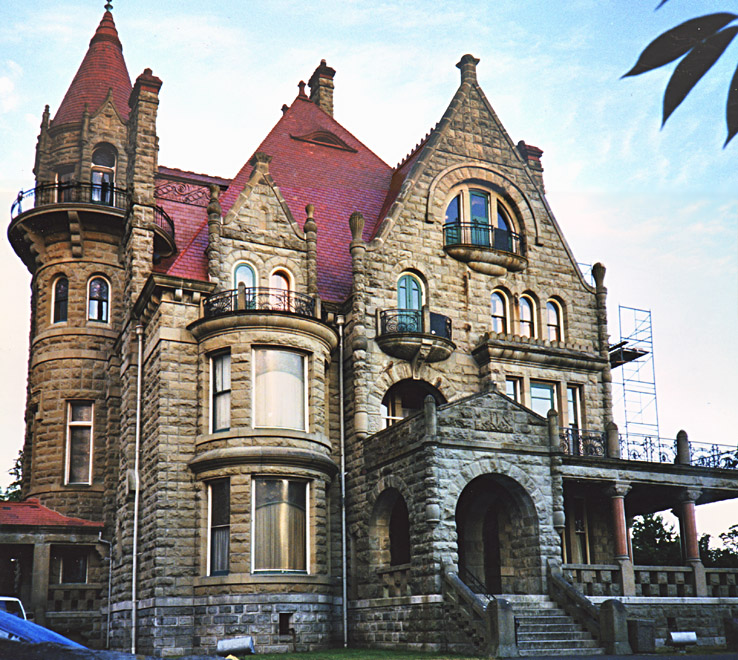 VC01 – Chatequesque
Craigdarrock Castle was built in 1890 by Robert Dunsmuir, a Scottish immigrant who struck it rich as a coal baron. Dunsmuir never actually lived in the castle, however. He died before it was completed and only his widow and children lived in it, and then only until 1908. It had a checkered history after that, serving as everything from a WWI hospital to a small college before it was purchased by the city of Victoria and renovated as a museum. The castle is built in the monumental Romanesque/Chateauesque style which was very nearly obligatory if you moved in the economic strata of Victorian society that could afford to build such castles. The interior is very Victorian, that is, filled with polished dark wood panelling, bannisters, doors, etc. Almost all the house is open to the public, including even the top of the tower (which has a breath-taking view of Victoria, since Dunsmuir of course built his castle on the top of the tallest hill in town).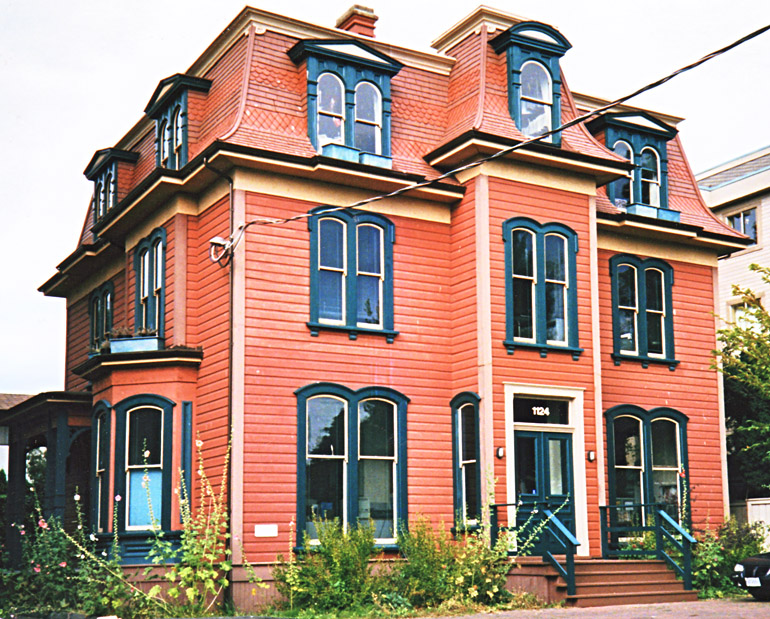 VC02 – Second Empire
This quintessential Second Empire house is a case of good news, bad news. The good news is, it is still standing, and looks to be in good shape structurally. It even has a reasonably Victorian paint scheme and the roof and dormers look very nice. The bad news is, it has been utterly stripped of any cornice detailing, all its brackets, and you know it had a flashier entrance when it was built. Well, you can't have everything. The building is in use today as office space, so I doubt that much of the interior decoration has survived. Most of the exterior has, including the bay windows, and that's good enough, considering that Fort Street is now a commerical district.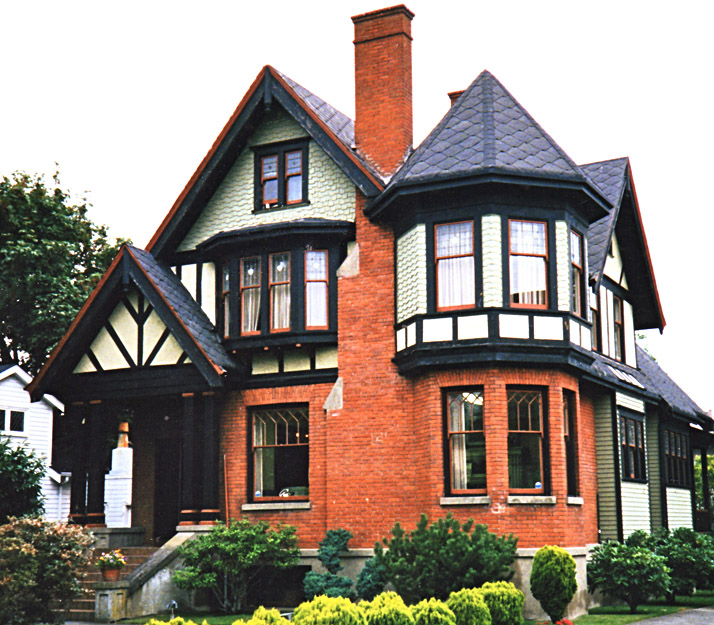 VC03 – Queen Anne
This late Queen Anne was probably built after the turn of the century. It is the home office now for an architectural firm, and is a better advertisement for their services any modern building could hope to be.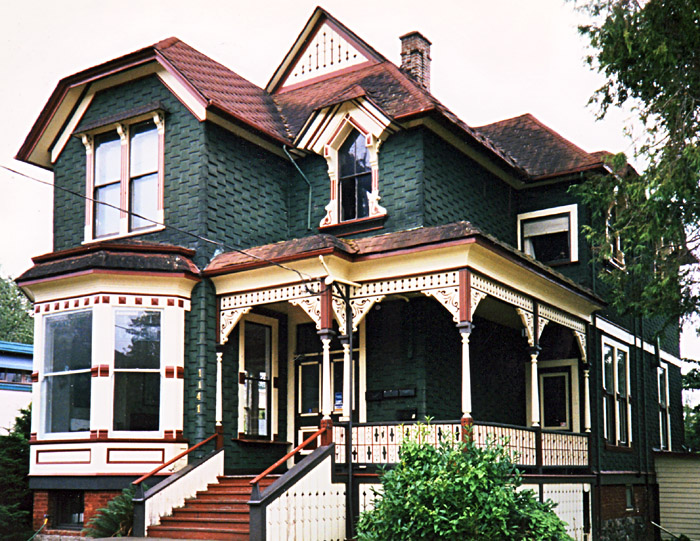 VC04 – Folk Victorian
This house is now a gift shop or beauty parlor, I forget which. The house next door is exactly identical, down to the tiniest detail of the window decoration. The second house may be in even better condition, but it isn't painted as interestingly, and besides, it had too many trees around it to photograph. Identical side-by-side Victorian houses aren't all that common. The Victorians (at least, those with enough money to purchase houses like this) weren't big on cookie-cutter design. They wanted their houses to be different. It is those of us in the 20th century who are (alas) only too willing to plunk down $380,000 for a new house that looks exactly like the 200 others in the subdivision.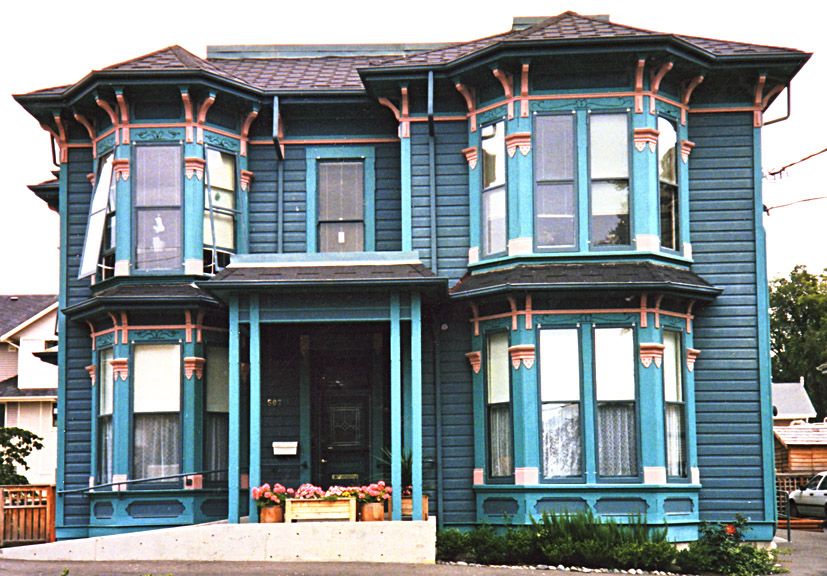 VC05 – Italianate
This lovely Italianate house is now used for assisted living for the eldery. (Note the ramp to the front door, rather than steps.)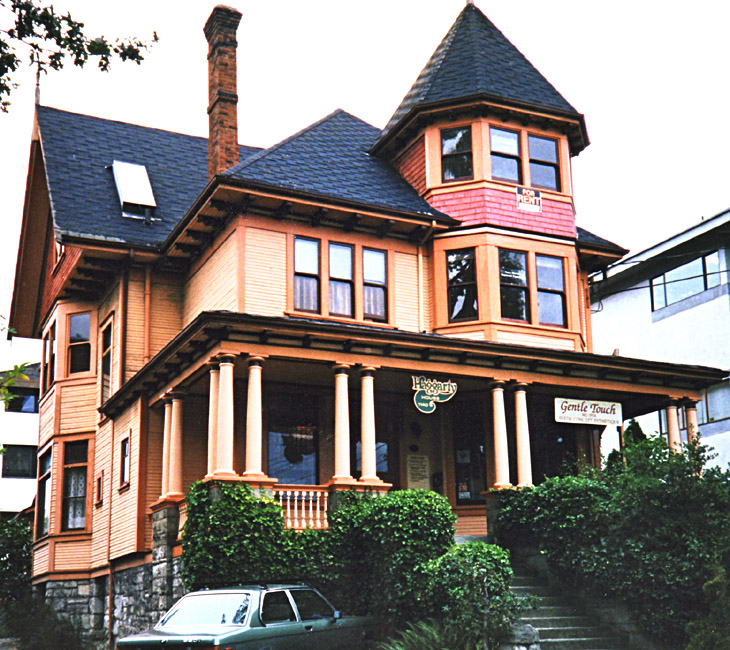 VC06 – Queen Anne
This classic Queen Anne is now commerical on the first floor (florist and a gift shop), and has apartments above. Note the "For Rent" sign on the tower. Just shows you how spacious those Victorian houses were, when you can put two stores and probably 2 - 3 apartments into one.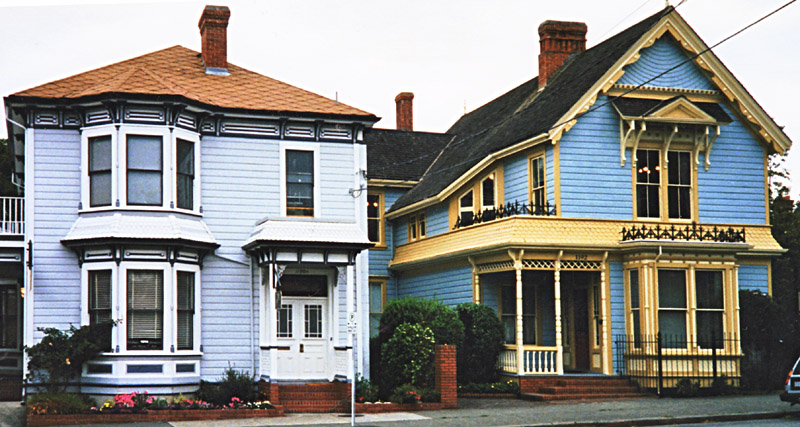 VC07 – Folk Victorians
We have two fairly modest but still quite nice Victorian houses here, an Italianate and a Folk Victorian. Both are in use as commerical space now, both have modern additions in back, and I doubt that their interiors have much left from the Victorian age. But, they are still standing, side by side, and their exteriors are nicely restored, and the additions don't look too bad. It could be a lot worse – like, there might be nothing here but some hideous strip-mall box from the 1960's, you know?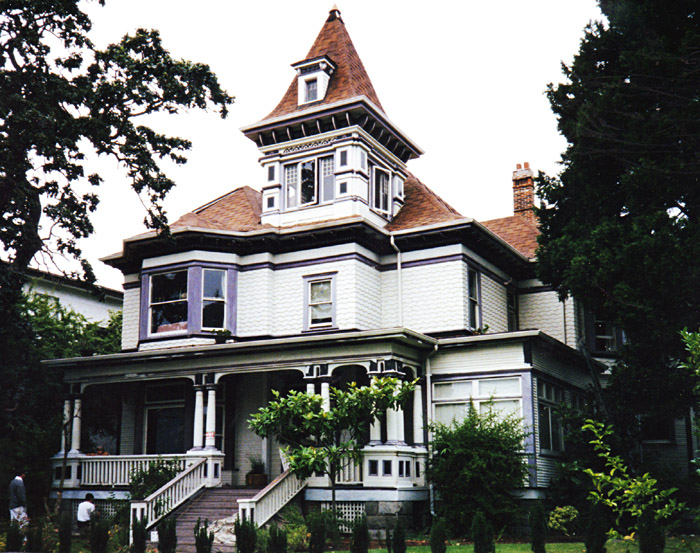 VC08 – Queen Anne
The splendid tower on this turn-of-the-century Queen Anne is what drew me to it. The house is either upscale apartments or a condominium now. In either case, the glassed-in addition to the porch doesn't look too bad. There was some touching up of the paint going on while I was there; you can see one of the workmen at the lower left.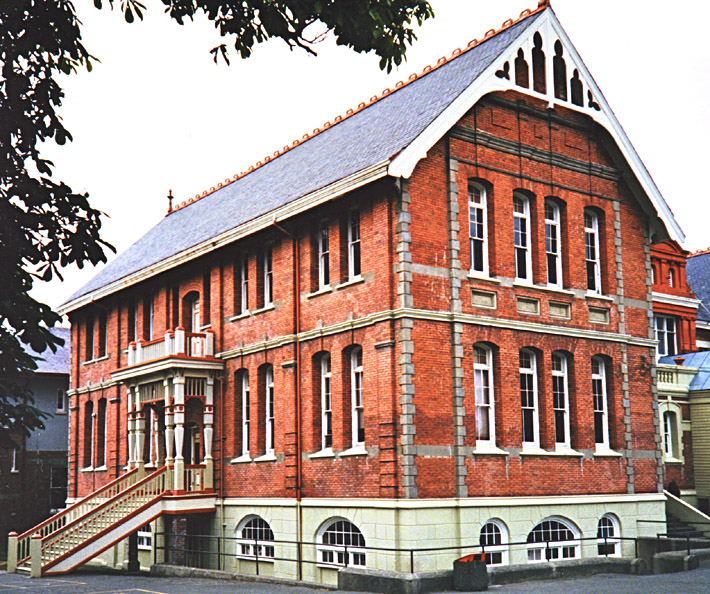 VC09 – Victorian School
This astonishingly well-preserved Victorian building, with a beautiful Italianate porch, is a grade school, and it always has been.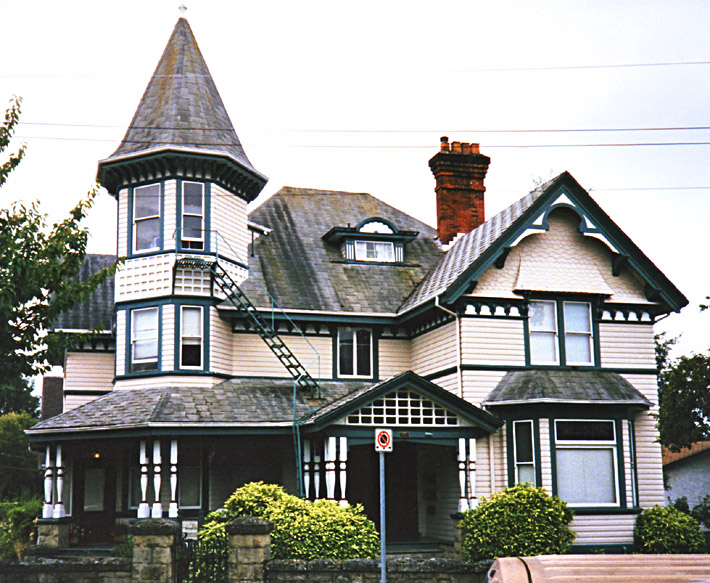 VC10 – Queen Anne
This is just a nice Queen Anne house, serving today as a bed and breakfast. It looks as all-American as apple pie, and it is (in a continent sense) even though it is in Canada.