Daniel Immerwahr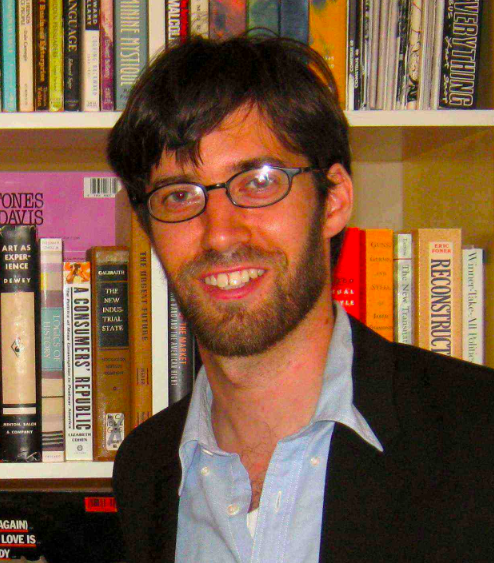 Assistant Professor
Department of History
Northwestern University
225 Harris Hall
1881 Sheridan Road
Evanston, IL 60208
847-491-7418

CV

Email: daniel.immerwahr at
northwestern.edu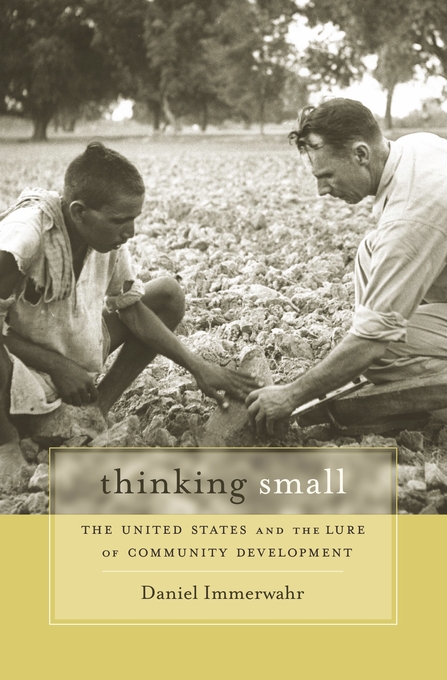 I am a scholar of U.S. and global history, specializing in development, empire, and the history of ideas. My first book,
Thinking Small
(Harvard, 2015), offers a critical account of the United States' pursuit of grassroots development at home and abroad in the middle of the twentieth century. I am now researching another book,
How to Hide an Empire
, about U.S. overseas territory
—
colonies, occupation zones, and military bases
—
in the twentieth century. I have written
for
Dissent
and
n+1,
and my Erdös number is 5.
My last name is pronounced IM-mer-var.
Teaching
I have taught at UC Berkeley, Columbia, Northwestern, and San Quentin State Prison. At Northwestern, I offer regular lectures on global history, U.S. foreign relations, and U.S. intellectual history. Click here for my syllabi and teaching schedule.

Research
How to Hide an Empire: Geography and Power in the Greater United States
(forthcoming 2018)
Thinking Small: The United States and the Lure of Community Development
(Harvard, 2015)
Reviews: The Nation, Boston Review
Interviews: Dissent, Toynbee Prize Foundation

"
Polanyi in the United States: Peter Drucker, Karl Polanyi, and the Midcentury Critique of Economic Society
,"
Journal of the History of Ideas
(2009)
A Japanese translation was published in

Gendai shiso

(2010)

"
The Fact/Narrative Distinction and Student Examinations in History
,"
The History Teacher
(2008): click
here
for preprint.
"
Caste or Colony?: Indianizing Race in the United States
,"
Modern Intellectual History
(2007)
Reprinted in India in

Bheem Patrika

as a three-part series, commencing with the June 2012 issue

I wrote a short memo to supplement this research, "On B. R. Ambedkar and Black-Dalit Connections." A Telugu translation of it was published in

Bahujana Keratalu

, April 2012
"
The Politics of Architecture and Urbanism in Postcolonial Lagos, 1960-1986
,"
Journal of African Cultural Studies
(2007)
"History and the Sciences," co-authored with Philip Kitcher, in
Action, Art, History: Engagements with Arthur Danto
, ed. Daniel Herwitz and Michael Kelly (Columbia University Press, 2007)
Reprinted in

Explanation in the Special Sciences: The Case of Biology and History

, ed. Andreas Hutterman, Oliver Scholz, and Marie I. Kaiser (Springer, 2014)

"
The Thirty Years' Crisis: Anxiety and Fear in the Midcentury United States
, "
Modern Intellectual History
, forthcoming, review of Mark Greif,
The Age of Crisis of Man,
and Fred Turner,
The Democratic Surround
"
Growth vs. the Climate
,"
Dissent
, Spring 2015
"
What Did You Do in the War, Doctor?: On Social Scientists and Social Change
,"
n+1
, March 2015, review of Michal Shapira,
The War Inside
, and Peter Mandler,
Return from the Natives
"
Charting the Road to Davos: The Rise and Fall of Internationalism
,"
Dissent
, Spring 2013
"
Modernization and Development in U.S. Foreign Relations
,"
Passport: The Society for Historians of American Foreign Relations Review
, September 2012
"
The Foundation Statesmen
,"
n+1
, August 2012, review of Inderjeet Parmar,
Foundations of the American Century