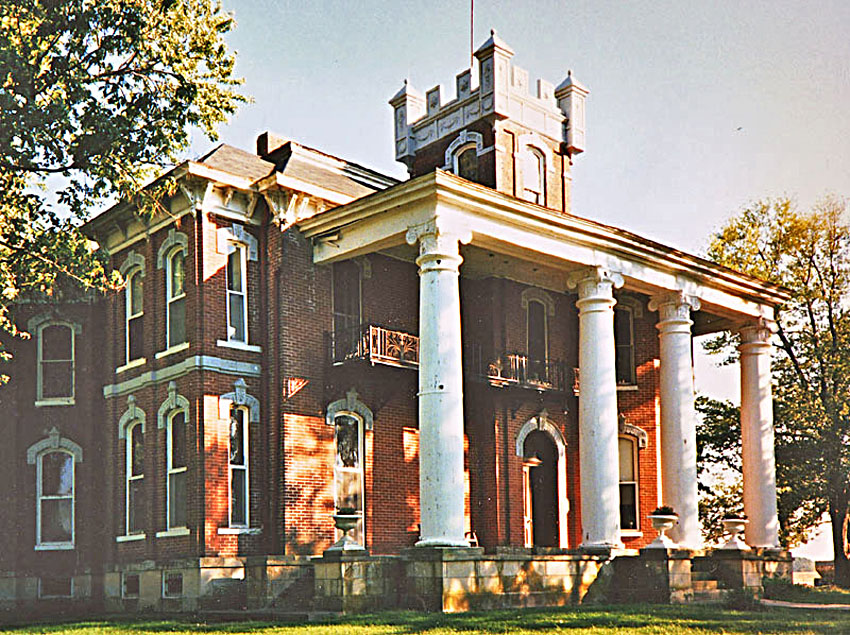 Mo01 – Ravenswood
Boonville, MO
Written in 1997: Ravenswood is located on a farm 11 miles south of Boonville, and must be seen to be believed. The main part of the house is an Italianate built in 1880 which was designed by an architect. That part of the house is beautifully proportioned and classically elegant. Alas, the son who inherited the house butchered it beyond comprehension in 1906 by tacking on a clumsy classic portico, a silly castleated cupola, and a large addition at the rear almost as badly designed as the front. The son didn't use an architect – he designed everything himself – as is painfully clear from the amateurish porch with its awkwardly spaced columns and graceless roof crushed down on top of the second-story windows. The cupola is so tasteless, it is almost quaint in a folk-art sort of way. The house is the home of a very eldery gentleman who is the great-grandson of the original builder, and he will let individuals tour his house for $4. As far as I can tell, no one has done anything to the interior of the house since it was expanded in 1906. And I mean, nothing. Faded Victorian curtains so old that they are falling apart cover the windows; stained wallpaper from at least the turn of the century is in every room; once-luxurious carpets with paths worn down to the nap lie on the floors. The house is filled with dust-covered artwork and antiques, most of it chipped and cracked. It is fascinating. Walking through a beautiful museum house is one thing, but walking through a Victorian that still has ALL the original plaster work, the original chandeliers, the original doors, even the original carpets and wallpaper – no matter how dusty they may be – is a real trip. But the house is not really a museum. A sign by the front door asks you to be patient if you ring the bell, and this is because the owner conducts the tours himself. He is very elderly, and in frail health. He can only move around very slowly, with the aid of a walker. I suspect this Sunset Boulevard treasure will not last much longer. I cannot imagine any of his young relatives, whose photos are incongruously stuck here and there, wishing to live in this slowly decaying house in the middle of nowhere. Once they inherit it, I have little doubt they will auction the contents or maybe just give them away for a tax write-off. But they won't move in.

2003 update: It has been six years since I wrote the above. One of Ravenswood's neighbors has e-mailed me that the elderly gentleman has passed on. And exactly as I predicted, the heirs have abandoned the house and it is falling into ruin.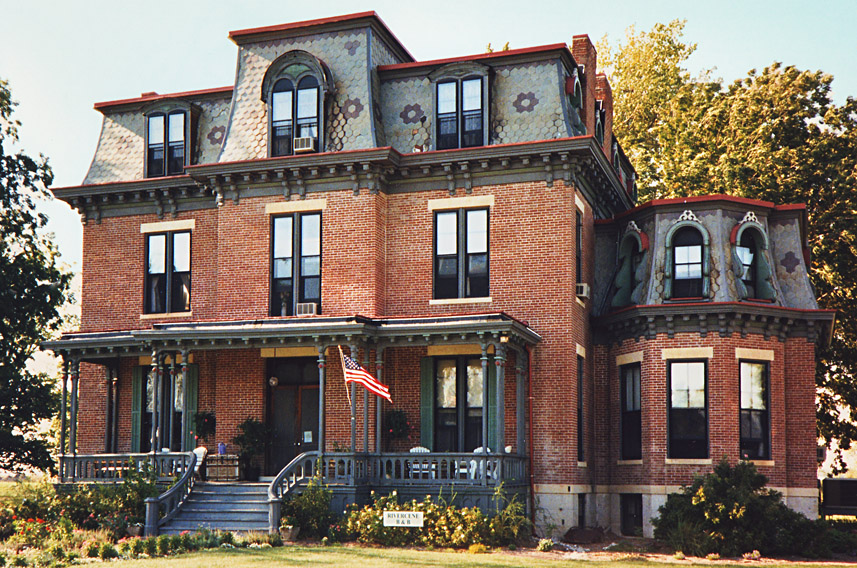 Mo02 – Second Empire
Boonville, MO
This beautifully restored Second Empire mansion is located just north of Boonville, Missouri, very close to the bridge across the Missouri River. It was built in 1864 by a riverboat baron, one Captain Joseph Kinney, and named Rivercene. At the time the house was built it fronted on the river, but levees have been built since then (which did not, however, protect the mansion during the 1993 floods) and the house is perhaps a mile back from the river today. Rivercene remained in the Kinney family (in slowly decaying condition) until 1992, when it was purchased by Jody and Ron Lenz and transformed into a bed and breakfast.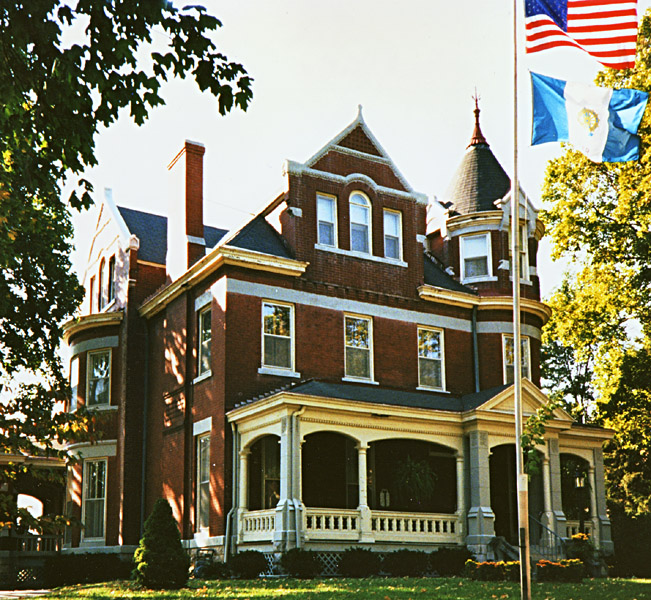 Mo03 – Roslyn Heights
Boonville, MO
This mansion was built by Wilbur and Rhoda Johnson in 1895. At the time of its construction, it was only one of several mansions lining Boonville's Main Street, but today it is the sole survivor of that Victorian era. The Johnsons sold the house in 1923 when they retired to Kansas City, and it went through a number of owners before the Missouri chapter of the Daughters of the American Revolution purchased the house and refurbished it in 1983.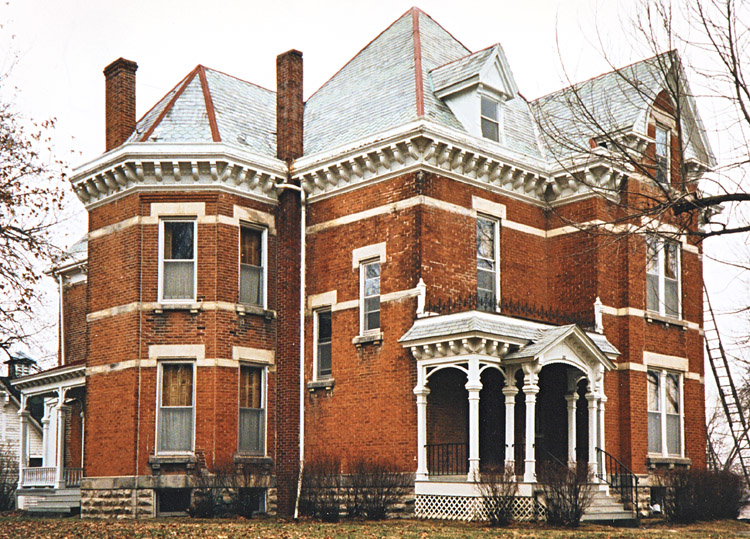 Mo04 – Queen Anne
Fayette, MO
I found this house in Fayette, Missouri, a small town in the central part of the state. The house is part Gothic, part Queen Anne, and part Italianate, so I am guessing it dates from the late 1870's to early 1880's. A very solid and imposing house even by the standards of Victorian Chicago, you can well imagine what kind of impression a house of this expense must have made in Fayette, Missouri. The house still looks impressive, despite the fact that it has clearly seen some pretty lean years. Happily, it appears to be undergoing a major renovation, as the opposite side from this view is stripped and covered with scaffolding and ladders. The house has a polychrome slate roof (very faded and hard to see in this photo, which was taken on a dreary November day, but it is there), as well as a stone foundation and stone window lintels.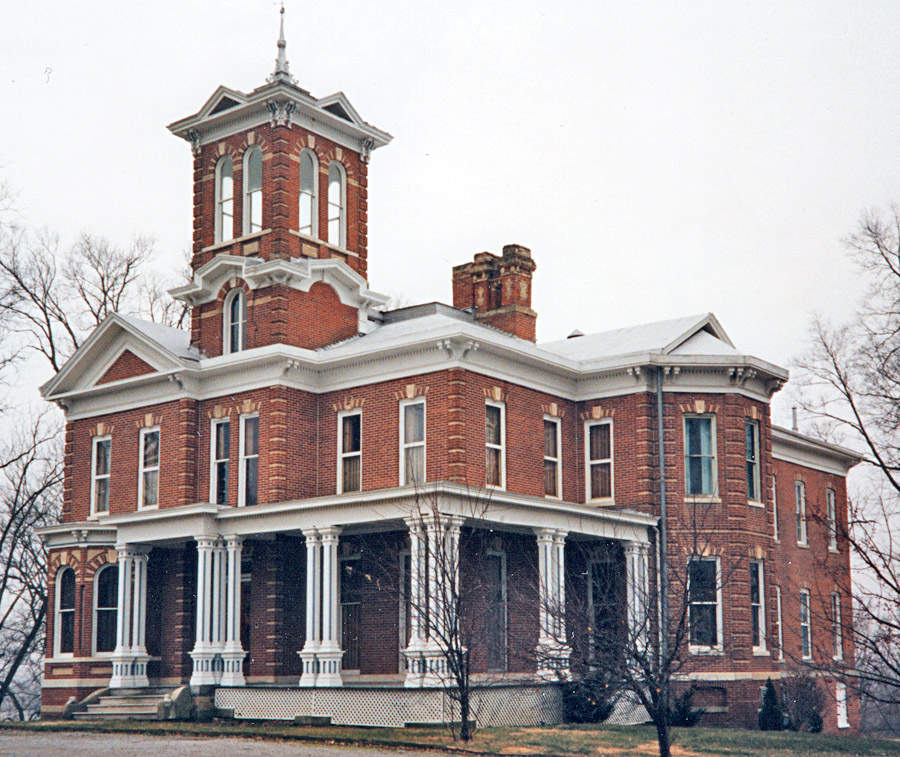 Mo05 – Brick Italianate
Glasgow, MO
I consider my web publication of this house to be a major coup. Your grand Italianate villas don't come much grander than this, but even so, this house in the small town of Glasgow, MO, is unknown outside the state. Glasgow is an old town on the Missouri River, and this house was built in about 1875 by James Thompson, a successful tobacco merchant and banker. The mansion is not fussy or overly-ornamented with gingerbread. There is nice stone detailing above the windows, elegant corner quoins, a haughty arched cornice above the third-floor tower window, and an understated, Federalist feel to the clean triangular eaves on the front and atop the tower. The wrap-around porch is a reproduction, added about ten years ago by the present owner. The original porch was somewhat more elaborate, but not overly so. Given the mansion's relatively simple window decorations and its understated brick work, I think it has always been fairly spare in its decoration. In its current incarnation, it could be called Italianate-Federalist. A detailed history of this house (and other houses in Glasgow) is available at this link.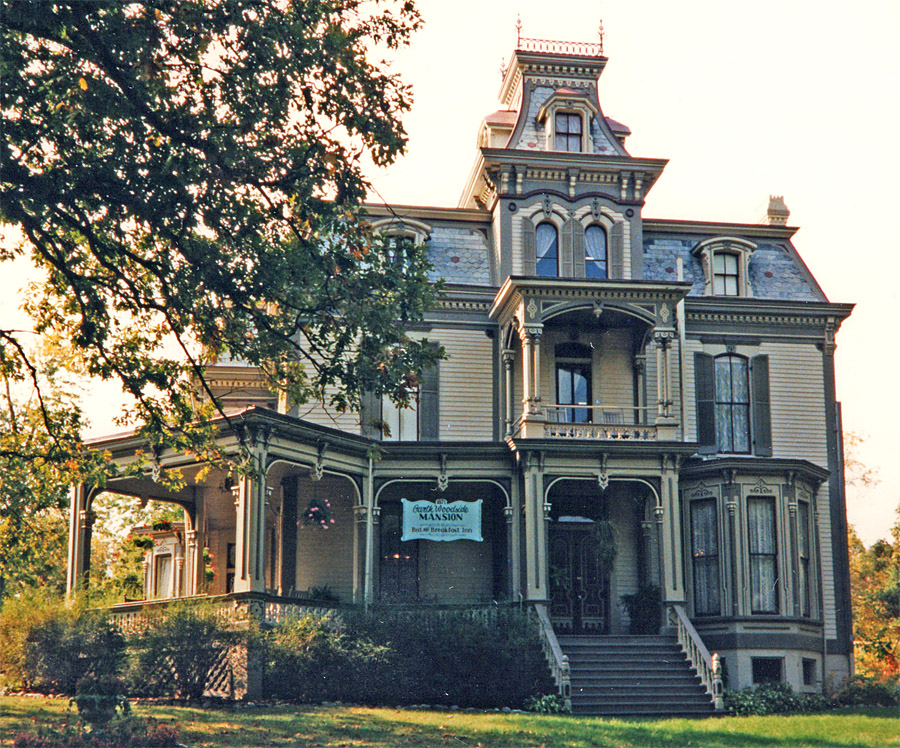 Mo06 – Garth Woodside Mansion
Hannibal, MO
This splendid Second-Empire house was built in 1871 just outside Hannibal, Missouri, by Colonel John Garth, a tobacco and lumber tycoon. Mark Twain was a friend of the Garth's, and stayed in the house several times. The house is listed in the National Register of Historic Places and is a three-star bed and breakfast today.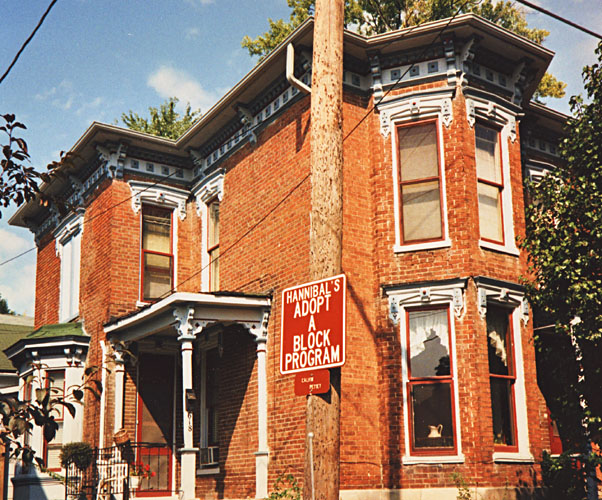 Mo07 – Italianate
Hannibal, MO
Hannibal, Missouri, is an old river-boat town on the Mississippi, of course, as immortalized in Mark Twain's novels. It has seen better times economically, which means that a lot of the old Victorian houses built by the steam-boat and lumber millionaires are still standing, because there hasn't been much real-estate development to create any pressure to tear them down. Unfortunately, this also means that a lot of the old Victorians are in pretty sad condition. This house represents one of the happy exceptions, however. It is located in a blue collar neighborhood and isn't even listed in the Historic Hannibal guide; nonetheless, it is among the more striking Italianates in town and I was especially impressed by the beautiful restoration of the cornice.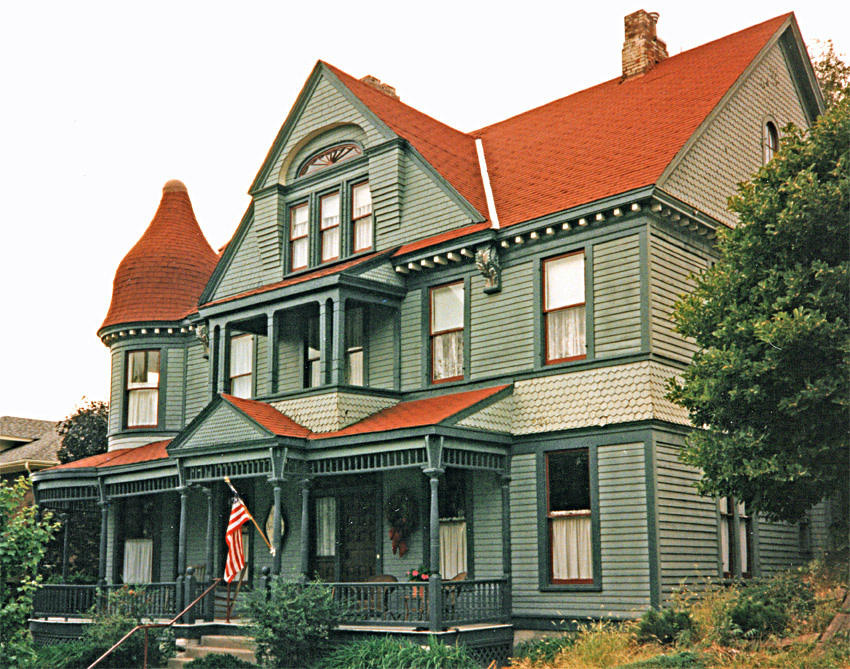 Mo08a – Queen Anne
Hannibal, MO
This classic Queen Anne was built by lumber baron W. B. Pettibone in 1889. It is now a bed and breakfast, called Reagan's Queen Anne.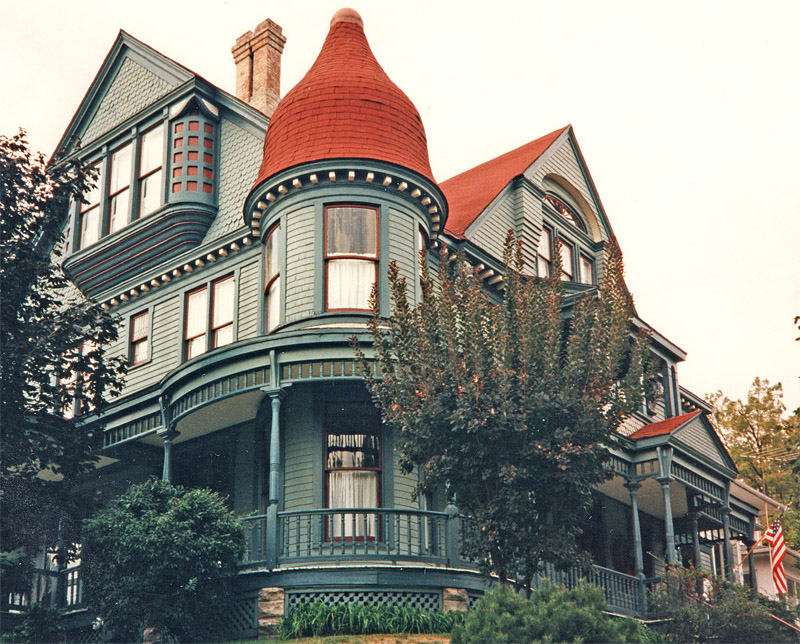 Mo08b – Queen Anne
Hannibal, MO
An alternative view of Reagan's Queen Anne, showing off the elaborate asymmetry of the Queen Anne style.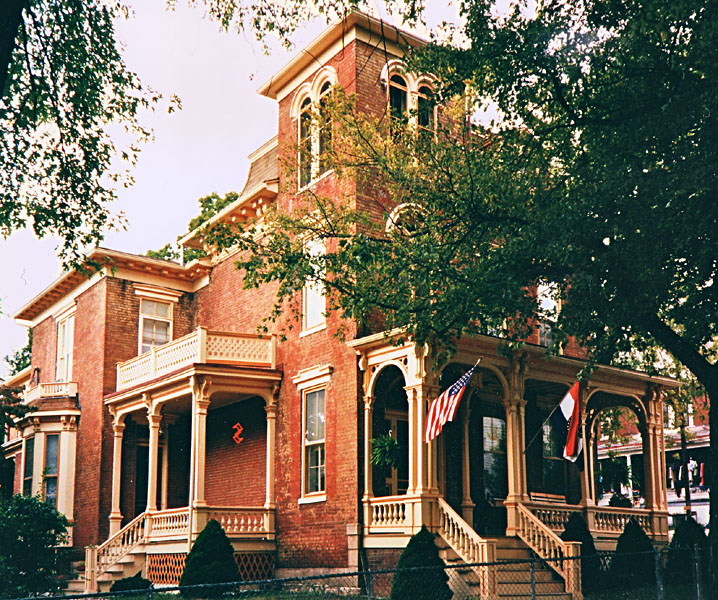 Mo09 – Italianate
Hannibal, MO
This brick Italianate villa was built in 1871.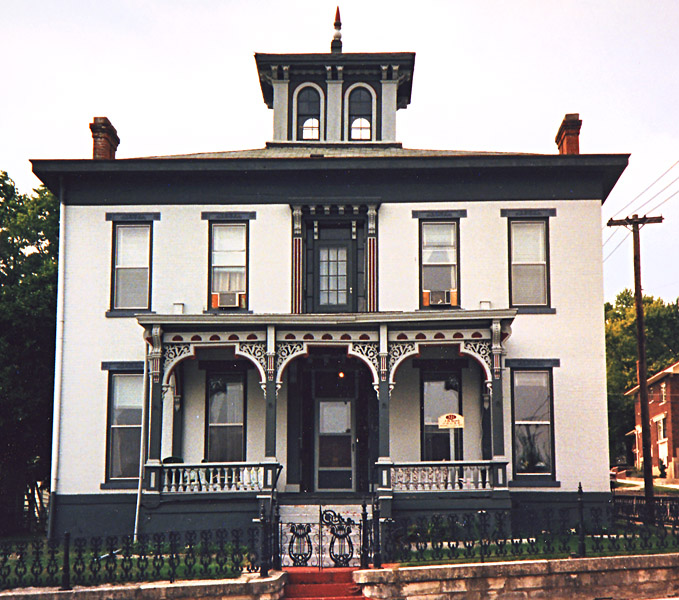 Mo10 – Tuscan Italianate
Hannibal, MO
This classic Italianate villa with a belvedere is the J. B. Brown house, built in 1870. Brown came to Hannibal in 1832 and eventually built this house with California Gold Rush money.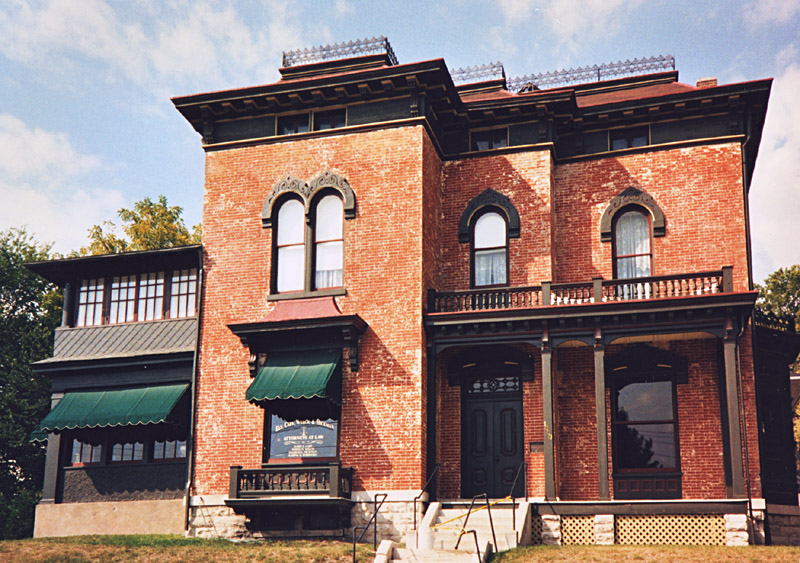 Mo11 – Italianate
Hannibal, MO
The Hannibal tour guide refers to this one as a "Second Empire" house, possibly because of the iron cresting on top, but the house is far more Italianate than it is Second Empire. It was built in 1865 by the publisher of the Hannibal Courier, and is now in use as a law office. The double-story addition at the left is clearly much newer than the rest of the house.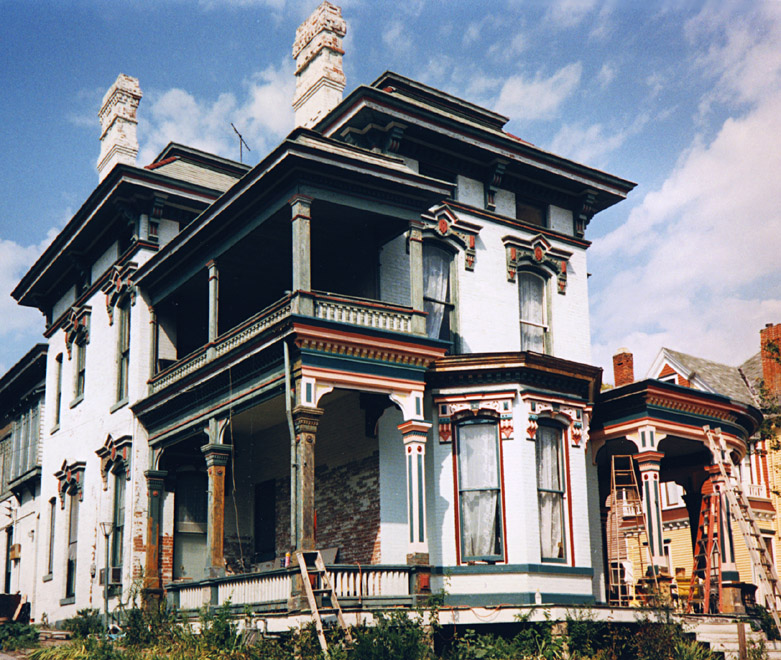 Mo12 – Italianate
Hannibal, MO
I was delighted to find this house in the middle of an all-out restoration. (The side of the house not visible from this camera angle was covered with ladders and scaffolding on the day I was in Hannibal.) You can clearly see the "before" and "after" versions of the porch in the center of the photo – which, by the way, if I were doing the restoration, I would completely tear out. The porches on this house are not original architectually, and their awkward height and oversized dimensions make them look completely out of place. (OK, so I'm a purist.) The Hannibal tourist guide says this is a "Second Empire" house, built in 1885, with the porches added after 1900. The part about the porches is obvious enough, but the very slightly sloped roof isn't really a mansard, and the house is more Italianate than Second Empire.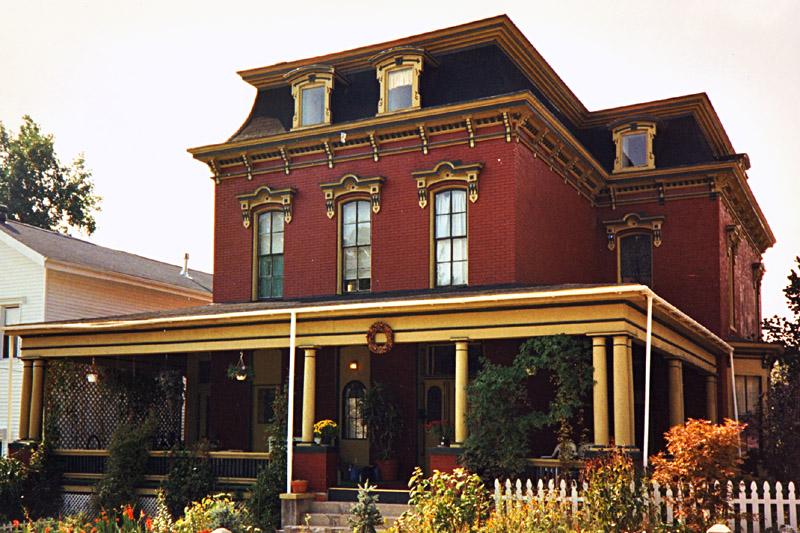 Mo13 – Second Empire
Hannibal, MO
This beautifully restored Second Empire house is the Andrew Settles House, built in 1872. The porch was added in 1910, but doesn't look TOO awful on the house, unlike most large porches added-on after the fact to Second Empire or Italianate houses.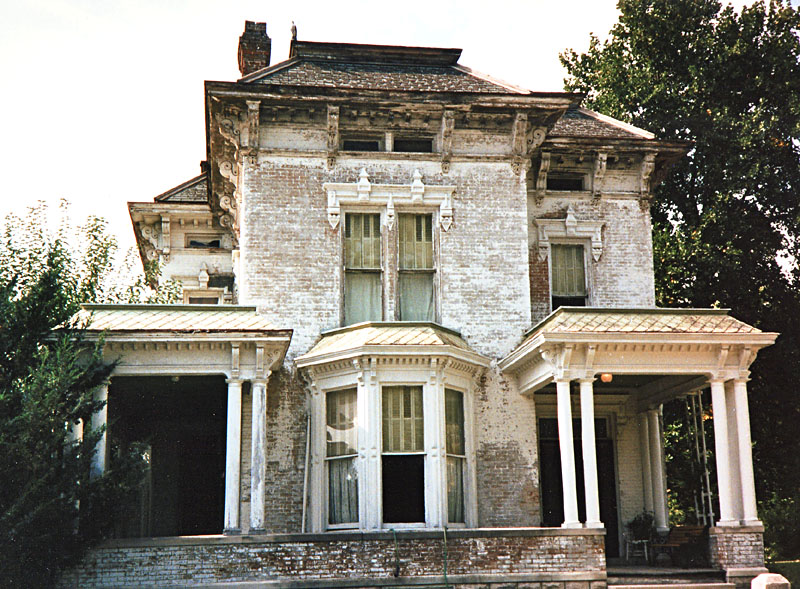 Mo14 – Second Empire
Hannibal, MO
This is the Doyle-Mounce house, built in 1880. The Hannibal tourist guide refers to this as a Second Empire house, and it has just enough of a mansard roof that I suppose the label fits – although it is clearly more Italianate in overall style than it is Second Empire. I think (or at least, I hope) the house is in the process of being (very slowly) restored, since it showed evidence of fairly recent paint-stripping on the cornice and on the brickwork. On the other hand, I saw no evidence whatever of any on-going work when I was there, so I'm not sure what the status of the house is. It is very unlikely that the awkwardly heavy porches to either side are original (especially the one to the left) because they do not fit the style of the house at all.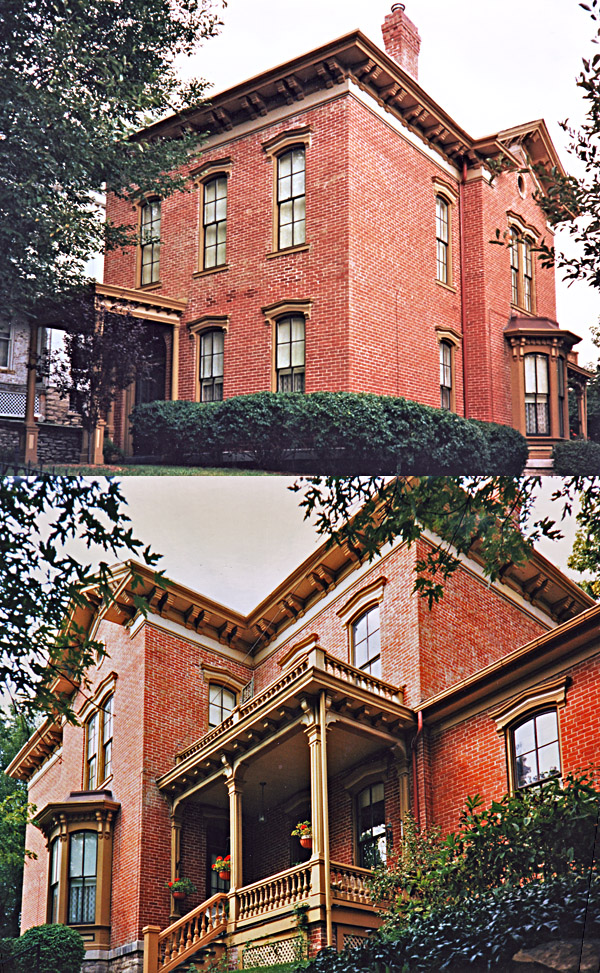 Mo15 – Italianate
Hannibal, MO
This gorgously restored Italianate (although, the cornice and porch paint scheme is pretty dull) is the Frank P. Hearne house, built in 1871. Note the lovingly restored and authentically sized back porch – and note how much more beautiful the house looks when it has the symmetry and balance provided by a porch of the correct dimensions, rather than the oversized 20th-century "improvements" that have been tacked on to the previous three houses in this gallery.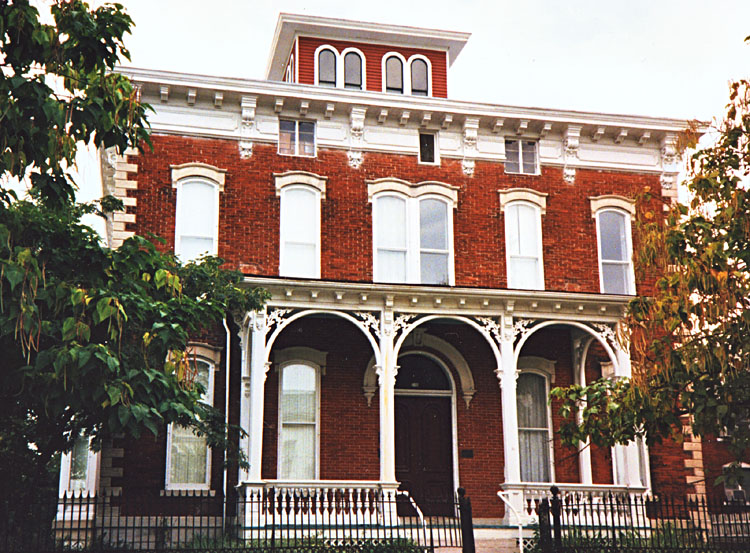 Mo16 – Italianate Villa
Hannibal, MO
This Italianate Villa is a case of good news, bad news. The good news is that the house is in beautiful condition and is gorgeously restored – the bad news is that this is true only so long as you don't let your eyes wander above the second floor. The original cornice has been awkwardly and crudely pierced in three places to make room for small ugly windows, and the cupola has been completely stripped of all its decoration and recovered with (hold your nose) vinyl siding. Well, at least they chose red vinyl siding.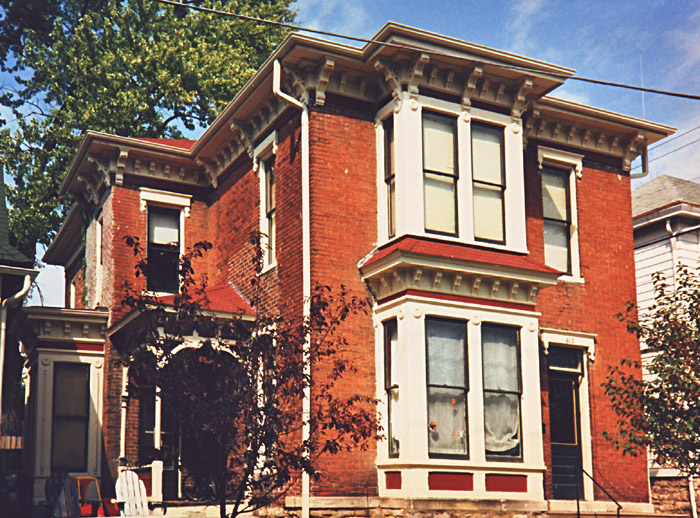 Mo17 – Italianate
Hannibal, MO
This is another "neighborhood" Italianate that I found while wandering around the back streets in Hannibal. It will never win any preservation awards, but for a 130-year-old home in a working class town, it is looking pretty good.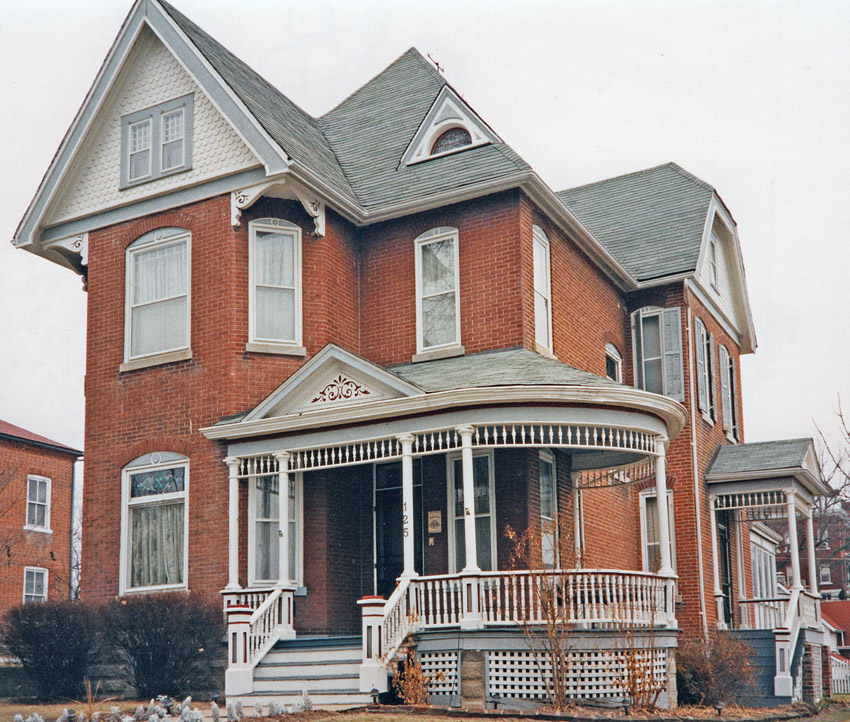 Mo18 – Brick Queen Anne
Hermann, MO
Most Victorian aficionados wouldn't give this house more than a second glance, I suspect. It isn't painted every color of the rainbow, it isn't super-large, and it isn't eye-popping. But I like this house, a lot. Look a bit closer. It has a fine circular porch, with a matching small porch in the rear. It has an interesting roof line, with a gothic gable in front but a jerkin-head gable at the rear. From this one angle you can see seven different walls. Note the extremely narrow side windows in the rear extension...no one would spend money on such a thing today, but the Victorians would and did. There is stained glass in the decorative pane above the front window, and in the half-moon skylight set high in the attic roof. Last but not least, it is made of brick. There is something about the solid honesty of a house actually built out of brick...rather than merely covered with it as a decorative veneer, which is all we do today...that strongly appeals to me. A psychologist would probably say that that indicates I have some deep-rooted psycho-mumbo-jumbo need for stability in my life. I just think it means I like solid brick Victorian houses. Like this one.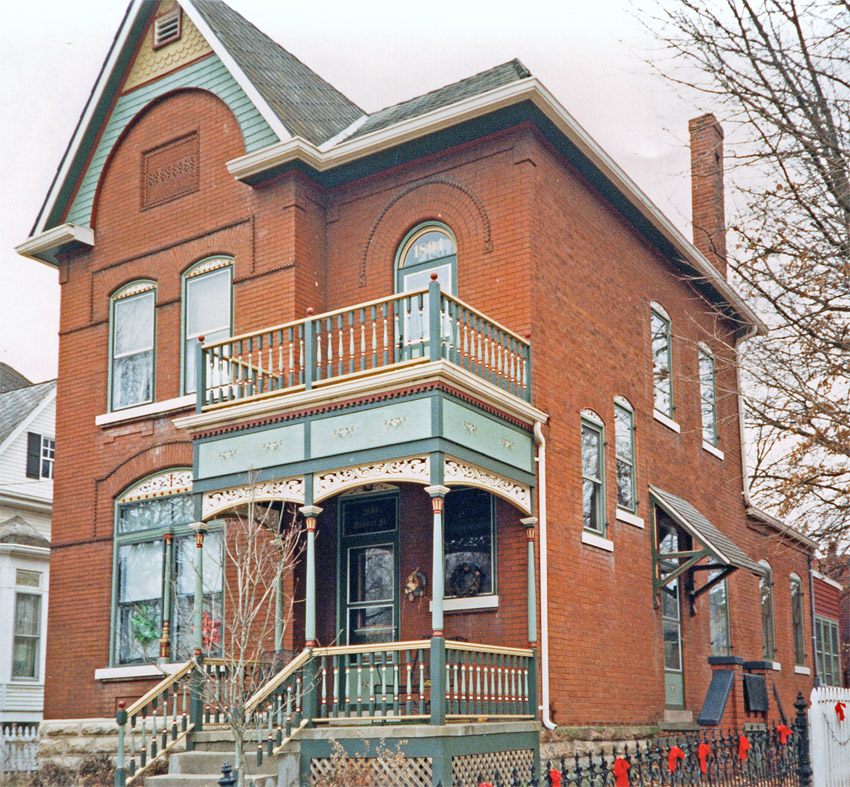 Mo19 – Brick Victorian
Hermann, MO
The owners of this simple but elegant brick house have thoughtfully included the date of its construction – 1894 – in the arched glass transom above the door that opens to the second-floor deck. This was the last house I photographed on my whirlwind sprint through Hermann. There was a light rain falling, and it was actually after sunset when I noticed that I had one frame left in my camera. I was already in my car and headed out of town, because the evening gloom had become so deep by this time that it was difficult even to read the street signs. On the spur of the moment I decided to "waste" the last frame by taking one last photo, so I pulled over, hopped out of the car (I didn't even turn the motor off), set the camera to no-flash so that it would take the maximum exposure, took the shot, and drove on. It didn't take me 30 seconds, and I had no thought that I would get anything on this frame except an unusable sea of black. I was flabbergasted by the result. This photo looks brighter than a lot of photos I've taken in broad daylight. It just proves once again that dazzling bright sunlight is not necessarily a good thing, when you're photographing houses.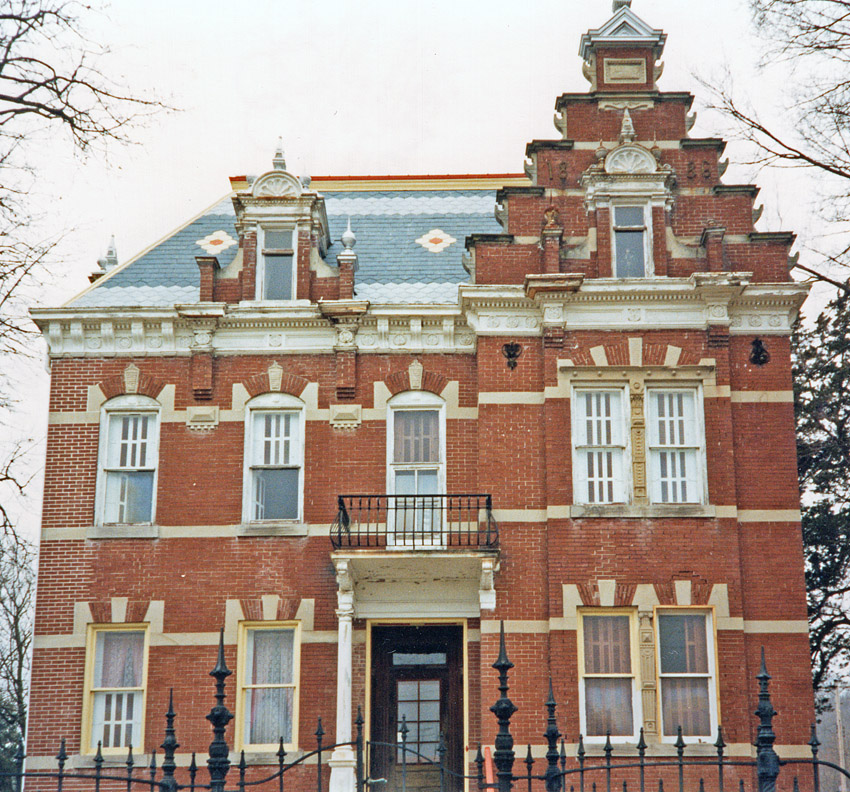 Mo20 – Flemish House
Hermann, MO
This house is a gem even in its current condition, and I am pleased to say that it was undergoing renovation when I found it. You can just see some of the freshly redone brickwork at the left. The one pillar on the porch is new, but not yet painted. I look forward to returning to Hermann in a year or so, and seeing how much progress has been made. The decorative tile roof on this house is very similar to that on house Mo02, but the pattern is far brighter and easier to see, which leads me to think that the roof must already have been renovated.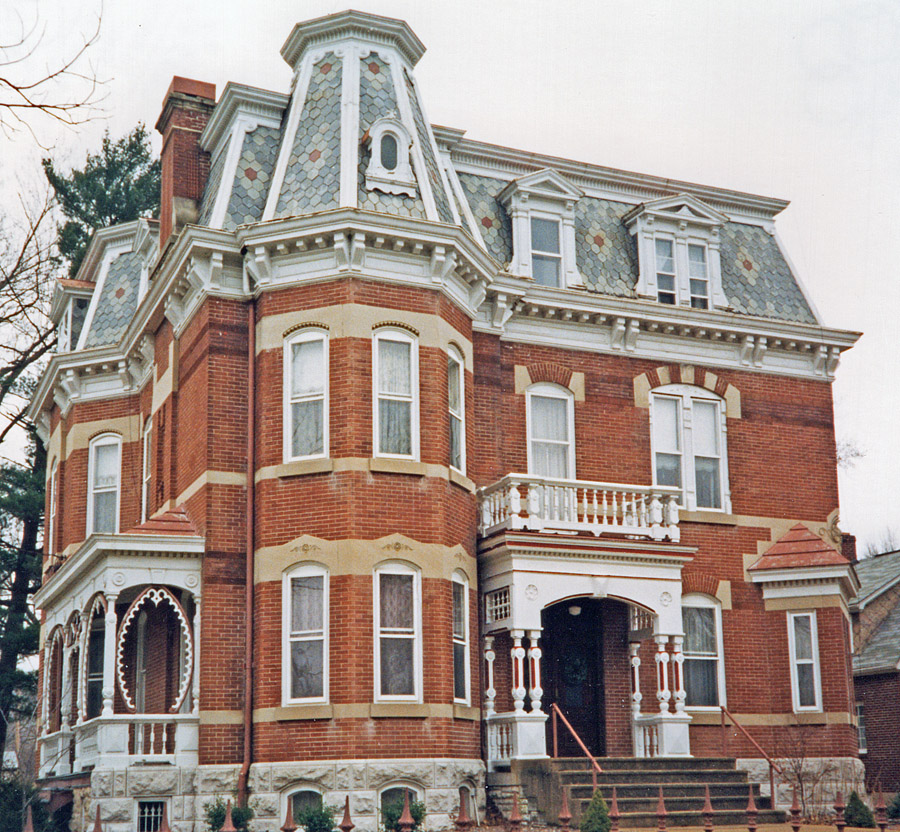 Mo21 – Second Empire Mansion
Hermann, MO
This quite spectacular Second Empire mansion shares several similarities with houses Mo02 and Mo04, aside from the fact that they are all located in small towns in central Missouri. They all feature decorative slate roofs with essentially the same tiling patterns, a mixture of architectural styles (Queen Anne asymmetry for the main body, various treatments for the roof and dormers), massive cut-stone foundations, and a similar use of light-colored stone decorating the windows and running around the house in bands. This house is presently the most impressive of the three – but the other two are under renovation, so we shall see if it is still the leader in a year or two.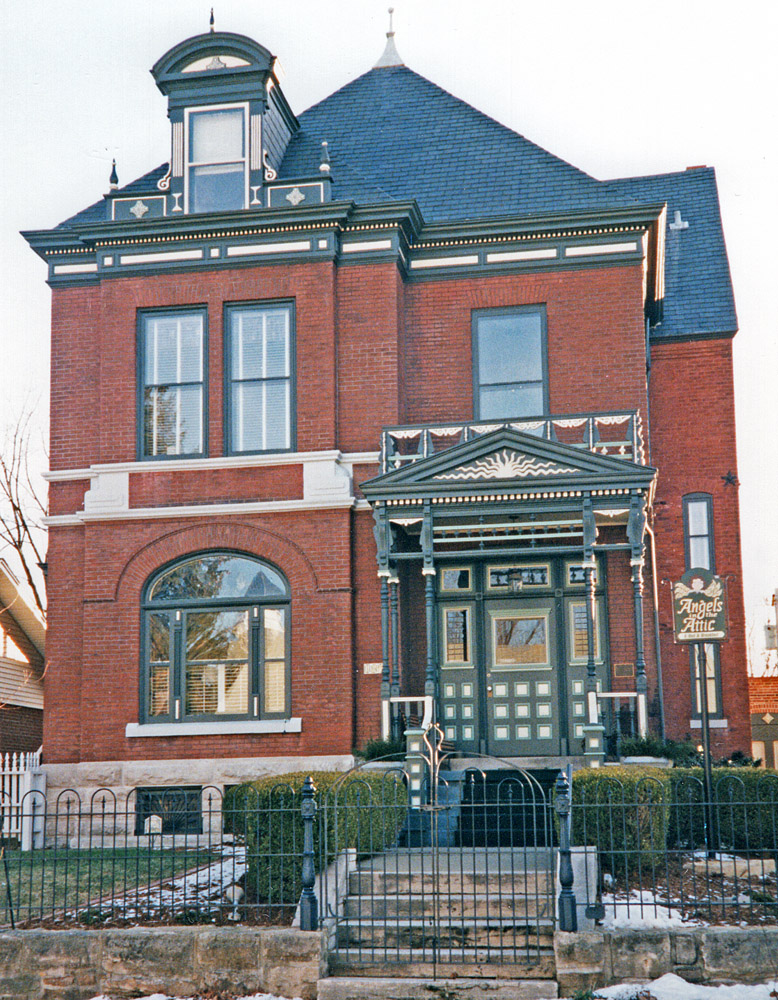 Mo22 – Brick Queen Anne
Hermann, MO
This house may look better now than when it was new. It stands out as splendidly on its street in Hermann, Missouri, as a Triple-Crown Winner grazing with a herd of musk ox. It is narrow but very long, and the rear of the house towers four stories high. The house is perfectly and brilliantly restored. It positively glistens, the brick and wood work is so clean. The front porch is fabulous. The delicate spindlework on the porch, along with the intricately inlaid door surround, is painted black and dark olive, with beautiful gold highlighting. Unfortunately those dark-on-dark colors don't show up very well in the photo, but take my word for it, the porch is lovely. As is that third-floor dormer, and the matching cornice below. The house is now a bed and breakfast, called Angels in the Attic.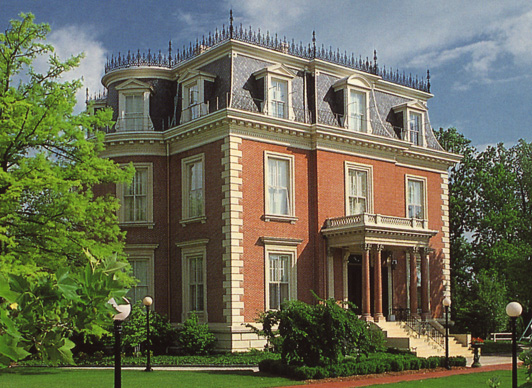 Mo23 – Governor's Mansion
Jefferson City, MO
Built in 1872, this house was called "Renaissance Revival" by A&E television, which featured it on their "American Castles" series. Hmn. Looks like a Second Empire house to me. Admittedly, the house is built at the ultimate level of opulence, with porch pillars made of solid marble rather than mere wood, etc. I will also admit that the interiors (which are so opulent that they are faintly distasteful) are mostly decorated in a Renaissance rococo style. But I still think it is a Second Empire house.