Memory Disorders Research Society
2003 Annual Meeting
Chicago
<![if !vml]>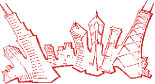 <![endif]>
Final Program
Thursday, October 9th
Special Session: Semantic dementia: An informative disorder of memory or a confusing aphasic syndrome?
8:30-9:10 Marsel Mesulam, Northwestern University
Primary progressive aphasia
9:10-9:50 John Hodges, Cambridge University
Semantic dementia as a disorder of memory
9:50-10:00 General Discussion
Break 10:00-10:30
Symposium: Frontal lobes and retrieval
Organizer: Mick Rugg
10:30-11:00 Mick Rugg, UC Irvine
Dissociating the roles of the prefrontal cortex in episodic retrieval
11:00-11:30 Dan Schacter, Harvard University
False memory and the frontal lobes
11:30-12:00 Randy Buckner, Washington University
Functional-anatomic correlates of control processes engaged during retrieval
12:00-12:30 Michael Petrides, McGill University
The mid-ventrolateral and the mid-dorsolateral prefrontal cortex: Differential involvement in memory
Symposium: Working memory / long-term memory interactions
Organizers: Paul Reber and Charan Ranganath
2:30-3:00 Paul Reber, Northwestern University
Interactions between working and long-term memory examined with fMRI
3:00-3:30 Charan Ranganath, UC Davis
Neural correlates of a working memory process that influences long-term memory formation
3:30-4:00 Wendy Suzuki , NYU
The neural correlates of associative memory formation in the medial temporal lobe
Break 4:00-4:30
4:30-5:00 Randy O'Reilly, University of Colorado
Prefrontal-hippocampal interactions: a computational perspective
5:00-5:15 Art Shimamura, UC Berkeley
(discussant)
5:15-5:30 General Discussion
<![if !supportLineBreakNewLine]>
<![endif]>
Banquet 7:00 PM (board buses to Mia Francesca at 6:05 and 6:35)
Friday, October 10th
Paper Session: 9:00-9:20 &nbsp Mark Gluck, Rutgers University
Learning and transfer generalization in Parkinson's disease
9:25-9:45 Neal Cohen ,University of Illinois
The hippocampus and the parahippocampal region in memory for items vs memory for relations
9:50-10:10 Cermak Award
Brian Gonsalves, Stanford University
Recollection and familiarity-based recognition memory for faces: An fMRI investigation
Break 10:15-10:45
Symposium: Conditioning and Awareness
Organizer: Ken Paller
10:45-11:15 John Disterhoft, Northwestern University
Temporal lobe amnesia, aging and awareness in human eyeblink conditioning
11:45-12:15 Fred Helmstetter, University of Wisconsin-Milwaukee
Memory and contingency awareness in fear conditioning
Data Blitz 2:15-3:30 Craig Stark, Jon Simons, Stephen Rao, Michael Smith, Roberto Cabeza, Brian Levine, Kim Graham, Marcia Johnson, John Gabrieli, Naftali Raz, Scott Small
Break 3:30-4:00
Special Session: Familiarity Forum (theory blitz)
Organizers: Andrew Mayes, Mick Rugg, Ken Paller, Anthony Wagner
4:00-4:15 Andrew Mayes, University of Liverpool
Familiarity theories, disagreements, and methods for resolution
4:20-4:30 Larry Squire, UC San Diego
Searching for functional and anatomical foundations for the familiarity concept
4:35-4:45 Ken Norman, Princeton University
What can neural network models tell us about familiarity?
4:50-5:00 Andy Yonelinas, UC Davis
The relationship(s) between recollection and familiarity
5:05-5:15 Anthony Wagner, Stanford University
Imaging familiarity: Predictions and observations
5:20-6:15 General Discussion, moderated by
Roddy Roediger, Washington University (discussant)
<![if !supportEmptyParas]> <![endif]>
<![if !supportEmptyParas]> <![endif]>
Saturday, October 11th
Symposium:
Memory reactivation and consolidation during sleep


Organizer: Ken Paller

9:00-9:10 Ken Paller, Northwestern University
Introduction

9:10-9:40 Sidarta Ribeiro, Duke University
Neuronal reverberation, gene expression and the hippocampal exodus of memories during sleep

9:40-10:10 Bruce McNaughton, University of Arizona
What makes the hippocampus change its mind

Break 10:10-10:30

10:30-11:00 Carlyle Smith, Trent University
Memory and rapid eye movement sleep

11:00-11:30 Bob Stickgold, Harvard Medical School
Sleep and memory consolidation, enhancement, and "relabilization"

11:30-12:00 Jessica D. Payne & Lynn Nadel, University of Arizona
To sleep, to dream, perchance to remember

12:00-12:20 Rosalind Cartwright, Rush-Presbyterian-St-Luke's
(discussant)

12:20-12:45 General Discussion

Adjourn 12:45

<![if !supportEmptyParas]> <![endif]>