brian odom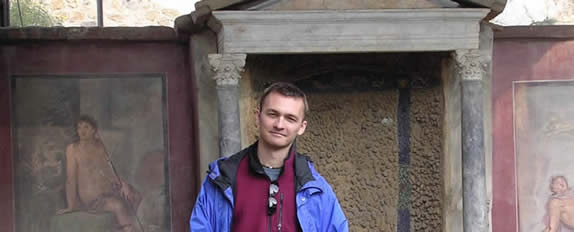 Assistant Professor
Department of Physics and Astronomy
2145 Sheridan Rd.
Room F315
Evanston, IL 60208
Tel: 847-467-5452
Fax: 847-467-6857
Academic Training
Kavli Institute Postdoctoral Fellow, University of Chicago, 2004 - 2008
Ph.D. Physics, Harvard University, 2005
B.S. Physics, Stanford University, 1995

Awards and Honors
Sloan Research Fellow, Alfred P. Sloan Foundation, 2009
Young Investigator award (YIP), Air Force Office of Scientific Research, 2009
Packard Fellow, David and Lucile Packard Foundation, 2009
CAREER Award, National Academy of Sciences, 2009
Kavli Fellow, National Academy of Sciences, 2008
Arthur H. Compton Lecturer, Enrico Fermi Institute, University of Chicago, 2006
Thesis Award, American Institute of Physics, Division of Atomic, Molecular, Optical Physics, 2006
Kavli Institute Fellowship, Enrico Fermi Institute, University of Chicago, 2004
Thesis Research, Harvard University
Electron g-Factor Measurement
My Ph.D. thesis, supervised by Jerry Gabrielse at Harvard University, presents the first fully quantum measurement of the electron magnetic moment. Our measurement used quantum spectroscopy on the lowest quantum states of a single electron held in a Penning trap. This 0.8 parts per trillion result for the g-facor, a dimensionless representation of the magnetic moment, was slightly shifted from the best previous measurement and six times more precise. Combined with existing Quantum Electrodynamics theory we obtained a new value for the fine structure constant (a), also the most precise at that time. An improved measurement of the g-factor from the Gabrielse group confirms our new values for g, and a new rubidium recoil measurement agrees with our value for a. Together, these measurements confirm the validity of QED at a an unprecedented level. My thesis work was awarded the 2006 DAMOP Thesis Award, and the g-factor measurement was the AIP Physics News Update story of the year for 2006.
Postdoctoral Research, University of Chicago
Bubble Chambers for Direct Detection of Dark Matter (COUPP collaboration)
In my postdoctoral research with Juan Collar at University of Chicago, I worked on another project which investigates high energy physics without using an accelerator, this time in the field of astroparticle physics. Heavy-liquid bubble chambers can be made sufficiently stable to be used in searches for Weakly Interacting Massive Particles (WIMPs). Advantages of this approach include scalability, room temperature operation, and extraordinary intrinsic rejection of minimally-ionizing backgrounds. Our engineering run with a 2 kg prototype chamber installed 300 meters water equivalent underground in Fermilab's NuMi gallery achieved the best sensitivity to axial-vector coupling between intermediate-mass WIMPs and protons. Next-generation chambers, totaling a target mass of 80 kg, are currently under construction.
Home | Current Members | Alumni | Publications | Motivation | Current Work | Outreach | Contact